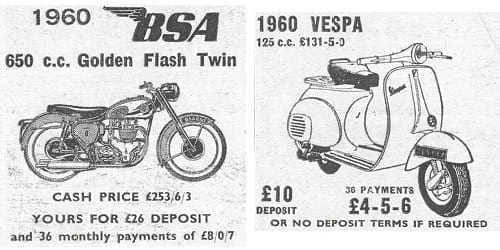 In the heyday of the British bike industry, everyone had heard of (or bought a bike from) Pride and Clarke in London's Stockwell Road. Our readers remember them…
In the late 1950s you might have been browsing at Pride and Clarke's showroom, considering the purchase of a BSA Golden Flash for £265.14.5d, or perhaps a BSA C12 for £165.5.11, or any other British manufactured bike from AJS to Velocette including such manufacturer as DOT, James or Sun.
Of course some continental machines are included in Pride and Clarke's display showroom of over 2000 motor cycles in 1958. You probably would not have the cash to pay the full purchase price, as the average wage was approximately £5 per week, but an option to pay one-third deposit and ride away was offered in Pride and Clarke's advert (and it included tax and insurance). Of course you had to pay the rest of the account in 24 months…
Pride and Clark which was founded in 1920 by John Pride and Alfred Clarke and they were in business for over sixty years in Stockwell Road, Brixton. Their showroom in the 1960s was probably the largest motorcycle showroom in the world and their spares counter was the longest motor spares counter in the business. P&C formed a completely self-contained organisation, which included their own motorcycle magazine; it was almost an empire in the motorcycling world.
Who were these people? If you are of more mature years the memories will come flooding back — how could we ever forget them? At Stockwell Road, Brixton, on a Saturday afternoon, bikers from all over London and the south would congregate outside the bright-red shopfronts, with showrooms on both sides of the road which stretched as far as the eye could see.
Their departments consisted of new and secondhand bikes showrooms; new and secondhand spares — which also included ex-WD spares; a mail order section; export and import department, as well as finance and insurance offices.
Besides selling motorcycles, P&C sold cars, three wheelers and, of all things, sailing dinghies, plus clothing for motorcycling and sailing. They had counters full of accessories for both two and four wheeled transport.
If we take a look back to the 1930s, when George the VI was on the throne, the Pride and Clarke adverts offered a 250cc OHV Red Panther, priced at the princely sum of £28.17.6 cash. P&C always seized the opportunity to cut an exclusive deal, and would continue to offer 'limited edition' models and cut-price specials whenever they could buy in bulk. P&C said that the Red Panther was 'manufactured for and sold exclusively by us, making it possible to fix a retail price at a far lower figure than would otherwise have been practicable.'



In 1939 Pride and Clarke were importing foreign machines – a DKW 250 could be purchased for £45.15s.0, and a 500cc Deek twin for £69.10s.0 (or if you preferred the never-never, £8 deposit and 36 months to pay — which was a very attractive way to obtain that dream before you could really afford it!).

You could also buy a 122cc motorcycle badged as a Pride and Clark in 1939; it was called a Cub and used a Villiers two-stroke engine in a simple loop frame, with girder forks and a three-speed gearbox. It was listed for just one year…

The lean years of WW2 were soon forgotten in the bike trade as Pride and Clarke were selling ex-WD bikes for £39.10s.0, finished in attracted olive green and delivered to your nearest railway station (this was before the years of Dr Beeching!).

Of course you would need something to protect yourself, the cloth cheese-cutter flat cap was the uniform for your head but Pride and Clarke's clothing department had a further £15,000-worth of stock in their clothing department. Suits you – if you were into ex-DR's gabardine raincoats and black leather boots or black rubberised PVC clothing.






500cc Triumphs on

In 1959/60 when motorcycle sales were at an all-time record high in Great Britain, Pride and Clarke displayed no less that 2000 new machines plus a good selection of traded-in secondhand machines in their showrooms in good old Stockwell Road.
If you wanted to see nearly that many bikes in one place now, you would have to visit the Festival of 1000 Bikes or some other large show. In any issue of the Motor Cycle, P&C could have ten or more adverts – five times the number of their competitors!
In 1970 the spares and accessories department held over £100,000 worth of stock. If Pride and Clarke didn't have it then you probably didn't need it. If you showed your motorcycle club card or perhaps even your union card there would be an immediate 10% discount on spares.
Mail order was a speciality of Pride and Clarke, so complete machines were sent virtually anywhere, as far as the Ascension and Falkland Islands, and visitors came from USA and virtually every country in Europe and Australasia. They came to buy British bikes and spares. The P&C 'Empire' ruled. One nickname which P&C acquired at one point was 'Snyde and Sharks'. It wasn't deserved in my view, but probably started by someone buying a bargain basement bike, thrashing the BSF nuts off it and moaning when it blew up and they could not get their money back. However, I am sure that the majority of customers were satisfied with their purchases and returned to buy from Pride and Clarke again and again.
Most of us remember or have heard of the Blue 'Uns and Green 'Uns, and very collectable they are now; but who remembers the Popular Motorcycling Magazine? It cost of 3d per month. Its contents included a regular competition where you could win, for instance, a Red Panther for the first correct answer. No prizes in guessing whose journal this could be! Of course it was Pride and Clarke's own motorcycle magazine. Unbelievable, but true.

Pride and Clarke's showrooms were such a landmark in South London that they even featured in the films of the late Sixties. 'Blow Up', made in 1966, uses the row of maroon-coloured shopfronts as a backdrop for some of the action.
All good things must come to an end and Pride and Clarke was no exception. I have learned that Alfred Clarke was an extremely astute and very clever man. Nothing got past his attention and he was always in touch with the running of his firm.
He reacted to the changing business market by selling the firm before it went down the pan for, it is rumoured, around three million pounds. This was in the very late 1970s. Pride and Clarke became part of the Inchcape concern in 1982 by which time they were trading as a general holding company for Toyota GB.
These days, Inchcape plc is still a massive player in the world automotive scene, employing some 11,000 people and trading at £3.2billion or more each year. Many UK car dealerships are part of the Inchcape chain – so at some level, Pride and Clarke still lives on…
In the mid 1990s my wife was working in an office that was previously one of Pride and Clarke's buildings in Stockwell Road. One day while picking her up from work I noticed workmen renovating the old Pride and Clarke's workshop. They were stripping down a Pride and Clarke enamel sign ready to dump it in a skip.
'Don't dump that, I'll have it!' I shouted.
That sign is now displayed in my own workshop.
———-
Article submitted by: Paul Wood

From original research by: Dave Blanchard and Sue Blanchard


Update, March 2013: Klas-Ã…ke Persson of Mariestad, Sweden, read this article and sent us a photo of the Pride and Clarke shopfront:

"This picture was taken by me on my way to the Isle of Man races. In the Pride and Clark shop I bought a nylon jacket and trousers for motorcycle use and a battery charger. The later still in use. The picture is from 1968, 3rd of june, and I assume in midday?"
——————-
---
Advert

Enjoy more RealClassic reading in the monthly magazine. Click here to subscribe.
---