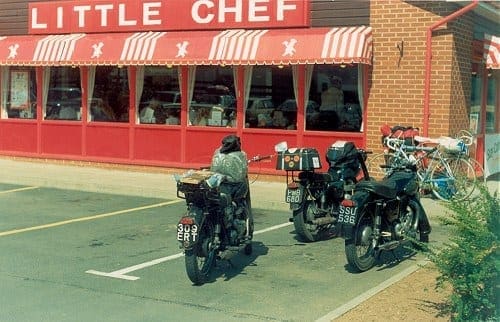 A famous motoring writer and a few Matchless motorcycles appear in this month's musings, but mainly Frank Westworth mourns the troubles of a roadside friend…
People can be peculiar. There is an old saw about an optimist being a soul whose cup is always half full, while a pessimist will always see it as half empty. I've always, but always, tended to the optimistic view. I really cannot understand how anyone would willingly entrust any journey to a motorcycle built a half century ago without being an incurable optimist. I mean … surely pessimists ride Hondas. Discuss.
In the same way, I am always a little befuddled when so many riders of my acquaint lapse into those famous negative waves, and insist on a gloomy view of any given situation or circumstance which happens their way. I once mortally offended a chum (well, he ceased being a chum that very occasion, sadly) when I cracked up completely as he described some awful event which had ruined his day. It was something utterly trivial, like a head gasket blowing again after he'd replaced it for the fourth time, but the way he described it, you would have thought that his Matchless G80's big end had eaten itself and then leapt from the engine's innards and devoured his favourite hamster!
I thought he was joking about his near-terminal gloom, and wept salt tears of laughter. He was not joking. He stood on his dignity, told me I was a superficial clown and that he wanted no more to do with me. Which may well be true, of course, but I won't lose sleep worrying about it.
What brought this memory oozing to the surface of my alleged consciousness was the bizarre reaction from a lot of folk I know to the announcement that things were dire in the Little Chef camp, and that lots of the caffs would be closing. I was on the receiving end of so much anti-Chef vitriol that I was beginning to wonder whether there were two parallel chains and that the LCs I know were somehow different. Folk were rubbing their manicured hands together and positively gloating about the Chef's misfortune. How unkind and mean-spirited is that, I wondered?
I have enjoyed more great days in Little Chefs than I dare admit! I will be sad if my favourite locations lose their own Little Thieves (but not too sad; my optimism insists that another roadside eatery will come along to take their place).
I used to plan all my motorcycling trips around Little Chefs. Daft, I know, but true nonetheless. Back in the mists of antiquity, long before the classic bike was invented, I was piloting my ancient (it certainly wasn't a classic in those simple days) AJS Model 20 down the A49 south of Shrewsbury, and it proceeded to rain.
That was proper rain, you understand, not the namby-pampy limp-wristed drizzle we get these days, but proper, heroic, manly rain. A downpour, you might accurately call it.
Invigorating stuff. For the pessimists, it would have been a disaster; the 20's elderly magneto ignition resented the water's ingress and reduced our progress to a series of entertaining staccato lurches, while the brakes filled up and soaked themselves to such an extent that I could ride along with the lever pulled back to the bar; my specs steamed up, and best of all my venerable Belstaff waxed cotton jacket streamed water around my shivering bod like an inexpensive and chilly wetsuit. It was great.
South of Shrewsbury there was – and may still be – a Little Chef, near a village called Condover. The deluge had induced the usual bladdery effect and I needed to stop. Unlike Real Men of course, who would have relieved themselves while battling resolutely onward and without bothering to stop. I may be optimistic, but I am rarely heroic.
As I squelched into the welcome warmth, cascading water in waxy torrents across their carpet, I was expecting to make an excuse, offer my apologies and promise to remove myself from their premises as soon as Nature's demand had been satisfied. The staff would have none of it. I explained that I was a bit skint and couldn't run to a meal…
A nice lady took my dissolving Belstaff and hung it over a chair in their kitchen. I went and prayed to Nature (it was very cold) and returned to discover a table set with a place for one, a cup of boiling coffee and a slice of toast. No charge. I pulled a battered copy of Motorcycle Sport (leisure had yet to be invented) from the plastic bag it shared with my change of socks and shreddies, and prepared to relish hot coffee, toast and some of the best two-wheeled reading ever published.
A gent stood up from another table, placed his trilby upon his grey head and strolled over. 'Glad to see that youngsters still enjoy good reading', he said. He peered closed, recognising that the issue of MCS I was reading dated from the 1960s (I'd bought two complete years at what may have been the very first Bolton Autojumble), and asked if he could flick through. Of course he could. I buttered my toast and spread some strawberry jam. Yum.
My new friend proffered the magazine. Pointed at a set of initials at the end of a long technical article. 'That's me', he said, and smiled. I beamed toast and jammily at him and waved through a buttery beard as he left for the storm-lashed car park. What a nice man, I thought, vaguely. Those initials? LJKS. The stranger? Leonard Setright himself, one of the UK's best-ever muttering rotters (sorry, a joke there; I mean motoring writers).
Years later, and for many years, I planned my routes using Little Chef roadmaps. Marvellous. As soon as I learned where that year's Ajay club Jampot Rally was to held, it was off to the Little Chef for an Olympic Breakfast and a new map. I'd cut them up (the maps, not the breakfast), draw my route on it in magic marker and use them under the tank bag's little clear plastic window to navigate across country. I rode lots of ACU National Rallies using the same technique.
And of course Little Chefs were great places to meet your mates. The shot which RealMart may have used to illustrate this piece shows a trio of Ajays parked up at the LC in Hope-Under-Dinmore, north of Hereford, on the way home from a late 1980s Jampot Rally in the Forest Of Dean. That same friendly Thief used to fill to bursting whenever the ACU National Rally passed that way; bikes everywhere, smiles and toasted bacon sarnies for all.
So to all the lemon-chewers who somehow need to chortle at other folks' ill-luck, may your coffee cups always be half-empty. Pessimists and miserable folk do not deserve free refills…
Little Chef. Toasted teacakes, or toasted demise?