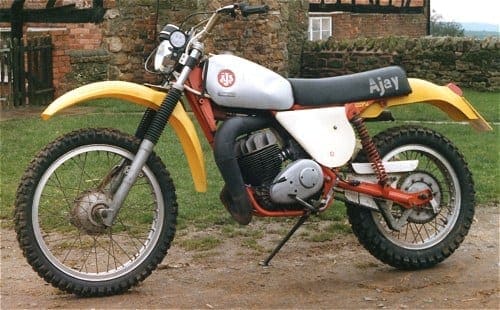 Different strokes for different folks. Frank Westworth remembers a great British stroker…
I have never been a fan of two-strokes, and I'm not entirely certain why that is. It may well be because I never really believe that they're going to start. And if they do, by some mystery of the internal combustion process, condescend to gargle into smoky activity, I truly believe that at some indeterminate time in the future this combustion will cease. That wretched stroker and I will roll to an ignominious halt, probably miles from anywhere, in the yakking rain, with a total of eightpence in my pocket and a flat battery in the cellphone.
This is my vision of two-strokes. I'm not even sure why this vision is so bleak, but bleak it is. It may have something to do with my first-ever motorcycle, which was a Panther Model 10/4, which you will instantly recognise as being an unusually light Panther (these things are of course relative) powered by a Villiers 9E engine; 197cc of scintillating and wheely-popping performance. Not.
Panther, in their inscrutably unflappable Yorkshire way, had ensured that reckless youth (that was me, once) was even less likely to pop a wheely by fitting The World's Heaviest Front End to their attempt at a lightweight model. These were Earles forks of Brunelian mass, and their propensity for creative meandering and wheelbarrow-like directional stability has also put me off Earles-forks for life. I also hit a parked VW Beetle with it while attempting to stop from 28mph (flat out) in less than a mile, which put me off Panther brakes for life, too.
And all of this gentle mental meandering has been triggered by the sudden memory of riding an AJS two-stroke, oddly enough. I was digging, innocently, as you do, through a pile of pics, looking for something I have now forgotten when I stumbled across this shot of a handsome AJS scrambly bike of some sort.
I'm afraid that I can't tell you exactly which example of fine Andoverian bolide this beast is (all the note on the back of the print says is '90%', which isn't very helpful), but I think it was owned and loaned to me by Rob Pearce of the doughty Wet Mudlands Section of the galaxy-spanning AJS & Matchless OC, and that he loaned me the bike in a fit of insane generosity when the Club held its annual Jampot Rally in the hallowed venue of Cleobury Mortimer, cultural centre of South Shropshire and home of Noted Sage Jim Reynolds, way back when in the mists of time.
Rob may of course still own the bike, and I wouldn't blame him, for despite having an engine with only half the correct number of strokes, it was in fact a complete hoot of a beast to ride. Especially off-road. Yes, gentle reader, I did say 'off-road'. In those days I was made of more rugged stuff, and considered bounding across a field aboard a motorcycle – preferably someone else's, of course – to be a whole lotta fun. These days if I venture off-road it is one hundred percent accidental and guaranteed to end in tears. Mine, as well as those of the bike's hapless owner.
But back then (1986? 1987?), I was made of indestructium, which is a sort of unbreakable rubber, I think, and would boldly bounce where no fat bloke with a beard had boldly bounced before.
And I was of course snobbish about Real Ajays. This was back in the days before Les Harris thoughtlessly produced his Devon Matchless G80, a bike I really do like, and certainly a Real Matchless in my own book of bigotry. Real Ajays, on the other hand, were all four-strokes, as are all Matchlesses (apart from the Papoose). The range of stroker singles, produced by Norton Matchless, then Norton Villiers, then AJS of Andover, were plainly Villiers Specials, whatever the badge on the tank said.
And then I borrowed this one. It was superb. It started really easily. It pulled very well. It steered like a dream, gripped damp grass in a supernatural kind of way and … well, you'll have spotted that I really liked it. Although it was a physically small motorcycle, it fit my 6-foot frame and … ah … ample girth like it had been measured to suit. And I was in love with its enormously sproingy suspension; ideal for tarmac ear'oling and the occasional muddy bounce. Perfect. I was converted.
So it rapidly became a Real Ajay, just like it said on the seat. And because I had recently started scribbling about old bikes, I rewrote history in a manner since adopted by our whimsical government, and declared a famous victory for AJS. This AJS, I declared, was a fine upstanding linear descendant of those fine 4-strokes from Wolverhampton and Woolwich. It was built by a handful of dedicated British craftsmen working from premises in the rolling British countryside, was designed by a Great Brit of some description, built almost entirely of British-made parts and was ideally suited to mixed going on either great British tarmacadam or great British mud!
Pause here to stand up, salute, wave two fingers in a victory gesture at any overseas country of your choice, and sing the second verse of Land Of Hope And Glory. There; I know you wouldn't remember that second verse…
You can see where I'm going with this, can't you? In a recent issue of The Jampot, the huge and impressive organ of that huge and impressive club, the Club Pres had a ride on a brand new AJS. A green one. An AJS designed by a tremendously expert Japanese team of computers and chaps and built by pitifully paid but industrious Chinese chaps and chapesses somewhere in China. Although its engine is a 4-stroke, I think it is a two-stroke under its (plastic) skin. British heritage, lineage, engineering, oil leaks it has none.
So is it a Real Ajay? You tell me. Answers to the RCHQ in pencil on a new twenty pound note, please…