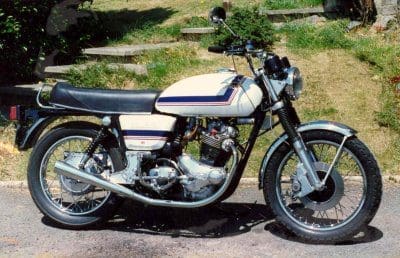 Little girls beware; Barry Granger's Norton Commando is out to get you…
Apart from the front brake, Barry Granger has very little to complain about when he thinks about his 1974 Norton Commando Interstate. Bought in 1982 for around £700, Barry sees his Commando as; 'the last of the hairy-chested bikes. Large, heavy and grunty with super looks for a Seventies bike.'
The Interstate has toured abroad over the years; 'it did 1600 miles in four days in 1993. Aren't foreign motorways boring — no roadworks!' but now it's used mostly 'to annoy the neighbours!'
Wet-sumping was a problem so Barry fitted an RGM non-return valve; 'but on hearing horrendous stories of no oil flow, I always check that oil is returning to the tank.' The bike's other flaw has been harder to resolve; 'the front brake is the worse thing on it. I made an ally bracket and fitted a Lockheed caliper and Triumph master cylinder. Tried various types of pads and even fitted Goodridge hoses but to no avail, so I still have to keep my distance in traffic!'
Article continues below...
Advert
A better project was the change to an 18-inch rear wheel; 'enabling me to have a better selection of tyres. At the moment I am running on an Avon AM21 and road-holding is vastly improved.'
Overall, Barry is still impressed be the bike's impressed by smoothness and torque. 'I love my Norton,' he says. 'It makes lots of orgasmic noises and still frightens little girls – and big ones as well – if they get in its way!'
Article continues below...
Advert
RECOMMENDED MODS
Fit a non-return valve to stop wet sumping, available from RGM
Use Honda or Yamaha brake master-cylinder
Lay hands on a Clymer manual, out of print but very useful
Use Honda switchgear
Fit Cibe headlight, £25
Use bronze exhaust inserts which tighten with heat
Fit Superblend bearings in engine and gearbox, £100
Upgrade to a Quaife 5-speed gearbox
Fit Mk3 Isolastics to earlier models

PEOPLE TO SPEAK TO
Norvil, spares and expert advice, 01543 278008. www.norvilmotorcycles.co.uk
RGM, spares and service, 01946 841517
Mick Hemmings, spares and service, 01604 638505
Tony Hayward, belt drives, 01244 830776
---
Advert

Enjoy more RealClassic reading in the monthly magazine. Click here to subscribe.
---