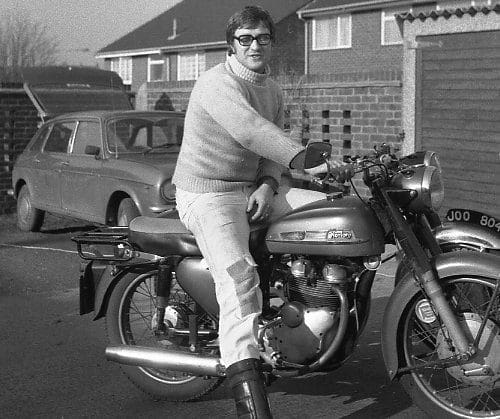 A little knowledge can be a dangerous thing, they say. Andy Sochanik discovered that no knowledge at all is ideal if you're looking at a Norton lightweight!
Back in 1972, Andy was searching for something cheap and cheerful (although the first item was essential; the second bit would be a bonus), and he ended up buying a 1964 Navigator for just £25. Very cheap, and very cheering as it turned out — over 30 years later he's still riding the exact same bike. Obviously, Andy has learned a trick or two about the Navigator in all that time, but he's glad that the rumours about Lightweights hadn't reached his ears before he handed over the cash.
'All the magazines (apart from Frank W's, that is) knock 'em,' says Andy. 'I'm glad I knew nothing about it. If I had known its reputation, I would never have bought it.
'How wrong they ALL were!'
Andy needed to do some work to the Norton to get it into running condition – it was sold for spares, as scrap and looked pretty scruffy. It had high bars and a racing seat, and the rear mudguard had done a runner. That lot didn't take long to put right – and since then Andy has clocked up more miles on the Navigator than he has any chance of remembering ('loads' is the technical description applied in this circumstance). You've probably even passed the Navigator parked up outside a classic event some time, lurking with the other Lightweight lads.
Over the years the engine has needed two rebuilds, which Andy accomplished with his own fair hands, swapping pistons, rings, mains and big ends. It hasn't needed a rebore, but Andy did get the crank reground. The machining has been done by professionals but all the other work has been done at home – including a paint job on the cycle parts, done with aerosols in time-honoured fashion. And very smart it looks too, don't you think?
It goes as good as it looks, reports Proud Owner, putting to rest those rumours about Lightweights being unreliable. The only time he's had to call on external aid was when a tyre blew. 'It's been on an RAC lorry once only, and that was 'cos I had to catch a ferry,' he explains. 'I fixed the puncture in France the next day.'
The timing has slipped twice in 30 years, but that's; 'an easy roadside repair – takes 15 minutes or so.' And then there was the time that one piston broke – but the game little twin didn't give up the ghost. 'It kept going on the other one!'
Andy recommends fitting an oil filter kit (cost around £20), and a Lucas headlight adaptor instead of the Wipac one (massive cost of about two quid). Andy is also debating over the merits of upgrading the electrics. He's been considering for some time but, well, you know how it is… 'I guess that 12-volt conversion and electronic ignition might be good. I suggest that to other owners in all my technical answers to enquiries about Lightweights – but haven't got round to it myself.
'Still, 6-volts is plenty – and what's wrong with points anyway?'
For practical purposes the bike is fitted with a rear carrier, which was free, in keeping with the Navigator's low-cost nature. In fact, the Norton's overall frugal character is another reason that Andy likes it so much; it does up to 70 miles to the gallon of juice, and spares are absurdly cheap because the bikes are still not particularly popular (mind you, you're unlikely to find one for just £25 these days. The going rate is under a grand, however – especially if you're an Ebay buyer). In total, Andy reckons he has spent under £300 on the bike… in three whole decades.
'My Hinckley Triumph nearly cost that much on its first service!'
But the Navigator has more to recommend it than simple fiscal certitude. It's a great little runaround, a very practical, go-anywhere machine. Andy has come to rely upon it and values most; 'its utter dependability and reliability.' On top of that, it's an excellent classic to ride and is 'Comfy, easy to drive, good roadholding, etc.'
So perhaps it's time the world stopped treating the Lightweights so lightly?
People To Speak To
Norton Owners' Club spares scheme, www.nortonownersclub.org
Russell Motors, 020 7228 1714
Mick Hemmings, spare parts, 01604 638505
S&T, Yate, nr Bristol for chroming
Piston Broke in Bristol, for machining, fork straightening, etc
Reputations. Accurate?
---
Advert

Enjoy more RealClassic reading in the monthly magazine. Click here to subscribe.
---