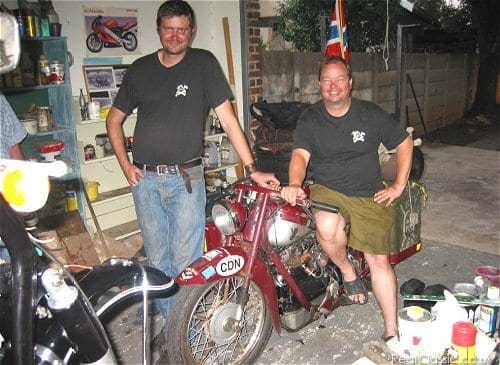 Two Norwegians on 70 year old bikes will complete an epic, 70,000km adventure any day now. Roger Houghton reports on the South African leg of their trip…
The chairman of the Classic Motorcycle Club in Johannesburg, Pierre Cronje, and his wife Gwyneth, recently hosted two very interesting touring motorcyclists from Norway who are on their way around the world on motorcycles that are more than 70 years old.
The two, Klaus Ulvestad and Tormod Amlien have been friends for more than 11 years, a relationship which is fuelled by a common interest in old military vehicles and motorcycles. The motorcycles they chose to ride in this epic journey are an unusual brand, being Danish Nimbus machines with longitudinal four-cylinder engines of 750cc and shaft drive to the rear wheel.

Norwegians Tormod Amlien (left) and Klaus Ulvestad seen with one of the Nimbus motorcycle and sidecar combinations they are riding around the world.

In contrast to most motorcycles in the world there are no chains in either engine or transmission of the Nimbus. The gear-driven overhead camshaft is enclosed, but the valve rockers are exposed and are not lubricated as oil would attract dust and cause wear! Engine output is in the region of 15 kW and the distinctive exhaust note gave it the nickname of Bumblebee.
The blue 1937 model and red 1938 version being used on this global adventure are fitted with custom-built four-speed gearboxes (three-speed gearboxes are standard for the Nimbus). The frames are fairly unusual, being made of plates riveted together for ease of repair. There is no rear suspension and only rudimentary front struts.
Both machines are linked to rather basic, box-type sidecars to carry luggage and spare parts as this is a trip without any travelling assistance.
The company that made the Nimbus, Fisker and Nielsen of Copenhagen, was established by an electrical engineer in 1918 with domestic appliances its main source of income. In fact, it still exists and makes Nilfisk vacuum cleaners.
About 12,000 Nimbus motorcycles were manufactured between 1919 and 1960 and they remain valuable collectors' items, with about 4000 still running in Denmark alone and about another 4000 of them spread around the world, with high interest in Germany and the United States.


A close-up of the longitudinally-mounted four-cylinder 650cc engine of the Nimbus that is more than 70 years old.

The two intrepid Nimbus riders left Norway in April 2009 and had covered 55,000km by the time they reached Benoni*. This was not the first time that Tormod has undertaken a trip of this nature, having ridden with a friend from Norway to Singapore on Nimbus combinations in 2006. Tormod and Klaus's route to South Africa – all without the benefit of a global positioning system, such as a Garmin or Tom Tom – had taken them down the Baltic coast to Latvia, Lithuania, the Ukraine and Kazakhstan. Next on the itinerary were Mongolia and Siberia on the way to Vladivostok before going to Korea when they took a ship to the United States.
They travelled the length of the US and through much of South America before ending up in Brazil, from where they shipped the combinations to Durban.
Major engine repairs were required by Klaus's mount, including replacing a cracked cylinder block. Both machines had undergone extensive overhauls near New York before the South African repairs. (They say replacement parts for the Nimbus are fairly readily available if one knows the right channels).
Their route home is taking them through Botswana, Zambia, Tanzania, Kenya, Ethiopia, Sudan, Egypt and then along the Mediterranean coast road to Libya and Tunisia. From there they plan to take a ship to Spain and then continue to Denmark via France and Germany. The pair expect to get home before the end of January 2011, having travelled a total distanced of 70,000km. They ride up to 700km a day, running at speeds of 80-85kmh.
They are self-contained in terms of tents and sleeping bags, but often end up staying with motorcycle enthusiasts in the countries they travel through, as was the case in Durban and Benoni. Problems, other than the cracked cylinder block, have been fairly minor, including broken spokes, cracked frames, gearbox repairs and ignition malfunctions.
| | | |
| --- | --- | --- |
| | | XT Yamahas on Now… |
The two Norwegians were very chatty and ardent motoring enthusiasts. For instance, Klaus owns six WW2 motorcycles – two Zundapps (one with a sidecar), two BMWs (one with a sidecar), a Norton 16H and BSA M33 as well as a Jeep, VW Kubelwagen, an ambulance and a truck also of WW2 vintage.
The visitors had an enjoyable time in South Africa and met many like-minded classic motorcycle enthusiasts. As a sign of their appreciation they honoured CMC chairman Pierre Cronje with a special commemorative pennant, which they do not give away easily.
One can follow the travels of the Norwegian adventurers on www.kccd.no which is derived from King Croesus Contempt for Death trip 2009. The other name for this daunting global trip is The Dumb Way Round.
—————–
There's more about the Classic Motorcycle Club of South Africa at: www.classicmotorcycleclub.co.za
Nimbus motorcycles have been featured more than once in RealClassic magazine. If you'd like to learn more about these unusual bikes then follow this link and search for 'Nimbus' to find the issues containing the full stories: classicissues.com/welcome.asp?title=RC
——————
*Regular RC readers in the UK will be entertained to learn that Benoni in South Africa is within shouting distance of Kempton Park. We don't know if there's a regular bikejumble at the SA Kempton Park, however…
—————
---
Advert

Enjoy more RealClassic reading in the monthly magazine. Click here to subscribe.
---