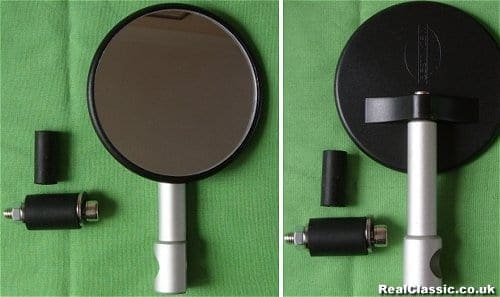 The end of the year draws nigh but there's still time for one last ride out or a spot of online shopping, plus information about classic bike insurance, Amal carbs and a couple of vintage and classic events for 2009…
Chapeltown Classic Christmas
If you're near Yorkshire and fancy a brisk ride out this coming Saturday, then you'd be very welcome at the annual Chapeltown celebration which includes a craft fair, refreshments and cherished vehicle show (£3.50 entry which covers your pie-and-pea lunch). All proceeds in aid of Yorkshire Air Ambulance and the Sheffield Children's' Hospital charities. Takes place on Saturday December 6th 2008 from 10am to 3.30pm. Contact 07786 061676 for more info
Mirrors And More At Online Store
It's amazing what you can find on this internet thing. We were searching for a pair of titchy rear-view mirrors to kill two birds with one stone. Rowena's Douglas MkV needs a bar-end mirror but the internal dimension of the bars, into which the mirror should fit, turned out to be very narrow. We bought a normal set of bar-end mirrors and the mounting was too thick to be used on the Douglas, so one of Frank's endless Ajays received a new mirror and Rowena had to keep looking over her shoulder. We've also just got our street-scrambler styled BSA A65 back on the road and it too is missing any form of rear-view equipment – and a big, chrome mirror would look wildly out of place on such a cobby off-roader. So the search for a pair of teeny mirrors began…
…and ended at stores.ebay.co.uk/BikerOneStop
. Run by Kate Emery (the second generation of that family to have a professional involvement in old bikes), the BikerOneStop shop lists all manner of 'biker bling' including aftermarket parts for popular Triumph, BSA and Norton models plus heaps of kit for more modern motorcycles, and some exclusive items for old bikes, made in England and designed especially for Kate.
For instance, these heavy gauge bar end weights (EBay item No.260295069023)

were specified by Kate to cut down the vibration she was feeling through the bars from her 650 Norton. They're about three times heavier than the usual cheap alloy items which helps to soak up the shakes, and they are fixed to your bike's handlebars using a turn-screw steel insert rather than a 'one size fits nothing' rubber mounting.
The BikerOneStop Shop usually lists about 600 items, from goggles to motorcycle covers to handgrips for pillion passengers to map holders to light units to tank badges and more. Including, happily for us, exactly the right kind of bar-end mirrors, too. There are over 58 (good grief!)
different types of mirror
to choose between but
the ones we wanted turned out to be a complete snip at just £13. So we bought a pair and fitted one to the Beezer and one to the Douglas. Job's a good 'un, and we can now see where we've been. Twice!
Keep It Covered
During the coldest months of the year many of us choose to let the road tax lapse and shove our cherished classics towards the back of the shed – just while the roads are icy and salt-strewn, you understand. Here at RCHQ we run a couple of muddy hacks (by which we mean bikes, not journalists. Although…) through the worst of the winter weather and keep our best-beloved old bikes in shiny splendour for summer. It's only sensible, innit?
But 'off the road' isn't necessarily out of harm's way. One evening we came back from a particularly fine curry to be greeted by a huge plume of black smoke rising from the Shed. 'Eeek' we said (actually, we might have said something stronger than that), contemplating the loss by fire of a collection of cherished old clunkers which were in varying states of 'just 'resting' or 'awaiting repair'. It turned out that the fire was in the field beyond the Shed and we didn't actually need to form a human-and-feline chain to pass buckets of water from the kitchen to extinguish the blaze. Got us thinking, though…
Footman James offer a laid-up policy for classic motorcycles which costs a fraction of the price of full, road-going comprehensive cover. This type of policy provides peace of mind in case of fire, theft or an obscure accident while your old bike is off the road. As well as the motorcycle itself, the policy also covers its accessories and spares while they're all kept in a locked garage – which is especially useful if you are in the process of assembling parts for a full rebuild and happen to be visited by Lightfingered Larry at an expensive instant.
This policy also covers your bike while its being transported (but not ridden) to a show or exhibition, and it's while on display at such an event. So if you fancy displaying your P&J at one of the winter shows (like the Dirt Bike Show in January 09: www.classicshows.org/DirtBike.htm) then you can do so with confidence, and not worry too much about a terrifying trailer trauma. Alternatively, if your motorcycle is being repaired or restored by a specialist then it will also be covered.
See www.footmanjames.co.uk/classic_modern_bike.aspx for more details, and to ask for a quote. Definitely worth considering if you let your main policy lapse over winter…
Pioneer Run Registered
The Sunbeam Motor Cycle Club Ltd have now registered the "Pioneer Run" as a trademark in the name of the Club. Entry forms for next year's event on the 22nd March 2009 have already been sent out to all intended entrants. The event is open to all pre-1915 motorcycles and three wheelers that are on the Pioneer Register and it has taken place every year since 1930, except in times of national crisis. (Apparently, running out of chocolate does not count as a national crisis, although it brings RCHQ to a screeching halt…)



The first Pioneer Run attracted 77 entrants, the youngest of whom was a mere 16 years old. Nowadays there are usually around 360 entrants from all over Britain plus those from Eire, Holland, France, Germany, Belgium, Latvia and the United States. For the 2009 event the very youngest machines (those built in 1914) will be 95 years old!

The cost of putting on this event is in the region of £15,000, only part of which is reclaimed by the entry fees, the remainder being covered by the Club's valued sponsors. The Club wishes everyone, whether riding or spectating a good day out. See sunbeam-mcc.co.uk for more details.






Sunbeams on eBay
Give Us A Tickle!
Surrey Cycles specialise in Amal carburettors, and Neville at Surrey offers a wealth of bike-related experience which means he can tailor his service to suit you and your particular model. The set up of any carb can change from one model year to the next – if you're in any doubt then it's worth talking to Neville so he can advise you on which version you should be using and how best to prep it.
Surrey Cycles also stock a range of exclusive accessories and extras, all designed to make life a little bit easier.
Their Monobloc Tickler Extension, for example, makes life a whole lot easier when you're fumbling around and trying to flood the carb. It makes starting your bike much easier when the carb is tucked away, and means you can judge the amount of petrol being supplied more precisely – so you tend to get less of it soaking into your gloves!
The Monobloc Tickler Extension costs £12 plus delivery from www.surreycycles.com/exclusive.htm
Classic Motorcycle Clubs Show: Uttoxeter 2009
The response to the VJMC's running of this fast growing event is a clear indication that the club has a very successful formula on its hands. Six months before the 2009 event some fifty clubs have already confirmed and the list reads like a who's who of the contemporary classic world. Along with staunch supporters such as the International Laverda Owners Club and the Z1 boys, the show will feature the Excelsior Talisman, MZ Riders and the National Autocycle & Cyclemotor clubs.
There are at least half a dozen clubs holding their annual rallies at the show including Kawasaki GT, Cossack, BSA Gold Star and Jawa/CZ groups. Covering both ends of the spectrum, organisations as diverse as the Vincent Owners Club and Fizzie clubs are attending. With live bands on Friday and Saturday, dealers, traders and a raft of autojumblers, the VJMC promise that this event offers something for everyone.
'The facilities at Uttoxeter race course are second to none' say the organisers, 'and with so much of the show under cover, even an English summer can't spoil the fun'. Ticket prices are very keen at £7 for a day ticket or £14 for a weekend pass, which includes camping on the Friday and Saturday nights. This show can now claim to be the biggest classic motorcycle club event of the year with its unique theme and venue.
For more detail contact the VJMC on 01342 410519, or see www.uttoxeterclassicbikeshow.co.uk
Now try that eBay shop….

stores.ebay.co.uk/BikerOneStop
---
Advert

Enjoy more RealClassic reading in the monthly magazine. Click here to subscribe.
---