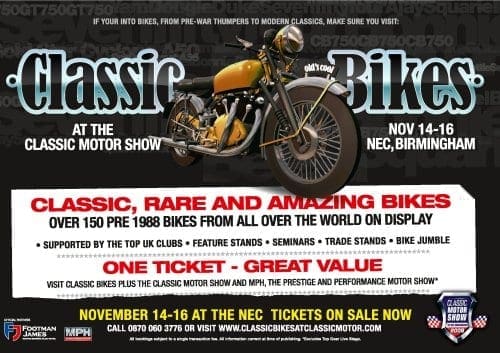 This autumn the Classic Motor Show will expand to host a new hall full of classic bikes, and RC readers are invited to demonstrate their Pride of Ownership…
Classic motorcycle enthusiasts have been promised a treat by the organisers of the Classic Motor Show. The 2008 Show sees a brand new hall dedicated to motorcycles ranging from British pre-war to Japanese 1980's bikes with some European and American models thrown in for variety. Around 200 rare and interesting bikes will be on display from the 14th to 16th November 2008 at Birmingham's NEC from motorcycle clubs from all over the UK.
The classic bike pavilion will also feature displays from famous classic racing teams, a replica of the Ace Café, a seminar stage with interviews from riders from bygone years, motorcycle traders and a bikejumble area.
The latest feature to be announced is the RealClassic Pride Of Ownership display, where individuals can display their bikes. And this is where you come in…



Together with Meguiar's, we'll be sponsoring the prizes for private entries to the Pride of Ownership display.

There are seven different categories, ranging from pre-war to 1970-onwards, plus Best Brit and so forth, and an overall winner will be declared the Best RealClassic.

Meguiar's have generously donated piles of cleaning and polishing kit (so you can spend the rest of the winter making your brightwork blaze) and there will be a range of RC fun-bundles*, magazine subscriptions, and 'RealClassic Commended' rosettes for class winners. Posh, eh? Hey, we can do up-market when we want to!






Proud Nortons on eBay.co.uk
As you might imagine, a show at the NEC is no small affair so the organisation is quite formal. This is not the kind of event where you ride in at half-past nine, and ride off again and half-past three! Entrants to the Pride of Ownership display will need to deliver your bikes on Thurs 13th Nov and collect them when the show ends on Sunday 16th.
All entrants will be given two free entry passes to the Show – which includes all the classic car halls and displays, of course — and a parking pass for the event. All classic bikes of every kind are very welcome, especially 'real' ones with some hard-earned patina as well as plenty of polish!
If you'd like to join the fun and enter your classic for the Pride of Ownership display then you can download an entry form here. Remember to email or post your entry form to the show organiser — not us…
You'll be in good company if you do decide to enter your classic bike for the Pride of Ownership display. Many of the UK's leading marque clubs and enthusiast organisations have already booked in and will be filling the hall with their favourite machines.
The BSA OC, Bantam Club, Vincent HRD OC, Norton OC, AJS & Matchless OC, Royal Enfield OC, Triumph Club, UK Honda Turbo Association, Hesketh OC, NABD, Historic Police Motorcycle Group, Moto Guzzi Club GB, Tamworth & District Classic Motorcycle Club, National Sprint Association, Francis Barnett OC, MZ Riders, Greeves Riders, Trident and Rocket Three OC, Wolverhampton & District Classic Motorcycle Club, Kettle Club and MV Augusta OC will all be hosting their own stands. Should make for an entertaining mix of machinery!
We'll be having a small get-together for RC readers on the Friday of the Show, at lunchtime, in the cafe of the motorcycle hall. If you don't display a bike but do come along then Frank and Rowena will be delighted to see you there. And who knows, we might even coax RealMart out of his cave at some point over the weekend, too!
—————
The Classic Motor Show is on November 14th to 16th 2008 at the NEC, Birmingham: classicbikesatclassicmotor.com

—————-
*Don't ask what goes into them. We don't know until the day before. It keeps it interesting for all of us…
---
Advert

Enjoy more RealClassic reading in the monthly magazine. Click here to subscribe.
---