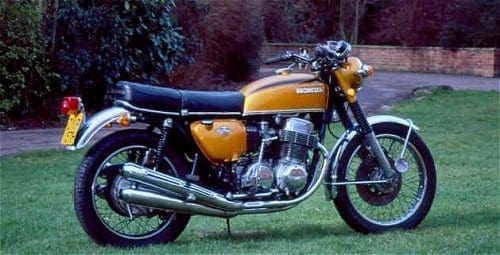 Classic bike fans have a busy few weeks ahead of them, starting in the Midlands on July 5th; getting festive at Mallory Park the following weekend; have a cracking time in Kent on July 20th and finishing at Founder's Day…
All Marques Welcome At Uttoxeter
The Uttoxeter Classic Bike Show and Autojumble, although it's organised by the Vintage Japanese Motorcycle Club, is for all makes of motorcycle no matter which country they come from. After making a solid start in 2007, the second event has attracted many more clubs and entries, with British bikes featuring strongly among them. Some 75 bike clubs have booked in with more than 900 machines entered for the concours. A number of classic clubs are holding their annual rallies at the event further adding to the multi-faceted appeal of what is fast becoming the talking point of the 2008 classic scene.

Honda CB750K

You can expect to see every kind of classic motorcycle, ranging from barn finds to concours champs, and including 90 air-cooled Yamahas, 40 BSA Gold Stars, 20 Ariel Arrows/Leaders and 30-plus Bantams – and don't forget the autojumble, trade stands and such. So there should be plenty enough to keep you busy for two full days…



Last year's popular Sights and Sounds display will be reprised on the Sunday morning giving show-goers an opportunity to see and hear some the most interesting classic machinery in the country, and RC Clubman Jim Reynolds will on hand to give a commentary in his own inimitable style.

Most of the displays are under cover in halls and marquees, so even if the weather is inclement the show can still go on in fine style.

The RealClassic Roadshow will be setting up under cover in one of the marquees (you'll find us in the Exhibition Hall Marquee, conveniently close to the bar, alongside the BSA, Goldwing, Tiger Cub and XJR club stands).

Fingers are firmly crossed that there will be a display of readers' bikes to entertain you, so look out for the RC banners and claim your Jaffa Cake when you find us!

When: July 5th and 6th 2008, from 9.30am
Where: Uttoxeter Racecourse, Staffs
Admission: £7 per day
Info: www.vjmc.com or 01324 410519





750 Hondas on eBay
———————
Festival Finalises Line-Up
Even in the final couple of weeks before the Festival of 1000 Bikes takes place, the VMCC organisers are still adding attractions to England's largest racing motorcycle festival. The Tul-aris GP bike will be ridden during the weekend by ex- Grand Prix ace Mick Grant. The Tul-aris is the first and only home-built, US-made Grand Prix bike to set outright lap records and win numerous races, including a national Formula USA Unlimited Grand Prix race.

Giacomo Agostini will also be taking to the track at Mallory Park this month, aboard the four-cylinder MV Augusta 500 seen here.
Ago is one of a host of past masters who'll be re-living old times. 'To be riding again at Mallory with my old rival and friend John Cooper is a happy feeling for me and this event has many star riders from that time' says Agostini.
'It will be good to be riding with them again on the race machines from those great years.' Look out too for David Hailwood, riding the RC181 Honda 500.
The VMCC have also organised another amazing spectacle, as a tribute to the late Roy Richards. The National Motorcycle Museum will be running four of their famous ex-works rotary Norton racers during the weekend. Ex-Norton works riders Trevor Nation, Ian Simpson, Phil Borley and one other surprise star name will be putting these most iconic of race bikes through their paces. On top of that, up and coming rider Lee Dickinson will be riding the new Norton NRV588 rotary race machine currently under development by rotary guru Brian Crighton.


Martin G's Morini will be on the RealClassic stand, if he ever gets it finished…

RC readers will be meeting at the RealClassic stand (look for Mike's Powell Tiger Cub collection and maybe an RC banner if we're lucky) during the weekend. Wouldn't be at all surprised if PUB doesn't show up at some point, too – plus, of course, the Festival of 1000 Bikes also includes many other displays and events; scrambles, pre-65 trials, autojumble, grasstrack, wall of death, live music and evening entertainments.
When: July 12th and 13th 2008
Where: Mallory Park circuit, Leicestershire
Admission: £10 Sat, £14 Sun, £22 weekend
Info: www.vmcc.net or 01283 540557

——————

Ride Out To Rye

If you fancy a rural ride then the Rye/Hamstreet Classic Motorcycle Show gives you a great excuse to tread a road less travelled on your way to this laid-back and entertaining event. The Show moved from its traditional location at Rye in Kent a couple of years ago, and is now firmly established at Hamstreet, halfway twixt Rye and Ashford, surrounded by the green and pleasant Kentish countryside.
Over 100 classic bikes are already booked in for the concours competition, and they range from a 1929 six-port two-stroke Levis to a 1981 racing Ducati (bought new by its proud owner from Nepoti Carachi Racing). Prizes will be awarded in a variety of classes, including Lightweight, Overseas and Competition as well as by year.
Keep your eyes peeled for some fascinating machines, like the 1937 BSA Empire Star which was found in a barn back in 1993 and restored by the present owner, or a 1955 Matchless G80CS which has already been awarded one trophy this year – will it be a winner again at Hamstreet? The first 100 exhibitors will receive a solid brass rally plaque – specially designed for the Show – so even if they're not judged to be best in class everyone should take a special memento home with them.
There are also plenty of stalls booked in for the motorcycle-only autojumble, and a whole range of clubs which cover the classic spectrum and include the BSA OC (East Sussex branch), the BSA OC again (Kent branch), the Cinque Ports CMCC (a thriving local pre-65 only club), the Deal and District MCC, Norman Cycles Club (Kent's local make of lightweights), the Norton OC (Kent Branch) and the Triumph MCC (Medway Branch).
Refreshments are always reasonably priced and tasty, and if the weather is fair then you'll be able to relax while you sup in the al fresco chill-out zone (normally defined by hay bales: this is country life all right!). You also won't get ripped off for parking if you prefer to bring a car; kids get in for free and there's still a discount for OAPs on the gate. The Hamstreet Show offers a complete alternative from stunt shows and bouncy castles: the perfect destination if you want to look at old bikes, rummage through old bike bits and meet and greet like-minded bike riders.
When: July 20th 2008
Where: Marsh Road, Hamstreet, Kent TN26 2JD (off the A2070, six miles from J10 of the M20)
Admission: £4, OAP £3, children under 16 free
Info: www.elk-promotions.co.uk or 01797 344277

————–

Finally: Founder's Day!

If you've still got some stamina left after an entire month of excellent events, then the Taverners' Section of the VMCC welcome all comers to Stanford Hall for their enormous autojumble at the end of July. This is where vintage and veteran enthusiasts hope to find that elusive genuine spare, lurking among the tonnes of used and NOS parts. The day is filled with various arena events and a splendid array of club display.

If the weather is set fair then the RC Roadshow will travel up for the day; but if the forecast is for yipping rain then we'll stay at home (we've spent too many years hiding under the big trees, watching magazines turn to papier mache before our eyes…). Hopefully it'll be dry and you can come see us, bag a binder or a back issue or two, and chat about your favourite feature bikes from the magazine.
When: July 27th 2008
Where: Stanford Hall near Lutterworth, Leicestershire
Info: www.thetaverners.com or 0116 271 0 574
---
Advert

Enjoy more RealClassic reading in the monthly magazine. Click here to subscribe.
---