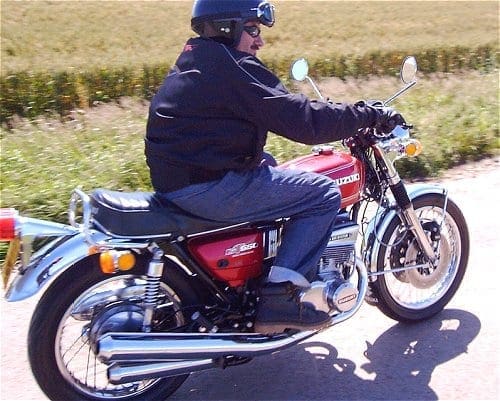 The VJMC have been in the news recently because they now organise several big classic bike shows in the UK. But first and foremost the club is an enthusiast organisation for Japanese classic fans. Steve Cooper explains…
It's pretty certain that a large cross-section of the classic biking world perceive the Vintage Japanese Motorcycle Club as a bunch of rivet-counting, spoke nipple polishing, tank badge-spotting anoraks. After all, you see VJMC members at every show with their super squeaky clean rice burners, bikes polished to the nines, tyres gleaming; it's obvious they never get ridden. Right?
Wrong on all counts!

Suzuki GT550 two-stroke triple

Just like most bike owners, those of the VJMC who show bikes are proud of them and make that extra effort to ensure they look 100%. A closer look at the bikes on our show stands will reveal that the vast majority have current tax discs; the only machines not displaying these are generally the ones which were finished in a mad dashed on the night before the show.
Agreed, some of the bikes may not do that many miles but then again when you have a burgeoning collection of machines that you don't want to sell there's only so much time to ride each one. Those bikes may be show bikes but in the main they also get used. It's the same logic, same mindset, same credo, same ethos as any other bike of whatever origin.


Kawasaki KH400 (or is it a KH250?) two-stroke triple

If you're looking for regularly ridden classic Japanese motorcycles that have that honest patina of use you'd be well advised looking at the club's local sections. In the last eighteen months the number of local sections has expanded dramatically and there's almost certainly one near you. Most meet on a monthly basis and even in the depths of winter some brave (foolhardy?) soul will get their kit on and fire up a jewel of the orient.



It's at club night that you get to see a wide variety of classic Japanese machinery, many of which never go to shows because the owners aren't into that particular scene. Many a fresh restoration takes its first hesitant steps onto British tarmac for club night.

There's nothing quite like turning up at a section meeting on a machine few if any have ever seen, a crowd quickly assembles pointing out and discussing about the unusual features of the newcomer. Turn up on a machine that many owned, learnt on or desired and the welcome is just as enthusiastic.

If you don't own a classic Japanese machine but aspire to you are more than welcome in the VJMC. The local section meetings are probably the ideal place to canvas opinion, glean information and advice. If you are looking for a specific machine there's a good chance someone at club night will be able to help and if not they'll know someone who can. Word of mouth is a powerful medium of communication.

And if you're restoring a Japanese machine and desperately looking for a pair of 13mm bevelled spill trunnions with a left hand thread then club night may well be the place to be. Just like the British bike scene there are still lots of spares out there but you have to know the right people and they have to know you.






Honda CD175 Bits on eBay.co.uk
It doesn't matter whether you're looking for primary drive gears for a New Imperial or a labyrinth seal for a Yamaha YL1, these things don't just fall into your lap. Meet the right people, get to know them and chances are as soon as they realise you are restoring a bike and not looking to make a fast buck on the parts they have your bike will be one step closer to being back on the road where it belongs.


1972 Honda CD175

Whether the Japanese bike scene is for you is something only you can decide. Take a trip to club night; the only things you actually stand to loose are possibly an evening of free time, a few woolly and ill-conceived prejudices and that small bundle of tenners you were saving for the next project when you hear someone has the machine you want. You'll meet some dedicated enthusiasts, one or two excellent engineers, the obligatory eccentric (every club has one, it's a local bylaw now), someone you knew years ago and a whole new lot of mates.
Oh and did I mention? Most club nights are strangely held in public houses; I wonder how that happened?
To find your local VJMC section meeting, see www.vjmc.com
---
Advert

Enjoy more RealClassic reading in the monthly magazine. Click here to subscribe.
---