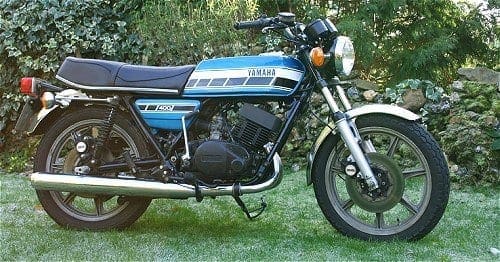 The VJMC's Club Show is good to go – and RealClassic magazine subscribers can claim free tickets to the event! Steve Cooper from the VJMC tells us all about it…
The VJMC's May Bank Holiday Sunday Classic Bike Clubs' Show at Stanford Hall near Lutterworth is ready to roll. From 10am on Sunday the 25th of May 2008 the venue will be open to all clubs and classic motorcycle riders. For exhibitors who want to camp over on the Saturday night the site is open from 3pm and traders can start setting up at 5pm; traders are also welcome from 7am on the Sunday. For those who've never been before it really is something special and harks back to a time when bikes were taken at face value along with their owners. There's no posing in day-glo leathers and pseudo chamfered knee sliders here…
The weather last year was simply horrid and the rain heralded one of the wettest summers on record. Although this had a very obvious dampening effect on overall attendance it didn't seem to put off too many clubs. Such is the attraction and pull of this event that many hardy souls turned up on the wettest Bank Holiday in living memory and still enjoyed themselves. With people riding early BMWs down from Yorkshire and a very brave Suzuki RE5 owner who rode up from Surrey, there really is no denying the pull of the show.

1978 Yamaha RD400E

The event is very much a grass-roots bash. There's no frenetic concours chrome polishing or innate one-upmanship; it's just good day out with the opportunity to see some very unusual and special bikes. Guest of honour and head of judging will again be well know author Mick Walker and Uncle Jim Reynolds will be compeering the show in his easy but highly informative style.
The Clubs' Show is an ideal opportunity to spend a day in tree-lined parkland, enjoying the sights, sounds and smells of some of the country's most interesting machinery. Most clubs run their bikes around the parade ring so you get an opportunity to see the machinery. It's not just a static display but a constantly changing canvas of alloy and chrome with Castrol R mixing with 2-stroke. There's something rather reassuring about listening to all the different engines. It's comforting to know that you can still legally savour such allegedly globally damaging machinery and are not forced to watch from several hundred yards away!


1978 Kawasaki Z1000-A2

There are always as many interesting bikes in the parking area as there are in the show and it's worth spending some time wandering around and looking at some of the best ridden-in bikes you are ever likely to see. The bikes' owners are often nearby and only too happy to talk about their machines.
Just under 40 clubs have booked already, bringing around 350 bikes, and more than 70 bike-related traders are also expected. If your club or branch would like a stand there's just time – call the VJMC's Doug Perkins on 01933 441145 (fax 01933 441169) or 07971 856620.
Naturally, the VJMC will be on hand with their own stand and few tasty bits of machinery. If you've always fancied Japanese bikes but didn't know where to ask about them come and look us up, we're happy to help. If you want to join the VJMC we'll gladly sign you up. If you're already an enthusiast of things oriental then drop by and have a quick anorak session with one of the country's friendliest clubs.



Special RC Subscriber Offer

Just to prove how nice the VJMC are, they are giving away FREE ADMISSION to the 2008 Classic Bike Clubs' Show to the first 50 RC subscribers who get in touch. Have your RC Club Number at the ready (if you don't have your blue membership card handy then your number is on the bottom right-hand corner of the address label of your magazine).

Call Doug Perkins of the VJMC on 01933 441145 and give him your name, address and RC Club number. If you're lucky and quick then he'll send you a FREE ticket to the Clubs Show at Stanford Hall. Then you can meet up with other RC readers and enjoy a lazy, laid-back classic biking day.

(And if you don't subscribe to the magazine then you just missed your chance for this event, but we run plenty of other discounts and special offers throughout the year. You can sign up here and join the RC Club straight away!)






RD Yamaha stuff on eBay.co.uk


It's not all Speedblocks and Moriwaki, you know…

---
Advert

Enjoy more RealClassic reading in the monthly magazine. Click here to subscribe.
---