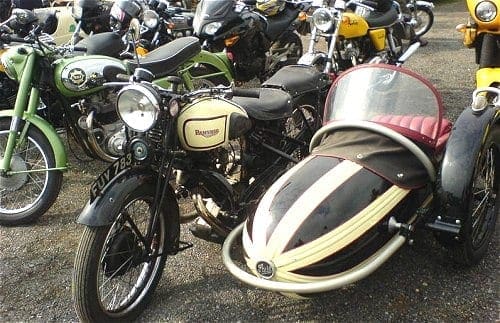 If that's an April shower then it must be time for the Elk Promotions Spring classic motorcycle show. Riders from all over the south of England will meet at Ardingly on Sunday April 6th. See you there?
The show season has already started, despite a spot of snow here and there. Classic motorcyclists are obviously hardy types because plenty dragged themselves out to the first event on the Elk Promotions calendar, which was at Ashford on Easter Monday. 'It went amazingly well considering the weather' says organiser Mrs Elk. 'Folk turned out in their droves despite the cold and the snow. Loads of people rode in on two wheels — pretty amazing!'
So we're expecting a similarly stalwart turn-out for the 2008 Spring South of England RealClassic Bike Show which takes place on Sunday April 6th 2008 at Ardingly (that's near Gatwick with very easy access via the M25/M23 motorways, although the A25 is a much nicer road to travel on an old bike if you ask us, which you hadn't, but we couldn't resist saying it anyway).

Panther Sidecar Combination

You're very welcome to join the RealClassic Crew – we'll be at Ardingly with the full range of RC regalia, plus back issues, magazine binders, Jaffa Cakes and so on. RealClassic subscribers can claim a £1 discount on the standard admission price of £5 (just show your blue RC card at the gate when you pay). And we'll even give you a Jaffa Cake if you ask nicely…
This ever-expanding event takes place in the modern (heated! Bliss…) QJ hall at the South of England Showground, with the autojumble and trade stalls close by under cover. Over 150 classic bikes have entered the concours competition, vying for a prize in one of seven categories from Pre-1946 through to 1970-Onwards, Overseas, Lightweight and Competition/Special. All entrants receive a handsome commemorative souvenir, plus there's a chance to win the Bike of the Show award as well as one of the category trophies.


1931 Norton Model 18. As if you didn't know that….

There's also a prize given for the Best Club Display Award, which last Spring was taken home by the BSAOC South London Branch. It was a close run thing – the Beesa boys were in competition with other branches of the BSA club, and the AJS and Matchless Club as well as the Indian Riders' Association. Who knows which organisation will put on the best display this time around…
The judging is being handled as usual by Frank Westworth, RC's editor, who'll be looking out for the 'most worthy' machines in each category. That doesn't necessarily mean the most shiny, or the best restored, or the most original, or the one with the highest mileage – almost any old bike can exude that magical 'real classicness' and win an award. Among the bikes which we're looking forward to seeing are a 1929 Levis six-port two-stroke, built by Butterfields of Birmingham. It's nearly 80 years old – winder if it will be ridden to the event?



Other entries to the show include a very unusual 1932 Francis-Barnett Condor, restored and hand-painted by the owner. This model was built for just one year only and, so far as we know, this bike is one of only two remaining today.



Suzuki TS185.


Less rare, but just as interesting is a 1950 BSA C11 which was first registered in 1950 in Dorset where it remained in the same family until 1983. It then passed to another relation in Sussex, and was restored in 1997 at a cost of over £4000. It's now in excellent condition and has been on the road ever since.






Suzuki stuff on eBay.co.uk
Famous for being an AMC Anorak, Frank will no doubt also be intrigued by a 1954 Matchless G3LS which was originally shipped to the Rhodesian Police Force. Since being repatriated to the UK, it's been used for European camping tours, and has covered over 16,000 miles in the past two years. Meanwhile Rowena will no doubt cast envious eyes at an award-winning Douglas Dragonfly. This 1956 machines was purchased as a box of bits which were found in a loft in Manchester in 1979. A good 50% of the bike was missing so it took the owner some six years to find all the missing parts and then have it professionally restored. It's bound to be much, much cleaner than Rowena's 'Fly…
Other highlights could be the 1958 Velo Viper which was found as a wreck in a neighbour's chicken shed in 1992. Restored to near-original trim by the owner, it has taken part in a number of VMCC Manx rallies, plus events in Holland and France. The Velo will be competing with bikes like a 1958 Norton Dommi 99, which was restored in 1984 when it had only 10,000 miles on the clock. Since then it's been ridden by the same owner for the past 24 years and has now covered 33,000 miles.


1957 Motom. As if you didn't know that….

But maybe the bike we most want to clap eyes on is a one-off machine, entered into the Special category. It's a 1977 Triumph/OSSA hybrid, which combines a T100A engine with an OSSA chassis. The owner says he took some time to get it together; 'I kept saying — one day I will put a 500 Triumph engine in that old frame. In fact, I was thinking about it for 25 years. Build time turned out to be four months!'
If you'd like to look at these and dozens of other old bikes, then you're welcome to ride in or come in the car – there's free parking on hard-standing for all show-goers. The Show opens at 10am with hot food and drinks on tap all day, and the prize-giving ceremony is usually at 3pm. It's now too late to enter your classic for the concours competition (entries close about a month before the Show), but you're very welcome to book early for the autumn event – contact Mrs Elk, whose details are below…
Oh, and don't be put off by a little bit of traditional British weather!
—————–
The South of England RealClassic Bike Show
On: April 6th 2008
Opens: 10am
At: South of England Showground, Ardingly, near Gatwick
Admission: £5 adults, £4 OAPs and RC subscribers
Discounts: £1 off standard price for RC subscribers who show their card at the gate
Contact: 01797 344277 or www.elk-promotions.co.uk

—————–

All photos are of classic motorcycles which have been displayed at recent South of England RealClassic Bike Shows, and are courtesy of Keith Fryer (www.phoenixphoto.co.uk)
---
Advert

Enjoy more RealClassic reading in the monthly magazine. Click here to subscribe.
---