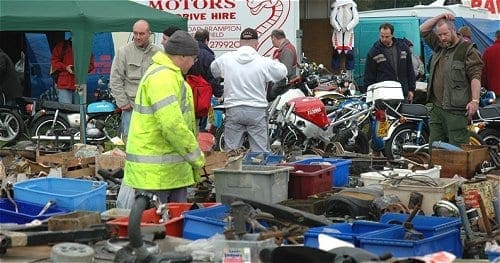 The giant Stafford classic bike show takes place on April 26th and 27th this year, and we've got a dozen tickets to give away to lucky RC readers. Here's how you can win FREE tickets to the Stafford Classic Motorcycle Show…
By now, regular readers should know how this works. There's a competition for free tickets to the Stafford Show lurking on this page somewhere. But before we let you do the fun bit and enter the compo, we make you endure all sorts of information about the event itself. You see, there is no such thing as a free lunch (and all free clothing fits), and the 'price' for 'free' tickets is that you have to sit through the PR guff which will put together such a compelling argument for going to the Show that you'll find yourself marking the date in your diary whether you win the tickets or not.
(And in case you think this PR guff doesn't actually work: be warned. Mysteriously, we ended up buying the washing machine which was heavily advertised on TV a while back, the one where socks turn into sea-snakes and lingerie makes for unlikely jellyfish. We thought we were making the decision based entirely on its technical capabilities, but there's no telling just how influenced we were by that ad campaign. So you may well find yourself trundling off to Stafford, despite intentions to do something else entirely, and we might get bitten by a poisonous sea-sock).
Meanwhile, back at the Stafford County Showground on April 26th and 27th 2008, track legends Giacomo Agostini and four-time world champion Kork Ballington will be the star attractions for thousands of classic motorcycling fans at the 28th International Classic MotorCycle Show. In addition to the two top-line Grand Prix racers, the show will also have a fantastic new attraction – a competition motorcycle marquee to complement the hugely popular Classic Racer GP Paddock.



The marquee will house an array of classic racing machines across many competition disciplines from grass-track through to trials and scramblers, with the displays coming to life in a demonstration area. This marquee, sponsored by Footman James, is sure to delight the expected 30,000-strong crowd.

One of the many highlights over the weekend will be the club stand competition, in which clubs vote for one another as they try to win one of the many highly coveted awards and with it a cash prize – with £1000 going to the winner. With the Malmesbury Motorcycle Club scooping last year's 'Best Club stand', competition will be fierce to see who will take it this time round, with Malmesbury unlikely to give up their crown lightly.

With hall upon hall of classic kit, spares for sale, club stands, autojumble and traders the public are sure to find whatever it be they are looking for.

As well as all this there will, of course, be the ever-popular Bonhams auction, with entries continuing to pour in. Joining the highly desirable Coventry-Eagle Flying Eight and the Brough Superior SS100 already consigned will be a typically eclectic mix of machines from all eras, ranging from an incredibly rare 1900/01 Chater-Lea to a 1999 Egli-Vincent.






Brough stuff on eBay.co.uk
What's more, the RC Crew will also be tucked away in the Sandylands Hall at the Stafford Show, making the place look scruffy and accepting donations to TP's chocolate fund. So you can drop by to say hello to Frank and Rowena, sign up for a subscription to the magazine, buy a bundle of back issues and discuss vital matter of importance like when it was that Triumph stopped building proper motorcycles…
Tickets to the Stafford Show normally cost £9 for adult, £7 for Senior Citizen, and children under 15 get in for £3.50. You can save by buying discounted tickets in advance from 01507 529529 or (and finally, here's the bit you just scrolled down to find) you can WIN A PAIR OF FREE TICKETS by entering this competition. Phew.
We've got a dozen tickets up for grabs, and to have a chance of winning a pair of them all you have to do is send an email to: RCHQ at RealClassic.net
Type STAFFORD TICKETS or something similar in the subject line, and in the email itself you need to tell us who you are, where you live, and what bribe you'll be delivering to the RC stand if you happen to win a pair of tickets. (Of course, that won't influence us at all. Oh no. We are immune to such corrupt practices. Apart from Agent Orange who is easily bribed with a niff of Whiskas cos he's that kinda cat).
The closing date for the compo is March 31st 2008 which gives you an entire month to fill up our mailbox with entries (but there's no point sending more than one entry per person because we know how to operate the 'delete' button, oh yes we do). We'll inform the winners during the first week of April, which means that all the losers have plenty of time to buy advance tickets and still save a bit on the gate price.

And now, because we haven't see him for a while, here's the RealClassic.co.uk goldfish…
---
Advert

Enjoy more RealClassic reading in the monthly magazine. Click here to subscribe.
---