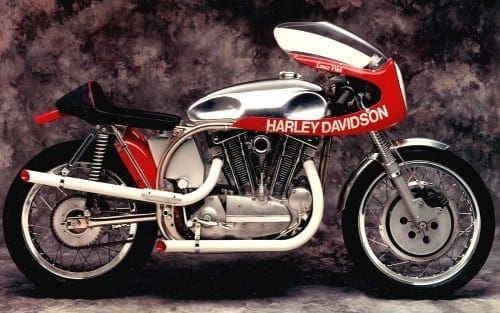 There's no doubt that a certain kind of new motorcycle is heavily influenced by the style, sound and substance of classic bikes from years gone by. For 2008, Royal Enfield go back to their off-road roots while the Ace Café launch a roadgoing racer…
Ace Anniversary
The Ace Café celebrates its 70th anniversary in 2008 (and you don't look a day over 50, guys!), and to mark the moment they're doing something really rather special – building an Ace Café Racer. There will of course be other events throughout the year, but at the heart of the party is the production of a Limited Edition series of S&S-powered Ace Café Racers.
The design of the Ace Café Racer has yet to be finalised, but we're told it will be 'based on the "Speed Thrills" and "Burn Up" legacy that is the very core essence of the café, its culture and its heritage. The S&S Ace Café Racer bikes will be the ultimate café racers, equipped with a unique S&S 50th Anniversary engine.'



Why use an American powerplant? Well, the Ace has strong links with American cars and bikes, and S&S are also having a birthday in 2008. The American performance-part and muscle-bike company will be 50, and is hosting a custom bike competition which the Ace Café Racer will enter.

Brett Smith, President of S&S Cycle said 'S&S Cycle is very pleased to have Ace Cafe London represent the United Kingdom in our 50th Anniversary celebration next June, and we are humbled to have received a commitment from such an enthusiastic team.

'Without spilling the beans, we couldn't be happier with the engine – an S&S SB-series (Sportster and Buell compatible engines), and the bike they intend to create for the competition. There is no doubt in my mind that Mark Wilsmore and Nick Gale are up to the task and the staff here at S&S can't wait to see the finished bikes.'

Mark Wilsmore of the Ace Café can't wait either and wants to get the public involved in the design of the Ace Café Racer. 'We will be creating a dedicated web section to share with you the Ace S&S bike build and for you to be a part of it. Tell us what you think and send us pictures of your Cafe Racers and provide us with inspiration and motivation to build the best.'






Sportster stuff on eBay.co.uk
You'll be able to see the Ace Café Racer as it develops at www.ace-cafe-london.com. Meanwhile, here's pic of one which S&S did earlier, for Lance Weil. There's no denying its brutal good looks. It does seem a shame, however, that the Ace Café Racer won't be powered by a British bike engine – perhaps Triumphs just aren't good enough any more…?

S&S engined Cafe Racer

Can't See The Woods?
Meanwhile, Royal Enfield brought out another new version of their 500cc Electra-engined Bullet at the International Motorcycle Show this month. The Bullet has been in continuous production since 1949 and the new Woodsman is inspired by the street scramblers of the late 1950's that the company exported to the USA.
With its distinctive high level exhaust system, trials style bars and solo saddle, the Woodsman looks every inch the classic British single, but is actually powered by the company's current all-alloy Electra engine, with 5-speed gearbox and electric start. The traditional pushrod design means that owners will experience the characteristic feel of a British single, with plenty of torque, combined with impressive fuel economy – on the RealClassic Electra we normally get about 85mpg, which means we tend to forget to fill it up for 300 miles or so.


Royal Enfield Electra Woodsman

The exhaust system on the Woodsman is not only higher than on standard Bullets, but has moved to left side, necessitating a re-styled side panel, all of which adds to this machine's distinctive appearance. Its short sports silencer boosts power by 10% compared to the standard model, for brisker acceleration. The Woodsman is equipped with a handy rear rack and alloy bash plate too.
It certainly drew something of a crowd at the NEC, but in part that's because of its improbably ungainly exhaust bracket. We can't wait to ride one, to see if it suffers from the usual bane of hi-rise exhaust pipe bikes: 'what's that funny smell? Smells a bit like a hog roast. Oh look, my leg's on fire…'
Royal Enfield has been gearing up for the new Euro 3 emissions regulations and the new unit construction 500cc engine with EFI is also on display at the NEC this November (but we don't have a photo of it, sadly [Yes we do! RM]. Which is a shame, because we want to see how ugly it is [It's not that bad actually. RM]. Unless a miracle has actually occurred and someone has designed a new motorcycle engine which looks half as good as it goes).


Royal Enfield's unit construction 500cc engine

The Classic four-speed Royal Enfield Bullet will be on sale until well into 2008, but by 2009 these iron-engined bikes will no longer be available.
The Royal Enfield Electra Woodsman is due in dealers' showrooms in spring 2008 and is expected to sell for £3895 OTR (or you could opt for the DL version with chrome guards at £3995).
Details from 01386 700907 or www.royal-enfield.com
---
Advert

Enjoy more RealClassic reading in the monthly magazine. Click here to subscribe.
---