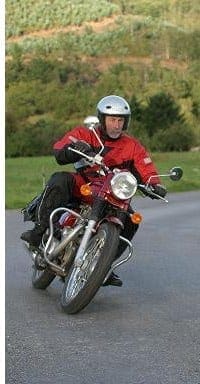 Fed up with the weather? Here's something to cheer you up, then. A whole bunch of discounts and special offers and even some FREE (!) wotnots, just for RealClassic readers…
Head South To The Sun!
Now is the moment to leave behind the British summer and scamper off to the Spanish sunshine. Run by RealClassic Clubman Phil, Bike-Astur are based in the beautiful Asturias region, and offer guided tours on Royal Enfield Electras among other activities and entertainment.
English-speaking guides take you on a riding holiday in the splendid scenery of the Asturias region; bring your own bike or use one of Bike-Astur's fleet of Royal Enfields. A wide range of other activities includes walking, fishing, yoga, painting, pony-trekking, golfing and heaps more. Tours are normally six days or eight days long.
RealClassic Club members can claim a discount when they book – the discount will vary depending on the length of your stay and the type of holiday you book. Have your membership number to hand when you get in touch…
See: www.Bike-Astur.com

RC SPECIAL OFFER: Discounts available for RealClassic magazine subscribers.

Tel: 0034 609 849 241
Top Toys!
Real Life Toys are great for the grandchildren (or for your own children, if you're a late starter or they are late developing!). These fully functional, miniature motorised vehicles come as complete cars, kits, or patterns and parts – so you can assemble them yourself if you're handy with the spanners. RLT supply paper patterns and a build manual full of instructions. All the manuals contain easy to read workshop drawings for those who like to manufacture the metalwork – but all parts, including some ready-cut body panels, are available from stock.
For those who want a speedy build there are some complete bodies, ready to prepare and paint, plus bonnets and grille units available, saving time and effort. There are full instructions on driving, charging, servicing and maintaining this child's toy to keep it in tip top condition for many generations to come.
Real Life Toys is run by RC Clubman Richard, and he doesn't normally give any sort of discounts… BUT… just for us, he's offering £5 off a set of DIY patterns and build manual, which is normally £33.50, and £25 off a kit of parts to build your own 'RealClassic Children's Toylander', a Land Rover-style car kit at £749, or the Tractor kit at £725. You must mention RealClassic and have your membership number to hand when you order.
See: www.realifetoys.com

RC SPECIAL OFFER: For magazine subscribers only. £5 off DIY patterns. Or £25 off the kit to build an RC Toylander

Tel: 01767 319080
FREE Brake Cleaner From Frost
You must have seen Frost's catalogue before, packed full of tools and equipment for the home mechanic or restorer. Frost search high and low to find the most useful and innovative aids for your restoration projects and all of their products are rigorously tested by the Frost team.
Their catalogue now contains over a thousand items – one of which you can claim FREE if you're a new Frost customer and an RC reader (well, you must be an RC reader if you're reading this. Yes?)
See: www.frost.co.uk

RC SPECIAL OFFER: If you are a new-to-Frost customer then you can claim a FREE brake cleaner aerosol, which normally costs £4 plus delivery. Call 01706 758261 and quote reference 707RC (say you're ordering the RealClassic special offer). There's just one free aerosol per person, and the offer ends on 30/09/07

Tel: 01706 758261



Up to 15% Off Bike Insurance

BikeSure have been offering motorcycle insurance for donkey's years (you may have known them in the past as Adrian Flux; it's the same organisation trading under a snappier name). They offer insurance policies to suit all sorts of motorcycles including classic bike policies, trikes, custom bikes, quads, Harley-Davidsons, multi-bike insurance, scooters, mopeds, superbikes, agreed value cover and limited mileage discounts.

Now RealClassic Club members can claim up to 15% off on one of these policies. Call for a quote – or if you get a quote online remember to tell them you're a RealClassic Club member and that you should be given a discount!

See: www.bikesure.co.uk

RC SPECIAL OFFER: Up to 15% off for RealClassic subscribers

Tel: 08000 890 145






Enfields on eBay.co.uk
Great Pub Grub at Cut-Price Rates!
Classic riders are welcome at the Temple Bar Inn near Hereford, which is run by RC Clubman BikerMarc. The Temple Bar Inn is a friendly country pub situated on great riding roads, which serves good ales, bar snacks, biker bites, Sunday roasts and a full restaurant menu. Bike clubs are welcome to ride-in throughout the year (but please phone in advance so tables can be reserved and food prepared).
RC subscribers can claim a 10% discount on food at any time, so long as you've got your little blue membership card with you and can show it to BikerMarc…
The Temple Bar Inn is at Ewyas Harold, near Hereford, HR2 0EU

SPECIAL RC OFFER: 10% off food if you show your RC Club card

Tel: 01981 240423
Quids In at South of England Show!
The autumn RealClassic South of England Show is on Sunday 28th October this year. There are two opportunities to come along and enjoy the event and save yourself some cash – thanks to organiser Mrs Elk. If you would like to enter your pre-1980 bike for the concours display, which means it'll need to be in the hall by 9.30am and stay there until 4pm, then if you pre-book before October 1st 2007 you'll be given FREE admission.
If you just want to come along and enjoy the show, club stands, autojumble, trade stalls and refreshments, then RC club members can claim a discount on the gate – the normal admission price is £5 but if you wave your wee card then you'll be given entry at the discounted rate of £4. (OAPs also pay £4 and kids get in for free).
The South of England RealClassic Motorcycle Show is at Ardingly, West Sussex, and opens at 10am.
See: www.elk-promotions.co.uk to download an entry form

RC SPECIAL OFFER: FREE admission for pre-booked concours entrants. Or £1 off admission on the gate if you show your RC Club card on the day

Tel: 01797 344277



Heaps of Discounted Kit at Norvil

The Norvil Motorcycle Co are offering so many special deals at the moment that we haven't got space to list them all.

If you spend over a certain amount on goodies for your Commando, Dominator, Norton single or lightweight twin then you can claim a free decal, key-ring, t-shirt or O-ring kit.

Alternatively, take a look at Norton News on the Norvil website (click on Current Advert at the top of their home page) where you'll find squillions of items offered at knock-down prices. You'll find tonnes of stuff from special tools to clutch levers to valves guides to bulbs to those all-important 3/8th inch serrated washers…

Most of the Norvil offers run until June 30th 2007, or until stocks have sold out. Happy shopping!

See: www.norvilmotorcycle.co.uk

Tel: 01543 278008






Nortons on eBay.co.uk
———————-
Not A RealClassic Magazine Subscriber?
Everyone who subscribes to the monthly RealClassic magazine directly from the publisher (that's us…) is automatically a member of the RealClassic Club, and gets a personalised membership card to prove it. We appreciate every single subscription, and these special offers are our way of saying 'thanks' for your support.
If you'd like to subscribe, see www.RealClassic.co.uk/subscribe
If your subscription has lapsed and you'd like to renew it, see www.RealClassic.co.uk/renew
——————–
Lost Your Card?
If you can't find your RealClassic Club card, then don't despair. Just send a quid to TP at RCHQ, PO Box 66, Bude EX23 9ZX, and ask for a replacement. We'll get another card done for you in the next batch, and then you'll be able to claim your freebies and discounts with the rest of them…
---
Advert

Enjoy more RealClassic reading in the monthly magazine. Click here to subscribe.
---