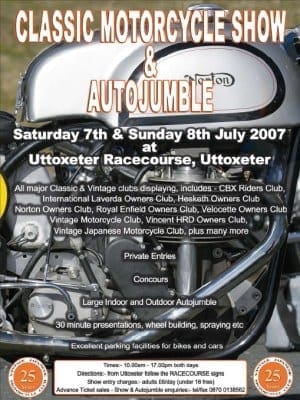 Summer 07 is going to be busy! The VJMC have come to the rescue of the Classic Bike Clubs' Show, and they're hosting a separate Anniversary Show, too. That's on top of the VMCC's Festival of 1000 Bikes and a new date for Beezumph…
Clubs' Show Saved
The VJMC contacted us last week to let us know that there WILL be a Club Show this year after all. The Clubs' Show got off to a great start in its first couple of years, but it all went pear-shaped in 2006 when heavy rainfall waterlogged the site and meant the event had to be cancelled at the last minute. A date was set for 2007, but organising such a large event proved too much for the original team.
The Vintage Japanese Motorcycle Club have stepped into the breech and taken over the National Classic Bike Clubs' Show, and they will be running it from now on. They have secured the original date on the Bank Holiday weekend of Sunday 27th May 2007, and the show will once again be hosted by Stanford Hall near Lutterworth in Leicestershire.
In previous years this event has been a real gem; a bustling summer show in a great setting and packed with all manner of interesting machines. The VJMC hope to develop this theme and are keen to see more organisations join the fun. As usual, club stand space is FREE, and each club exhibitor will receive two FREE tickets for rider and pillion who attend with a show bike.
There are also great deals available for bike clubs which want to put on a jumble stand (prices start at just £7), while trade jumble stalls cost £15 and trade stand space starts at £25 per plot.
Club secretaries should contact Doug at VJMC on 01933 441145 as soon as possible to arrange their club stands. Or see www.vjmc.com.
| | | |
| --- | --- | --- |
| | | Norton Stuff on eBay.co.uk |
VJMC Anniversary Show
Meanwhile, the details of the VJMC's other event are being confirmed. The club hopes that this two-day show and autojumble will be a major event for all classic bike enthusiasts. Many of the UK's major marque clubs are supporting this event, not just Japanese but British, European and American too, and including the VMCC, Vincent-HRD, Velocette, Hesketh and Laverda clubs. This event is to celebrate the VJMC's 25th anniversary and, hopefully, help towards establishing the club's own museum and archive.
All participating clubs will be allocated indoor space in the showground halls while the autojumble will be in a separate, very large marquee as well as outdoors on hard standing. For every motorcycle displayed, the VJMC will give an FOC entry pass for both days. There may also be camping facilities available over the weekend, at a minimal charge subject to space.
The VJMC expect trade stalls to include manufacturers, wheel builders, engine tuners, accessories, spares, clothing and so on. As well as the concours competition in the show itself, there will also be a range of other attractions including presentations on wheel building, spraying and so on.
All this takes place at Uttoxeter Racecourse on July 7th and 8th 2007; call 0870 0138 562 for entry and ticket details.
Beezumph Dates Confirmed
Another firm favourite on the club event calendar is the Beezumph bash, which has been run on an end-of-season autumn weekend in the past. However – time to adjust your calendar a touch — the TR3OC have announced that this year's Beezumph Rally and festival of British bikes has been scheduled for slap-bang in the middle of summer this year, on Friday and Saturday, 17th and 18th August 2007 at Cadwell Park.
All are welcome to join the triple club's annual bash which promises the usual swarm of famous faces and heroes from the 60s and 70s racing scene, including just about all those associated with Tridents and Rocket 3s.
Friday's track sessions are open to all British, European and American motorcycles of any age, while Saturday's track sessions are open to pre-1984 British bikes only, plus any Rotary Nortons. Absolute beginners can take to the track for the first time on the Friday for just £23. Standard track tickets cost £135 for Friday and £130 for Saturday. If you don't want to ride but do want to enjoy the static displays, sights and sounds, barbecue, band and party, then a full rally ticket costs £20, or you can come in for a single day for £10.
You can download entry forms from www.tr3oc.co.uk or send a large SAE to Beezumph Rally, 6 Beechnut Drive, Darby Green, Camberley GU17 0DJ.
Festival of 1000 Bikes
Last – but by no means least — the VMCC tell us that the response to the announcement of the 2007 event has been overwhelming. James Hewing, the VMCC's CEO is delighted. 'We already have over 700 riders who've pre-registered to take part in the track sessions and dozens of one make clubs have applied to display in the Avenue of Clubs. For 2007 we also have a lot of clubs who have expressed an interest in having single-make track sessions, and this will make for a great spectacle.'
As in 2006, the event gives enthusiasts the opportunity to ride their own machines in multiple track sessions over the weekend. This all-inclusive event caters for all classes of machines, from the earliest veterans through to the machines of the superbike era. There are less restrictive noise regulations on the Sunday, which will allow riders to display their racing machinery in special track sessions running throughout the day.
One of the reasons the track sessions proved so popular with riders at the 2006 event was that the VMCC used the original Mallory Park circuit, without the later additions like the Bus Stop, and this will be case again in 2007. If you want to ride your vintage or classic bike on the track, then the VMCC recommend that you get an entry form completed – pronto.
After recreating the Festival of 1000 Bikes at Mallory Park in 2006, the VMCC organisers have taken on board feedback from participants and spectators, and aim to make this year's event all the more entertaining. For instance, major landscaping works at Mallory Park will allow the road bike paddock to be situated outfield, opposite the start/finish straight and closer to the race bike paddock area. This will allow the whole spectacle to be seen in close proximity and should make for an amazing static display of historic machinery. The road and race machine paddocks will linked by the ELF pedestrian bridge next to the start/finish line.
The 2006 event had a great line up of Past Masters and famous machines, and for 2007 the whole Corse Laverda factory team from Italy will be revving up. The famous Laverda V6 endurance racer, never before seen in the UK, will be howling around the Mallory tarmac piloted by its co-creator Piero Laverda. Also in attendance with the team will be ex works rider Augusto Brettoni (SF750) and GP star Roberto Gallina (space frame 1000 triple).
James Hewing reckons this is just the tip of the biking iceberg, explaining that 'with the assistance of Roy Richards and the National Motorcycle Museum, who have promised to bring even more bikes and riders than in 2006 (when the Rotary Norton's of Spray and Simpson put on an incredible display), we will again have more historic two wheeled Stars in one place than at any other event in the UK.'
The Festival of 1000 Bikes will also feature Pre 65 Trials, Historic Grass Track, Historic Sprint Demo, the Avenue of Clubs, trade stands and autojumble, evening bars, live bands, entertainment and 'Classic Stars on Stage' in the VMCC Big Top. Is that enough to keep you occupied for a weekend?
The VMCC are happy to say that prices for track sessions have been kept low again in 2007 to encourage as many riders as possible out onto the track. The cost for three track sessions will be just £55 for VMCC members, and £64 for non-VMCC members.
The Festival of 1000 Bikes takes place on July 14th and 15th 2007 at Mallory Park Circuit. See www.vmcc.net
---
Advert

Enjoy more RealClassic reading in the monthly magazine. Click here to subscribe.
---