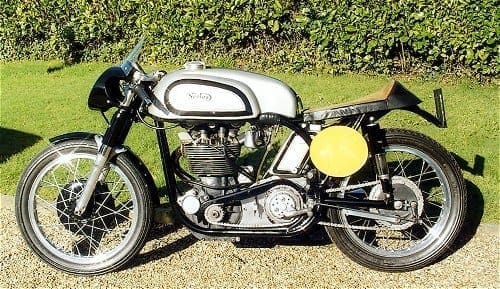 The 2007 classic bike sale season is about to get into full swing. Two new auction houses have entered the old bike arena, and a new sale is announced at the Southern Classic Bike Show. So what's up for grabs?…
H&H Start The Season and Announce Important New Sale
The first sale of the season is on March the 1st at the Centaur Complex, Cheltenham Racecourse, hosted by H&H Classic Auctions. H&H have long been involved with vintage and classic cars, and have been building up their classic motorcycle interest over the past 18 months – with some impressive results. In sales last year H&H set three new world motorcycle sale records, when a clutch of Manx Nortons broke all previous price barriers. A 350cc Manx went for £24,750, and then a 500cc almost reached £32,000.
These kind of results to tend flush out similar bikes from their hiding places, so it's no surprise that the March sale includes more Manxes, all seeking big money. A 1956 30M 500cc (estimate £21,000-23,000) was totally rebuilt in 1978 by Ray Petty and features his five-speed PGT gearbox. The present owner bought the Norton in 1989 and has shown it in numerous concours competitions, winning a number of Norton Owners' Club awards. The bike even boasts Geoff Duke's autograph on the petrol tank!
Another 1956/7 40M 350cc Norton (estimate £17,000-19,000) has been in its current ownership for 25 years and was fitted with a Triumph 650cc engine when the present owner acquired it. He replaced the non-standard Triumph unit with an ex-Harry Whitehouse 350cc OHC Manx engine prior to racing the Manx for a couple of years in vintage and classic races. Thereafter the engine was thoroughly overhauled by renowned Manx Norton tuner Phil Kettle and it has only been ridden for some 20 laps round Pembrey circuit since.
The estimates are optimistic, but are buyers still interested in more Manx Nortons? It'll be interesting to see whether the market for bikes like these remains as strong as it was last year, or whether a glut of Manx machines brings down the level of bids.
If your tastes run to other marques, then the H&H Cheltenham sale also includes the last production Vincent Black Prince (estimate £32,000-36,000); a 1950 AJS 7R which hasn't been used since it was restored in 1991 (estimate £11,000-13,000), and a 1975 Gilera Arcore that has been in the same ownership from new (estimate £500-800). For the spannermen, restoration projects on offer include a Velocette Venom (estimate £1,400-1,600), a 1950 Vincent Comet (£3,500-4,500) and a dismantled 1951 Vincent Rapide (£10,000-12,000).
We can expect to see a far larger line-up of classic motorcycles for sale through H&H a little later in the year, on Saturday May 12th at the EGP Southern Classic Bike Show at Kempton Park. This event already ranks as one of the must-see shows of the classic year, attracting an audience of thousands – the auction may well flush out some bargains as well as the high-price, glamorous machines.
H&H charge a buyer's premium of 10%. Catalogues for all sales from 01925 730630 or see www.classic-auctions.com
********
Real Road-Racers On Sale At Stafford
The next big sale is Bonham's twice-annual auction at the International Classic Bike Show at Stafford on April 29th. Star of this show is an ex-works racing MV Agusta 500-4, one of the famous four-cylinder 'fire engines' that brought MV Agusta 139 victories and 16 World Championships in Grand Prix racing's premier 500cc class. As with any old racing machine, unravelling the MV's heritage is a little tricky; when the contents of the MV race shop were sold off after a lengthy period in storage, only two machines of the pre-1965 period were assembled and complete and the rest were dismantled. The principal purchasers were Robert Iannucci in the USA, Ubaldo Elli in Italy and John Surtees in the UK. This genuine, ex-works machine, number '1104', was purchased directly from John Surtees by the current owner and matches the specification used by the MV factory team between 1957 and 1960, while the short-stroke engine is of the type used between 1954 and 1961.
Since 1996 when it was acquired by the vendor, '1104' has been fastidiously maintained and enthusiastically exercised on a regular basis at classic parades – it's been ridden by Giacomo Agostini, Phil Read and Mick Grant. The machine was last ridden in June 2006 and is sold as being 'good to go'. Mind you, it won't go cheap – if you fancy twisting its grip yourself then you'll need to have pockets that are around £175,000 deep…
Other entries in the Bonhams' Stafford sale include a 1912 Indian 1000cc Sports mechanically rebuilt but otherwise original (estimate £20,000-24,000); a 1924 Matchless 330cc Model L/3 (estimate £3000-3500); a 1929 Scott 596cc Super Squirrel combination (estimate £5000-6000); the ex-works, ex-Frank Cope, 1951 Norton 250cc 'Outside-Flywheel' Manx racer (estimate £25,000-28,000); a Dave Kay replica of a 1957 Gilera Four (estimate £75,000-85,000); a 1969 Yamaha TR2, never used by its single owner (estimate £12,000-15,000); and a c1985 MV Augusta 861cc Magni racer, as ridden and paraded by Phil Read between 1994 and 2006 (estimate £25,000-28,000).
Plenty there for the collectors to get their teeth into – but the Bonhams' Stafford sale normally produces a solid group of more workaday bikes for the lower bidders and it is possible to nab a bargain here, while folk are dazzled by the big bucks being spent on the flash kit. Our advice is to have a good look around on the Saturday, so you can spot the 'original and unrestored' machines which have suspiciously shiny paintwork!
Bonhams charge a buyer's premium of 15%. Catalogues from 08700 273 616 or see www.bonhams.com
*******
Bag A Bargain At Brightwells
Brightwells are a less familiar figure on the old bike sale scene, although they've been running vehicle auctions for decades. Last autumn they sold a brand new and unused Ariel Leader for £3000, a Norman B2 for £800 and (yet another) Manx Norton for £19,000 – although several of the classic bikes in their last sale failed to find a new buyer. That may have been because the sellers held unrealistic expectations; some buyers certainly came away happy, like the chap who went home with a 1976 Triumph Tiger 750 for £1550.
The next Brightwells auction is on March 21st at their sale room at Leominster near Hereford. Amid the classic cars in the catalogue you'll find offered for sale a 1954 BSA Gold Star DBD34 (estimate £8500-10,00); a 1927 BSA S27 Deluxe (estimate £2500-3000); a 1966 Matchless G85CS (estimate £8500-10,000); a 1931 Scott Flying Squirrel (estimate £3750-£4750); and a 1950 Vincent Rapide Series C (estimate £17,000-£20,000).
Brightwells charge a buyer's premium of 10%. Catalogues from 07970 309907
www.brightwells.com



*******

Another New Online Auction

It smacks somewhat of jumping on a band-wagon – another new online auction site has been launched. There have been several attempts to cash in on the success of eBay's business, but this site has been specifically set up for classic vehicles.

classic-lots.com has been devised by a classic car dealer, the Lancashire Classic Car company. It's intended to be an online auction site for the classic vehicle community, featuring Classic Cars, Classic Motorcycles, Classic Motorcycle Parts, Commercial Vehicles, Classic Campers, Classic Car Parts and more.

The site is supposed to be easy to use and offers; 'easy registration and auction listing procedures with fixed fees starting at just 49p for listing items. Unlike eBay, users "pay as they go" avoiding the need to register their bank or credit card details.'

Our experience of these sites is that they are brilliant places to find bargains and snap them up at low prices – because the competition among buyers is very low (no one knows to go there and look!). By the same token, new auction sites tend to be poor places to get top dollar when you're selling your bike.

And, indeed, when we checked classic-lots.com there were just three classic cars on it for sale, and no motorcycles whatsoever. Maybe in time…






Manx Norton stuff on eBay.co.uk
---
Advert

Enjoy more RealClassic reading in the monthly magazine. Click here to subscribe.
---