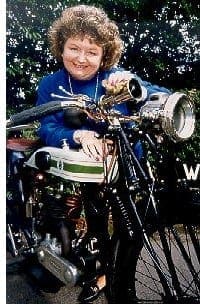 The final round-up of the year brings a new player into the classic bike insurance business, a call for past TT riders, a new VMCC branch, a plea for old Brit iron, and something to do on New Year's Day…
Carole Nash Business Sold for £80million
There has been speculation for some time that the specialist insurance broker, Carole Nash, was up for sale. The announcement came last week that a deal had been done and the company has been bought by Groupama UK. Groupama is a European giant in the insurance industry and employs around 32,000 people, with annual revenues in the tens of billions. Carole Nash is the UK and Ireland's biggest motorcycle insurance specialist, turns over around £6million per month, and has over 240,000 policyholders.
Carole herself, who founded the business in 1985, will be retiring but will be on hand in an 'ambassadorial' role in future. After 21 years in the business, starting from a spare room at home, she deserves a rest…
Two-wheeled customers have been assured that it will be 'business as usual' for them, as the motorcycle concern 'will continue to operate entirely separately, under its existing management team.' There are no job losses expected from the 350 staff who work for Carole Nash in Manchester and Dublin.
Pierre Lefèvre, the Chairman and Chief Executive at Groupama UK said: 'This is an important strategic acquisition for our Group and one that offers us almost unrivalled access to a number of niche markets and presents the opportunity for valuable profitable growth. Carole Nash is a market leading business with excellent people, tremendous market knowledge and highly respected products. The business has a very strong brand presence in its chosen areas and we will be supporting the existing management team to maximise the potential of the Carole Nash brand.'
********
New Year's Day RC Riders Welcome!
Don't forget the Classic Bike Meeting on January 1st at the Temple Bar Inn, Ewyas Harold, between Abergavenny and Hereford just off the A465. The pub is owned by RC regular BikerMarc, and he's invited all classic enthusiasts to come along from 11am regardless of the weather or your transportation (if it's too cold to ride your classic bikes then just come along and talk about them!).
The Temple Bar Inn offers real ales, freshly prepared food, is very classic biker friendly, and you get 10% discount off any meal if you show your RC card. Call 01981 240423 for directions.
********
Call for Past-Masters
The date for the 2007 Bob Mcintyre Memorial Classic Races has been confirmed as June 16th/17th, and the organisers are planning something extra-special for this year's event (which will take place at the East Fortune Raceway in East Lothian). The Scottish Classic Racing MCC, who host the event, intend to celebrate the 50 years since Bob McIntyre became the first rider to lap the IoM TT circuit at over 100mph, when he rode the 4-cylinder Gilera in 1957.
So the organisers would love to hold a reunion of racers who took part in that Senior TT in 1957. It doesn't matter if you don't feel up to riding – but if you were a competitor 50 years ago then you'd be very welcome to join a parade or simply take a stroll around the paddock.



The weekend will feature two full days of racing plus four past-masters parades, and displays of machines from the golden era of TT racing – call for more info on 01294 833320.

********

Welsh VMCC Branch On The Way

RC reader Ken Stagg is also a member of the VMCC, and he would like to hear from any other VMCC people in the north-west Wales area. There is a plan afoot to form a new section of the VMCC, to be called the Eryri Snowdonia Section, covering the Gwynedd and Anglesey areas.

A recent meeting elicited a very positive response, but if you didn't get to hear about it or couldn't attend then you can still get involved. The monthly meeting of the new section will be held near Caenarfon – for details about exactly when and where you can call Ken on 01758 720864.

And we expect to see photographic evidence of the new section on its January ride-out to the top of Snowdon… only kidding, chaps!

********

New Chelmsford Jumble Feb Date

It's a bit last-minute, but the date for the next bikejumble at the Marconi Sports and Social Club on Beehive Lane in Chelmsford has been announced as Sunday February 4th 2007.

The hall has only just become available, hence the last-minute dash, but this means there is likely to be some space for jumblers if you'd like to run a stall and clear some space in the shed.

Private sellers and traders alike should call Barry to book a stand; 0208 252 6831, and doors open 10am on the day.

********

Any Old Iron Wanted!

The Britannia Motorcycle Club of Stourbridge have issued a plea to anyone who has an old Britbike mouldering away in a corner. Give them a call and get shot of it!

'We're dedicated to recommissioning British machines' say the Club, so are on the lookout for 'any bikes, any make or condition, and also any spares for ongoing projects.'

So if you're in the Midlands and have any old Brit iron which you'd like to see the back of, give the club a ring on 07956 137789. They'll collect from your doorstep and pay cash…






Random Bonneville Stuff on eBay.co.uk
---
Advert

Enjoy more RealClassic reading in the monthly magazine. Click here to subscribe.
---