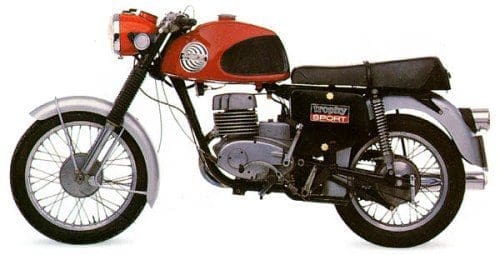 Phil Speakman takes an unusual first ride on his latest classic bike. From the middle of nowhere to the other side of the country on one of the coldest days of the year — aka hypothermia for beginners…
'How do you spell it?'
'S-L-E-A-F'
'Ah yes, I've got it now. Never heard of that station before and after 25 years I thought I'd come across all of them at one time or another. Where is it?'
'About 15 miles south of Lincoln. I need ticket for tomorrow, but I only need a one way trip, as I won't be coming back'
'Oh?'
'No, I mean, well yes, that is I hope I will be coming back, but on an old motorcycle I've bought'
'I see. £31 please.'
9am the following morning I jumped on the first of my four train connections that day, on my way to pick up my new toy. The weather was clear, sunny and bitterly cold and I had a portable radio, the Telegraph and a copy of Robert Fulton's book 'One Man Caravan' to occupy me for the next five hours. I like train journeys but only when they are quiet and not ruined by inconsiderate passengers. Loud people who don't know how to behave in public, effing and blinding for all they're worth irrespective of who is in earshot are guaranteed to cause me lose my temper. Thankfully, all my fellow passengers that day were as quiet and polite and considerate to others as I try to be. If only that were always the case.
2pm saw me arriving on time at my destination and a short walk from the station took me to my new bike, a 1971 MZ ETS250 Trophy Sport in red and black livery. It has the same engine as my ES250/2 Trophy, with the same power output, but with a lightweight sports front end with conventional forks instead of that heavy, touring-orientated Earles forks unit. The reduced weight increased the Trophy Sport's top speed to a dizzying 82mph and gave it pretensions of sporting handling. The tank too gives it a sporting look that belies its actual practicality of holding five gallons. Yes, you did read that right: FIVE gallons !
Once the paperwork and checks were over with, I wrapped up against the bitterly cold wind with everything I'd got. I found myself wishing that I had actually taken my leather jeans, but there's no point in crying over spilt fork oil and my denims, long johns and a set of waterproof leggings would just have to suffice.
Once on the Newark road, I pulled over at the first available garage and filled the tank up with 30:1 petroil mix. Unfortunately, I also had to remove my leggings as they were so restrictive I just couldn't ride in them, so there went the wind protection for my legs, which I knew I was sure to regret sooner or later.
Another couple of miles down the road and I was a little concerned that I couldn't get the bike above 60/65mph. It sounded fine, ran and revved fine, but it just wouldn't go like I knew it should. The explanation presented itself a little further on as I passed an MOD airfield. It displayed a large windsock (must have been at least a 30 or 40 knot sock, judging by the size of it) that dwarfs the 15 knot sock at my local Microlight field… and it was pointing absolutely straight at me. Even if I'd used a spirit level on it, I couldn't have positioned it any more horizontal than it was.
| | | |
| --- | --- | --- |
| | | Random MZ Stuff on eBay.co.uk |
So there was my performance problem explained. I was riding against a 40mph head wind!
That wind also had a mission in life, a cause or a quest if you prefer. It wouldn't stop nor be deterred from its sole ambition which was to suck all the heat from my body and dissipate it evenly throughout the Lincolnshire countryside.
I had only been on the road for 45 minutes and I was so cold that I began to feel that getting home might not have been an achievable or a wise aspiration…
Mentally, I blocked out the enormity of the seemingly insurmountable 150 mile journey home by breaking it down into small achievable legs. Talking of which, I couldn't feel mine anymore.
The first milestone was to get from Newark to Mansfield, then to cross the M1. After that, well I'd see when or if I got there. All the while I was conscious of the time and the failing late December light but I wouldn't allow myself to stop until the daylight had completely gone. I chased the large orange sun and my teeth started to chatter as I clocked up the miles as quickly as I could and the bike would allow. My reasoning was that the greater distance I could cover during the scant hours of daylight then the fewer miles I would have to do in the dark and the less likelihood I would have of finding black ice on an un-gritted Derbyshire country road.
Getting through Mansfield and out towards Chesterfield seemingly took an age, then suddenly I was out of the conurbations and into the High Peak, where a single signpost for Manchester was all that was required to lift my chilled spirits.
By the time I'd climbed higher into the Derbyshire High Peak on the A619, followed by the A623 northwest towards Chapel en le Frith, the cold had penetrated deep inside me. I desperately needed a pee, but I was loathe to stop and lose yet more precious heat from my body so I bit my bottom lip and pressed on regardless, leg crossing not really being a viable option.
The sunset ahead of me took an age to set which I realised was a double-edged sword, as all the while it was drawing me closer to home but inevitably worsening the numbing cold that I was suffering with. At Stoney Middleton and again at Peak Forest the passive lack of feeling in my hands was replaced by a stomach churning pain, caused by my clumsy brake and clutch manipulation returning slightly warmer blood to my fingers. Ten years of professional chainsaw use has left me with vibration white finger, which believe me really didn't help the situation.
As darkness finally closed in, I realise that I just couldn't safely carry on as I was and I really must stop. I'd made it as far as the Dog and Partridge at the junction of the A6 and B5470, approximately 15 miles south of Stockport. Despite the cold my confidence had once again returned, knowing that by pressing on the way I had, I'd broken the back of the journey. Parking the bike outside the pub, I killed the excellent 6-volt headlamp and ignition and eventually managed to fumble the fuel cock into the closed position. Getting off the bike was neither a graceful nor a pretty site to the casual observer and I am thankful I was unobserved.
Half way between the front door of the pub and my bike, I remember stopping and starting to giggle uncontrollably at the ridiculousness of my situation. I was walking like Steve McQueen in Papillion after the prison guards have smashed his feet — either that or I was impersonating Roddy McDowell in Planet of the Apes. With a conscious effort and considerable pain, I straightened my knees and made the effort to at least impersonate a human being as I entered the blissful warmth of the bar.
'Are you still doing food?'
'Yes, there's the menu and the specials are on the board over there'
'Wonderful, a pint of Everards Tiger please'
As I tried to pay for my food and beer the landlord looked at me strangely. In attempting to pick the coins out of the palm of my left hand with the thumb and index finger of my right, both hands were shaking a full two inches either side of their mean position, a situation that which eventually appeared comical to both of us.
'I'm sorry, I'm so cold that bits of me aren't working properly'
'Go and stand in front of the fire. Nobody will mind'
'Do you mind if I have a little cry too?'
'Be my guest'
'Ta'
Once the pain in my hands had eased, my knees briefly took up the torturing baton. Then surprisingly after a full 15 minutes stood in front of their roaring coal fire, my teeth decide they were going to start to chatter again. Hello, where have you been for the last hour, sulking?
The pint of Tiger was wonderful, as were the huge pork and leek sausages in an even larger Yorkshire pudding with gravy. Between myself and Tina, the most economical dog I've ever met (she only wagged her tail once eye contact had actually been established), we finished them off. The golden syrup sponge and custard were taken on board purely as ballast in case of a future worldwide comfort food shortage, you'll understand. After an hour I felt warm enough to continue, but it was one of the hardest things I have ever had to do, leaving that pub.
It was now a race to ride the 40 miles home, before I cooled down once again to sink into a mild state of hypothermia. I descended through Hazel Grove into Stockport and the air warmed somewhat leaving only my legs feeling 'uncomfortably numb' (be a good name for a song that). On the M60 and M56 I lay flat on the tank and open the throttle fully, only to reveal a worrying clutch slip that wouldn't let me get past 75mph. I hope that the cause of the slip is simply worn linings, not uncommon on this bike due to a high first gear requiring a little slippage whilst pulling away. The other possible cause is the engine speed clutch basket coming off the crank taper and was something I really didn't want to consider just then. Sorting that out was a job for the Christmas holiday period.
A forty minute dash later and I pulled up outside my house, shivering, tired but victorious. It was only 150 miles and five and a half hours door to door, but my decision to dress for the train and not for the bike trip had turned it into a epic battle between my willpower and the lesser weapons from winter's cruel armoury. I wheeled the bike into the garage and I started the bath running, then I tried to respond to the text messages on my phone from MZ friends curious as to my progress. I attempted one short text message then give it up as a bad job and sank instead into the blissfully hot water.
'Sod it, if they want to know how I got on then the buggers can phone !'
Ring ring……ring ring……
Or should that be "Ring… ding…ding… ding… ding… ding… ding…
---
Advert

Enjoy more RealClassic reading in the monthly magazine. Click here to subscribe.
---