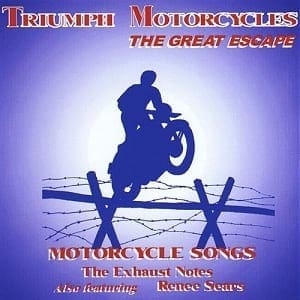 Are you ready to rock? Rowena Hoseason has discovered a collection of motorcycle songs which will probably be the Next Big Thing, go live on stage in a West End musical and end up being filmed in Hollywood with Tom Cruise taking the lead role. Or not…
We're not averse to a spot of musical amusement here at RCHQ as anyone who reads the small print in the flannel panel of the monthly magazine will know. Mixing motorcycles and music is a tricky business, however. I'm sad to say that listening to Art Sirota's 'Norton Songs' only ranks slightly higher on my 'must do' list than undergoing root canal treatment without anaesthetic. But Dumpy's Rusty Nuts always managed to get away with it: memories of 'I'm only happy when I'm ridin' my hog' evoke a certain smell of sticky carpets combined with the heavy fug of concentrated cigarette smoke. And Joe Satriani's 'Ride' is flat-out fabulous.
So when RealClassic reader Daniel H offered us the chance to enjoy his aural outpourings entitled 'Triumph Motorcycles: The Great Escape', I hoped that they wouldn't be too awful but I wasn't completely confident. It's this optimistic outlook on life which means I'm rarely disappointed. Happily, I can report that the album, available to download, is really rather enjoyable. It's performed by 'The Exhaust Notes' and features guest vocals on one track from Renee Sears – Daniel penned the lyrics.
The result is a clever confection of ten solid tracks, of the type you might expect to hear played by the headline band at a motorbike rally. The album doesn't feature the sound of actual motorcycles – thankfully – this is music, not an entire hour of roaring exhausts. Instead, taking Triumph Motorcycles as its theme, 'The Great Escape' ambles around the guitar music of the 1950s, 60s, 70s and 80s.
| | | |
| --- | --- | --- |
| | | Bonnevilles on eBay.co.uk |
The album combines topics which will be familiar to fans of classic bikes together with a variety of rock 'n' roll, 12-bar blues, folkish songs and so on, even throwing in a bit of a rock ballad and a couple of foot-stomping 'rally rock' standards which would have gone down a storm in 1980-something in the beer tent of a muddy field in the hissing rain. The different styles of music are matched with lyrics about certain classic Triumph models, famous riders (although I always associate Barry Sheene with Suzukis instead of Triumphs), the Ace Café, and even the day the music died. Some of the songs are tributes to a certain style, others veer very near to outright pastiche. Some tracks feature heartfelt or lively lyrics and others have a subtle underlying humour to them. It's worth listening to the words, in short.
Don't expect anything especially inventive – this album is a tribute to the music and the motorcycles of times gone by and is necessarily derivative. Listen out for tracks reminiscent of the Sultans of Swing; Elvis at his hip-wiggling worst (best?) and even something which sounds just a little bit like Dumpy's Rusty Nuts…
'The Great Escape' doesn't take itself too seriously and none of the tracks overstay their welcome. I could have lived without the chintzy cockerney 'Just A Tiger Cub' ditty which set my teeth on edge, but really enjoyed the only instrumental, 'Daytona'. Great bass line. Interesting harmonica effect, too… could have been a real harmonica, I s'pose. Or a clarinet on crystal meth.
The opening track, a tribute to Barry Sheene, is surprisingly catchy. Found myself chirruping 'and he rode like the wind' along with it, and continued humming it all day. Dammit.
Overall, 'The Great Escape' is a jolly entertaining musical interlude for any classic bike fan who enjoys a wide variety of rock 'n' blues based guitar music. The music and production is obviously of the home-studio sort but that's not necessarily a criticism, and you'll find the musicianship throughout to be a cut above the average. There's a couple of quietly proficient solos lurking in there.
Nice cover art, too, with a reinterpretation of Steve McQueen's famous failed escape. Wonder if there's some deep significance to that?
—————
'Triumph Motorcycles: The Great Escape' by The Exhaust Notes is available from Amazon by clicking here
and can also be downloaded via iTunes and Napster.
—————–
| | | |
| --- | --- | --- |
| | Like this page? Share it with these buttons: | |
—————–
Other motorcycle related music you may enjoy:
---
Advert

Enjoy more RealClassic reading in the monthly magazine. Click here to subscribe.
---