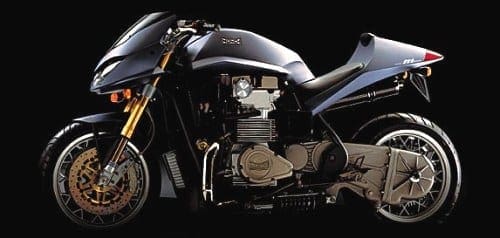 An unusual 500cc Grand Prix racer goes under the hammer this autumn. But there's more to the Munch marque than this single machine…
If the name of Friedl Munch seems familiar to you, then you may well know of his most famous creation – the Munch Mammoth monsterbike. There were several versions of this car-engined beast built from the 1970s onwards, ranging from a 996cc streetbike to a 104bhp, 1278cc roadster fitted with an inline four-cylinder NSU engine which could propel its 590lb mass to around 125mph. That's a scary proposition if ever there was one!
In more recent years the brand has been revived and there's a new Mammut stalking the streets – but once upon a time, Friedl Munch devoted his energy to building racing motorcycles rather than limited-edition hyperbikes. Throughout his career, however, his plans often fell short of their potential…
Munch served in WW2 as a mechanic with the Luftwaffe and was a keen competitor in the postwar years, riding a Horex single, until he damaged his liver in an accident. He then worked in the Horex race shop during the 1950s, building 250 and 350 singles and dohc GP twins, and forming contacts throughout the racing world which would develop into a full-blown career in the industry.
In the 1960s, Munch developed his own, supremely effective, racing drum brake, which was fitted to many top privateer bikes during the decade; you may still find a Munch stopper on an old Manx Norton or G80 Matchless. In 1964 Munch created his first full motorcycle – a tidy, dohc 498cc four. In 1965 he was commissioned to build a machine for record-breaker Jean Murit, one which would be bigger, faster and more powerful than any production roadster, and so the first Mammut was born. Some 500 similar Mammoths would be produced over the following 20 years, all of them hand-built.
Back in 1967 Munch then entered into a partnership with American Floyd Clymer; they attempted to revitalise the Indian marque (and failed), and developed a dohc 500cc parallel twin (which showed promise but didn't make it to the race track). After several frustrating years of development and experimentation, the ailing Clymer bowed out in 1969 and his interest was taken up by another German racing specialist, Helmut Fath.
Two-times World Sidecar Champion, Helmut Fath, won his second world title in 1968 on a machine of his own design and manufacture. Fath's URS sidecar outfit was powered by an advanced 500cc four-cylinder engine, designed in collaboration with engineer Dr Peter Kuhn. It seemed tailor-made to challenge the might of MV Agusta in Grand Prix racing's premier solo class.



British-made Rickman frames were used by the new Münch-URS team, whose first race was at the (non-Championship) Austrian Grand Prix on 29th April 1970. It was a dream debut: Munch rider Kaczor won the race and set the fastest lap, with another Munch coming second, although it must be said that the opposition was not a strong as it would have been at World Championship level. Nevertheless, Hoppe's Münch-URS managed an impressive fourth place at the German Grand Prix at Hockenheim a week later.

Sadly, after this promising start the project fell apart. Fath left following a disagreement with Friedl Münch, taking rider Kaczor with him, and Münch's dreams of Grand Prix glory turned to dust. There were a few more outings for the Münch-URS solo – Yorkshireman Tony Jefferies rode a 750cc version in 1971 – but what should have been a credible challenge to the dominance of MV remains one of Grand Prix racing's more fascinating 'neverwozzas'.






Random Rickman stuff on eBay.co.uk
Meanwhile, Munch's monster machines had been attempting to take the world one-hour speed record from Mike Hailwood and his MV Agusta. Munch built the Daytona Bomb, a 125bhp, 1370cc beast which was capable of travelling at over 175mph. To win the record, however, it needed to maintain those speeds for 60 minutes and instead the Bomb shredded its tyres in three laps of the Speed Bowl. Like the Grand Prix racers, it was another Munch motorcycle which didn't quite hit the spot.
One of the two 500cc Munch-URS GP machines from the 1970 season has been painstakingly rebuilt over the last decade and is in full running condition. It has been seen (and heard) out and about on the show circuit this summer, and is due to be sold at auction by Bonhams at Stafford on October 22nd 2006. Although its racing career was limited, the bike obviously appeals to some dedicated collectors, and it is estimated to sell for anything from £130,000 to £160,000.
More Munch:
Details of the modern Mammoth: www.muench-mammut-2000.com
To order a catalogue for the auction: www.bonhams.com
---
Advert

Enjoy more RealClassic reading in the monthly magazine. Click here to subscribe.
---