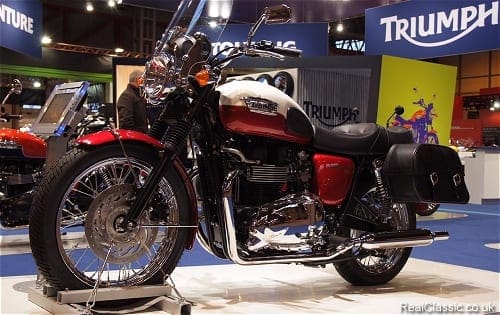 Martin Gelder goes to Motorcycle Live at the NEC and comes back with a head full of questions and a camera full of inspiration and distraction in equal measure…
There's something very odd going on in the UK motorcycle market.
For many years, the kind of bike that might appeal to a RealClassic rider looking for a more modern machine to complement his shed full of old relics was a bargain basement oddity cobbled together out of the old stock left kicking round the warehouses of Europe after the factories had announced yet another model revision.
Think Moto Guzzi V7. While Guzzi chased the Adventure, Custom and Touring markets, the V7 carried on carrying on, an entry level machine with an entry level price.
And when Triumph launched – re-launched? – the Bonneville range, we all knew what to expect and that's exactly what we got. No frills, no expensive components, just a basic, no-nonsense bike. Cheaper than the rest of the Triumph range, harking back to simpler times when men were men and fairings were something fitted to steam locomotives or aeroplane engines.
Things were taken even further by Royal Enfield. You got a 1950s bike for 1970s money. Yes, they were a bit basic, but look at the bottom line; at that price, who cares if you're also getting 1950s performance.
The market for these basic, simple, vaguely nostalgic bikes has grown considerably over the last five years. Alongside Royal Enfield, Triumph and Moto Guzzi you'll now find Kawasaki and Honda offering specifically Retro models, and then there's Harley Davidson with an entire range that some might describe as 'inspired by the past'.
Today, with a notional £6,500 burning a hole in your pocket, you can have your pick of the models.
Triumph's T100 / Bonneville / Scramble / Thruxton range starts at about £6,400.
The basic Moto Guzzi V7 'Stone' is £6,600 and arguably the best looking of the family.
Article continues below...
---
---
Kawasaki's W800 costs £6,900 for the basic model, a little more for the special custom model pictured.
The cheapest Harley Davidson is about £6,700, while Royal Enfield's Electra models start at about £4,500, or you can have a Bullet for £500 less.
WK will even sell you one of these automatic 800cc single cylinder cruisers for "about £6000". It's based around the engine from one of their popular and rugged quad bikes, and has a slight air of Panther about it. A Panther with a good deal of home-made special thrown in, admittedly, but it's certainly eye-catching.
Are these retro replicas good value, though? Honda's new CB1100 is priced at just under £9,000. You get a lot of metal for your money, but not that much performance considering it's an 1100cc motor. And with £9k to spend, you have a lot of choice as you stroll round a Honda showroom. How about an NC700 for £5,400 – a lot less money for a lot more motorcycle in many people's opinion.
It's the same story at Triumph; for the price of a T100 you could ride away on a Street Triple and for the price of a Thruxton you could have a Street Triple R with fancy Ohlins suspension. In the green corner, Kawasaki will sell you a very capable Versys or ER6N for £1000 less than a W800.
Suddenly, those bargain basement basic bikes are becoming the expensive option, the connoisseur's choice. Which would be fine if they came with quality components. At the moment, buy a retro and you have to settle for crude suspension, basic brakes and the odd Meccano bracket here and there. Modern middleweights are so good that you'd have to be really keen to shell out for the traditional alternative.
So come on manufacturers; either give us cheap bikes at cheap prices, or if you're going to charge middleweight money, give us middleweight quality.
Enough ranting. Anyone wandering round Motorcycle Live (or the NEC show, as everyone except the marketing department knows it) not obsessing about price, cost and value might have noticed Ian Defirez's 1954 Bantam quietly stealing the show in the middle of the Carole Nash Built in Britain line up. Less is more.
The Coventry Transport Museum had some sensible arranged displays with useful information – a change from the usual 'classic ghetto' exhibit. Well done.
Motorcycle Live – as the name tries to remind us – is these days as much about having a go on actual moving bikes as it is about sitting twisting the throttles of static models.
Riding kit is provided and they'll even get you on two wheels if you're a complete novice, or even a toddler.
Mettisse were back with pretty much the same stuff as last year, with the exception of this Cafe Racer version of their 997cc twin. Anyone seen one on the road?
How much will the Royal Enfield Cafe Racer sell for, we wonder? Certainly plenty of attention around it, but if it's six grand, will you still be interested?
And if there's one thing guaranteed to distract the typical male motorcyclist from a gaggle of lycra'd up young women, it's metalflake paint. Stunning.
| | | |
| --- | --- | --- |
| | | Random Harleys on Now… |
And maybe this is why we keep going back to the NEC every year. Inspiration.
Most of us will never build anything like this, but if it gets us out into the shed to do a bit of fettling…
Words and Photos: Martin Gelder
————-

Enjoy more RealClassic reading in the monthly magazine.
Click here
to subscribe.