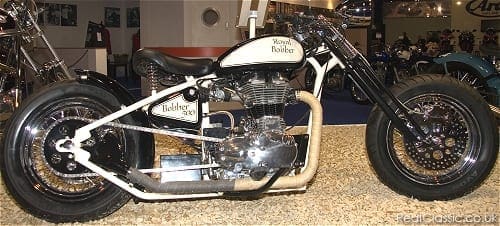 An alternative view of the NEC show from Richard Jones, who spent the week working on the VFR NZ stand and admiring the many classics on show…
As another year inexorably swirls down the plug hole of life I find myself once again on a train heading for the NEC to spend a couple of days on the VFR NZ stand, sole proprietor Robin Hughes who is always good company and also provide me with a trade pass. Once again I get there early to roam freely with camera and the benefit of no one getting between me and the bikes – does it get any better? Well yes, to be honest, as the Motorcycle Live Show 2011 is not exactly awash with classic bikes but there are a few about if you know where to look for them.
As soon as you walk through into the first hall nearest the railway station entrance you are confronted by the Royal Enfield stand which seems to get bigger every year, perhaps a measure of the marque's growing success and popularity. As well as the usual suspects from the range there were three custom machines that caught the eye – not necessarily classics, whatever that means, but certainly aesthetically pleasing if you're that way inclined.
The only one I could see any information for was the blue bike – apparently it was commissioned by Sideburn magazine "The world's finest, most glamorous, most colourful, most informative, global-reaching go fast, turn left magazine" as I discovered on its web site (no – I don't know what it means either). From the details all that appears to be left is the engine and part of the frame, the remainder having been discarded and converted to a hardtail using Lowbrow Customs rear loops. Well now you know.
And so to the Brittany Ferries stand where the most of the classics at the show reside – I am indebted to Messrs Bob Anderson and Tony Huck for taking the time to show me around the stand and talk about the bikes on display, a number of them coming from Bob's own collection.
This 1929 Dresch M30 350cc contributed to my collection of motorcycles which I'd never seen or heard of before. The company was started by Henri Dresch in Etampes, France in 1923 which, having swallowed up the Le Grimpeur company the following year, continued in production until the outbreak of WWII. The range of motorcycles built was wide with two & four stroke models and capacities from 98cc to a 750cc four cylinder machine; at its peak Dresch was building 10,000 motorcycles a year. This ohv model was originally used by the Paris Metropolitan Police Force and was loaned for display by the current owner, Jakob Begundy, who recently discovered and restored the bike for regular use.
Built in 1927 this Zenith 6-80 Sport is a 677cc side valve V-twin which has been used regularly in the Banbury Run. Production of Zeniths started in the early 1900's and continued, with a brief intermission and a change of ownership in the early 1930's, until 1950. The purple and black machines had a significant sporting pedigree – Bert le Vack achieved the first 100 mph lap at Brooklands on one in 1922 and Zeniths held the absolute world record at over 124 mph in 1928 and over 150 mph in 1930. It does make you think that over the last 80 years top speed achieved has only increased by about 50 mph – were these early manufacturers in the genius bracket or have latter day engineers lost the plot?
I cannot resist anything red with an Italian name on the tank and this 1963 Aermacchi Harley Davidson is no exception. The Drixton name arises from a collaboration between Swiss engineer and racer Marly Drixl and Sid Lawton, a Southampton dealer who provided complete machines which had success in Grand Prix, Manx Grand Prix and TT races. This example was raced extensively in the Isle of Man between 1985 and 1991 with some good results including a second in the Junior Manx Grand Prix.
A 1962 DBD34 500cc Clubmans Gold Star had been loaned for display by Maurice Evans and is considered to be the most original Goldie in existence. I am no expert – quite the reverse – so I will leave it to you, gentle reader, to agree or not with this statement. However the picture I have in my only reference book – "Everything you Wanted to Know About A Classic Motorcycle But Were Too Terrified To Ask In Case You Look Stupid" – has white piping on the seat. Mon dieu! Nevertheless this is a beautiful example of what is now an iconic BSA café racer which is starting to approach the Vincent and Brough status in terms of desirability to investors, if not value (although £15,000 for a BSA is going it a bit).
I'm sorry but I find it impossible not to photograph Vincents and this is no exception. This example is a 1951 998cc Series C Black Shadow and was kindly loaned by Martin Wilke. The word "Gorgeous" springs to mind
Talking of racing bikes I came across this Molnar Manx Norton, built by Fred Walmsley and ridden by the late, great Barry Sheene who has signed the tank. In 2002, Sheene scored two wins on the Manx at Donington Park in classic support races for the British round of the MotoGP.
The bike incorporates a belt primary, a six-speed Hemmings gearbox, a Gardner flat-side carburettor and a cylinder head cast in magnesium alloy.
Isn't this just beautiful – a Métisse 997cc eight valve, air cooled double over head cam twin producing 97 bhp at 8,000 rpm. As I said above I'm no expert but when you combine this type of output with a Métisse chrome moly frame the world is going to be your lobster in café racing circles. If I had the flexibility and joints of someone half my age I would be sorely tempted to expose the Jones' cheque book to the daylight (although whether I could have afforded a price tag in the region of £18,000 all those years ago is doubtful).
Alright I know it's not a motorcycle but it does have the same number of wheels as the Royal Enfield outfit and PUB has opened the door to 3 wheelers in recent articles she has written. I suspect this is the first time Morgan have appeared at a motorcycle show of such magnitude in many years and it's good to see them. I know that £30,000 has got to be a lot of money for a 3 wheel roller skate with attitude but this is a classic in the making and I would certainly have one if funds, garage space and Mrs Jones permitted.
Not one to make usually make comments in respect of any 2, 3 or 4 wheeled automotive vehicles she was unaccountably scathing in her condemnation of the Morgan, not least its rear end.
The Carole Nash "Britain's Got Biking Talent" stand had a few interesting machines including these two. The winner was the 1942 750cc WLC Harley Davidson, a wrecked barn find in 2001 which owner Nick Gale has used to produce this show winning bolide. Apart from the tank, seat, side mount and rear mudguard it's all original, albeit some re-positioning and re-working was required to accept frame modifications.
The Norton Rotary café racer started out life as a Norton Commander and was purchased in 2005 as a crash damaged non runner from Norton Motors. The bike may well appeal to Mr Westwood, not only because it's a Norton Rotary but also the owner, Nick Brown's statement "It seems to be continually evolving. Will it ever be finished? Probably not."
This 1964 305cc Honda CB77 caught my eye on the Honda Owner's Club stand; £347 when new – wonder what they retail for now?
"Why on earth is this here?" I hear you say. Well the more technically minded amongst you will recognise the modern day version of Jack Difazio's hub-centre steering system. Ben Shaugnessy, the Technical Director and Team Principal of the Alto Performance Vyrus race team whose bike this, kindly took the time to explain how the Difazio principles had been updated and used on this machine.
The team rider is Phil Read Jnr. And with 35 podiums, 11 wins, 2 lap records and 2nd in the UK Thunderbike championship it suggests that this steering system should find its way into more modern bikes.
| | | |
| --- | --- | --- |
| | | Touring BMWs on Now… |
It's a small world – who should be directly opposite the VFR NZ stand but Duncan Cooper whose description of the resurrection of his BMW R100/7 to allow him to tour in Germany I have followed with interest in recent editions of Real Classic. Duncan was at the NEC to promote his company, Bikeheart European Motorcycle Tours (www. bikeheart.co.uk), and I can confirm that he was kept busy on the days I was at the show. I wish him well with the company and perhaps next year the R100/7 will be on the stand for photographic delight
Well that's another year over – I hope to be back at the NEC in 2012 but if you want to see photos of this year's extravaganza they will eventually find their way on to Flikr.
Words: Richard Jones. Photos: RIchard Jones, Martin Gelder
—————
---
Advert

Enjoy more RealClassic reading in the monthly magazine. Click here to subscribe.
---