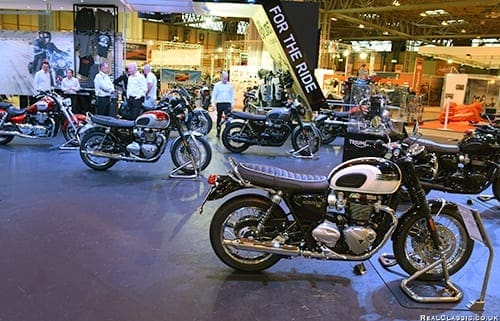 Motorcycle Live 2015
It's the big and shiny bike show season. Martin Gelder went to the NEC and came back with some useful information, a little bit of inspiration, and at least one revel-ation…
The NEC show, time for the annual pilgrimage to Birmingham to stare in awe at bikes we'll never buy while drinking overpriced coffee, eating substandard bacon sarnies and complaining about the price of car parking.
Every year we keep going back, because every year there's a reason of one sort or another, and because every year we return home knowing something we didn't before.
In the last month or so we've had Important New Bike Announcements from both Triumph and Moto Guzzi, in both cases with no clue as to pricing of the fresh models.
The new Triumphs look a lot sleeker and more – sorry to come over all Laurence Llewellyn Bowen – coherent in the flesh than they manage in the pre-publicity pictures. The detailing is really neat and the bikes look slimmer and sleeker than the models they're replacing.

T120 Cutaway

The fake 'Monobloc' injector bodies are a bit of a love 'em or hate 'em feature but overall the expanded Triumph retro-twin range is a step up from the old models. The Scrambler and America models will continue for now as their lower state of tune allows them to slip through the latest emissions regs.
| | | |
| --- | --- | --- |
| T120 Bonneville | | Bonnevilles Old and New on Now… |
How much will these new Triumphs cost? There were no printed prices, but a factory representative gave approximate figures of £7,800 for the 'Street' twins, £9,800 for the T120 Bonnevilles and around £11,000 to £12,000 for the Thruxton and Thruxton R. That's competitive for the cheaper models but appears expensive for the T120 and the Thruxtons in particular. For twelve thousand pounds you can get a lot of motorcycle from other manufacturers. Triumph must be confident of the performance and quality of their new range.
Moto Guzzi V9
The new Bobber and Roamer () look slightly larger in reality than their press photos suggested, standing clear from the existing V7 models in looks and styling. They're well finished and tidy, with no obvious rough edges or glaring styling quirks and a roomier feel than the chunky, stocky V7s.

V9 Bobber

There was a lot of interest in the Bobber in particular, with advance orders already being taken and the UK distributor hoping to increase the number of bikes that the factory could supply. Prices are expected to be around the £7,800 mark for both models, but as with Triumph, Moto Guzzi weren't putting anything in writing.
Yamaha XSR
Yamaha were offering their own twist on the retro theme with the new XSR versions of their very popular MT07 and MT09. The speedblock-liveried 60th anniversary models were proving very popular with show visitors and the toning down of the standard MT model's in-your-face modern looks was very effective; that headlamp which looks too long in the photos somehow appears right when viewed with the rest of the bike.

XSR700

The XSR700 will sell for £6,249 and the XSR900 for £7,849 (or add an extra £150 for the anniversary speedblocks on either model). This makes the XSR700 significantly cheaper than the new Moto Guzzi or Triumph models (and a bit less than a Ducati Scrambler) and the XSR900 as a direct competitor to the Triumph Street twins and the Guzzi Bobber and Roamer.

XSR900

I doubt there'll be many people choosing between a Moto Guzzi Bobber and an XSR900 as they'll offer very different riding experiences, but it does show that there's a lot of choice out there for the rider who wants a modern bike that'll sit easily next to their classics.
Herald 450
Tucked away behind the big manufacturers, in the no-mans land between the 'meet the celebrities' stage and the many, many, companies offering guided motorcycle holiday tours (Honestly, if you want to go to Scotland or Germany on your bike, just go. It's not that difficult.) was a small stand with an intriguing motorcycle sitting at its centre.
Herald already sell a range of basic and indentikit four stroke single 125 and 250cc commuters, but the two 450 prototypes they're currently working on a big step towards proper credibility. Based on the Honda CRF 450 enduro bike that is made in China for Honda, the Herald team of beardy bike boffins have created a bike that captures some of the looks of a traditional scrambler with the performance and practicality of a brand new bike.
Reaction at the show has been promising enough to push them towards production and once details around gearing and suspension have been fettled they'll be selling a very interesting motorcycle. The price is pegged at £4,750 and for that you get a genuine 100mph top speed from the 44bhp Honda engine, in a motorcycle that will weigh 130kg or 286lbs; with that power to weight ratio acceleration will be startlingly good.
Also on Show

Metisse once again had a vast and seemingly unstaffed stand with yet another 'new' variation on their theme.

The National Motorcycle Museum staff were rebuilding a T140 Bonneville 'live' at the show, but progress wasn't visible while I was there. At least they're near home if they have to pop back for an extra socket or two.

It's the 30th anniversary of the GSX-R750. Where does the time go?

The Pro-Am Yamaha RD250LC series made a brief comeback at this year's British Grand Prix, and eight of the bikes were on show. We're surprised that many 250LCs survived the eighties, let alone the racing at Silverstone…

Those of us who were around at the time remember the Honda SS50 as the forgotten child of the 'Sixteener Special' era, with dismal performance and odd looks. Allen Millyard obviously thought it was a bike that needed a little extra help in the shape of a 250cc motocross motor.

If you thought it was 1970s Kawasakis that had a hinge in the middle, then think again. This Bantam based custom built by Rob Wood was stunning in its execution.
And Finally…

We'll all be wearing these this time next year, you mark my words…
Words and photos; Martin Gelder
---
Advert

Enjoy more RealClassic reading in the monthly magazine. Click here to subscribe.
---