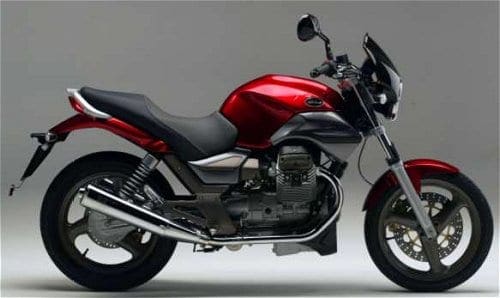 RealClassic readers have requested info on those modern bikes which fulfil the role of the classic motorcycle. So, by popular demand, Steve The Toast tests Moto Guzzi's new middleweight streetbike…
Brand loyalty is one facet of being a biker which I lock well away inside the back of my head whenever testing a bike. You cannot compare all other makes to your favourite marque — it just doesn't work. However, when it comes to certain leading brands, I have definite expectations when I swing my leg across the saddle, and that's particularly true of this fine, established Italian breed.
Moto Guzzi have been around for donkey's years, as have their wonderful big V-twin engines. I like them, and have done as long as I've been riding bikes. Over the years, I've ridden countless offerings from this stable. I find it hard to pick a favourite; all of them from early T3s to my latest object of uncontrollable lust — the 1100 Rosso Corsa (excuse me, I'm salivating).
When I was given the opportunity to test a Breva 750, I had a good inkling what to expect; wide power spread, comfy ergonomics, fine if heavy handling and excellent brakes. Well, the latest entry-level V-twin had had an upgrade, and they've done a cracking job, er, Gromit.
You know how when you climb onto a bike and thumb the starter or prod the kickstart, how from the initial pull-away you can instantly tell if the bike is 'right'? It's something you develop after many years of riding. Sure, you can fine tune suspension set-ups, change ergonomic settings as time goes on, but that 'instant initial response' is something I cannot define; a motorcycle is either 'right'. Or not. (I shudder as I recall the Ducati Multistrada).
Walking up to the Breva, I had to admire the styling. It looks truly wonderful, the new shapely tank, this one in the rich Rosso (that's red to you and me) accentuates that gorgeous V-twin lump perfectly. The paint is deep, luxurious and is offset beautifully by the contrasting under-tank panels and the seat. The stylish rear end, and I do like a stylish rear end, fits in well with the diminutive nose fairing housing the instrument binnacle.
A walk around the bike does pose certain questions. Luggage. Oh, I'm not talking about touring — that's not where this bikes is aimed — but daily stuff; lunch box, camera, waterproofs. There is nowhere to strap anything on. Even a tank bag would be a nuisance – maybe a crime too; but they have taken care of this. There is a goodly manufacturer's range of accessories, which include a stumpy tank bag and pannier set, either 30 or 40 litre.
This is very much a 'what you see is what you get' motorcycle. Its naked styling tells you this is a street bike, a bike for all seasons, a bike for everyday use. Its low seat height will appeal to those who, like me, are vertically challenged; it's not a huge bike and by Guzzi standards it's light (182kg) compared to what we've been used to, and it's easy to manage when parking. The pillion footpegs are at a sensible level, however the built-in grabrail's functionality has yet to be assessed. The swept-up pipes add to the custom feel of the bike, although I sense one sought-after accessory for the British market will be a fender extender for the short, pretty but not-very-functional front mudguard. I hope they bring out a rear hugger to match, while they have it on the drawing board.
Firing up the engine, it soon settled down to a lazy, V-twin rumble. The sound is evocative, sensual. It brings flooding back all my memories of favourite steeds from this breed — the Le Mans, the Spada, the California, their humongous engines and the seamless spread of power. The electronic injection is foolproof, and despite increasingly ridiculous noise emission standards, the motor has a soul-stirring burble.
The engine was cold so with fear and trepidation, I pulled in the clutch, pushed the gear lever down and first gear engaged with nary a clunk, which was always a bit of an Achilles' heel with older Guzzis. The clutch was light, (single plate with a cush drive for smooth operation), and pulling away for the first time seemed so natural, as if I'd owned this bike forever and I was riding an old friend as opposed to a brand new bike with under 50 miles on its clock. This was a 'straight from the crate' bike. There were even knobbles still on its tyres – a 110-70 out front, and a 130-80 out back, both running on 17-inch hoops.
Once on the move, snicking up through the five-speed box made for smooth progress; I was determined to let it warm up thoroughly before giving it its head. As I rode down through country lanes, I found the drive out of corners urged me to make use of the torque rather than play loony tunes on the gear lever. The handling is spot-on — the old style, duplex cradle steel frame gives loads of feedback, and there's nothing wrong with a design that basically goes back eons if it works; and, believe me, it does. It is confidence inspiring, has a nice neutral feel to it, doesn't try to duck into corners like some 'sports' bikes do, doesn't 'wallow' or 'weave' like customs tend to, and drives out smoothly.
What surprised me after so many years of riding Guzzis, was the handling — it was lighter, more flickable than earlier bikes. Wow. I pushed it harder, further over with each bend; I drove it harder into and harder out of each corner as my confidence in its capabilities grew; even on these new, unscrubbed tyres! Cornering nirvana on an entry-level model? Without tuning the suspension? Wow, indeed.
Article continues below...
---
---
This is pretty much an entry-level bike. It should, and will, I'm sure, give a feeling of stability to newer riders, while letting long-in-the-saddle old farts like me still have fun too. Through many years of experience and numerous fine model ranges, Moto Guzzi have managed this. I would expect nothing less from them, and they failed to disappoint me. I was almost disappointed that in this respect I had nothing to complain about.
Brembo once again take pride of place in the braking department, and are everything I have come to expect from a company considered to be a world-market leader. A chunky four-pot calliper on a single front disc hauls you up quickly from any speed, and the rear disc has plenty of feel to it. I soon found myself deliberately leaving my braking later and later to enjoy the feel of the pads biting down hard onto the discs. I'm a two-brake man, I most often use both at the same time, as I feel it balances the bike better before heeling it over for a corner, to give it stability on the drive through. This style gives feedback aplenty, and allows me to maximise my approach to each corner.
Once warmed up, I started to use all the rev range; I can't be exactly sure where the limiter cuts in but I soon found that it was best to change up around the 6500 revs mark as max power was coming to its peak and the top torque was long gone after 3800 revs. You can play the torque game too, which is equally rewarding. Around town, this bike is a delight — nippy from the lights, svelte enough to do the through-traffic dash, and quick enough on the brakes to avoid the inevitable traffic light jumpers.
With its reasonably light-weight and a not-too-mountainous 31-inch seat height, the Breva is easy to cope with at the traffic-light stops too. There is also what Guzzi term in their accessory catalogue a 'lady seat'. Oh, do come on MG! Even us men can be short. Poor part designation, guys (this 'crime had to be perpetrated by 'guys', huh?). The 'lady seat' lowers the height even more, but I could get both feet flat on the floor with the stock seat in flat boots — and I'm only five foot six in my stockings and suspenders. Er….
Back out of the town and into the lanes, the Breva really starts to make sense. This is where the Guzzi's forte becomes apparent; its sheer chuckability, outstanding throttle response and powerful bottom end urge come to the fore in this kind of environment. A-road cruising is great too but, like all naked bikes, sustained motorway speed does tend to be a bit of a 'bufferty' experience once the legal speed limit is reached and surpassed. This bike, long legged as it is, is not meant to take on the role of mega-distance cruiser that is really the domain of the California range, with their barn door screens and footboards.
Other goodies in the add-on range are a main stand (I cannot believe this is not standard. Bad call, Moto Guzzi), and a dedicated cover. Also, a disc lock (again, poor planning. Security items should be standard. After all, there's a space especially for it under the seat!), tank protector panels and piggyback shocks — although I found the stock ones more than adequate solo.
If I have to play the awful comparison game, and we are talking mainly 'image' brands here, I can think of many bikes to line this one up against, but none to beat it. Money where mouth is time: how do I feel about it up against my own personal top brand, Harley Davidson? The case for Harley's entry level 883 is utterly hopeless in the face of this Italian onslaught. It has none of the Guzzi's qualities in such a wide abundance, other than 'branding' (not the most important factor in the rideability equation IMHO, though some would disagree I'm sure). I would choose the Breva as an entry-level bike against Uncle Sam's alternative in a second. Triumph's Bonneville, although with a brand-loyalty following of its own, is not half as rewarding to ride as this Italian stallion. BMW? Sorry, no. The 850R is a fine, civilised bike, and it's good to ride too, but it just lacks a certain… something. You sit 'on it' rather than the Breva's feeling of sitting 'in it'. It's just not as ergonomically friendly as the Breva.
The Jap market V twins, although technically and mechanically competent, do not have the deep soul of this bike. The Breva is not a cruiser, it's a roadster — a street bike — and three of the Big Four don't have what I would dare call direct competition. Suzuki's SV650 and SV1000 may be the closest, in all reality. I rode a Suzi SV1000 shortly after returning the Breva, and I am fully aware of the performance figures it boasts, but Italian bikes, especially Guzzis, are not just about that. As the man said; 'if I have to explain, you won't understand'.
The Breva is way ahead in the 'rewarding ride' and 'ownership experience' stakes.
All Guzzis offer a well-deserved reputation for longevity plus a countrywide dealer network, and the Breva has a good accessory list. At around the £4999 mark, it's a stunningly good value, too. It's not the cheapest Guzzi by far, but I feel its residuals will fare better than the cheaper Nevada base model, should you ever want to sell it, that is. You may even be able to knock 10% or more off the RRP if you shop around with cash, too — or get some accessories thrown in. Even if the Breva gives away a whole 20mm (just under an inch) to the Nevada, I still think the Breva is a better looking bike and a better deal for most. This may go down to the wire of personal taste, though.
I can foresee many back-in-the-fold bikers choosing this bike as a no-fuss, weekend toy, but I suspect that they will come to enjoy the responsive feel so much they will find themselves leaving the car, or forsaking the train, to use it on a daily commute. It's a bike that has that kind of effect on you. It's easy on the body, easy on the eye and good for the heart and soul.
I can see many experienced riders choosing this bike just because of what it is, an easy, fun-giving, practical motorcycle. Guzzi's enviable reputation for long life will make this an easy choice for many long-term riders. Sensible shaft drive, another plus point in a country where the weather can play cruel tricks, helps to make it even more practical too.
It's stylish in the best traditions of our pasta-loving cousins, and there's no doubt that it will bring a smile to your face each time the motor spins into life with the easy push on the button. As soon as you pull away, all other cares will become secondary. I defy you to work your way up through the gearbox without breaking into a smile. And for those of you who do want to cover huge distances, there is also a big screen — but I feel it doesn't need it, unless all the flies in your teeth from smiling so much becomes a big problem. I suspect they just might!
New Guzzis; better than old ones?

Enjoy more RealClassic reading in the monthly magazine.
Click here
to subscribe.