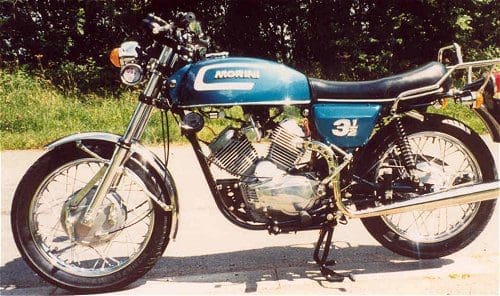 It's a winner! When Graham Holt's gleaming Morini 350 appears at events it has a habit of stealing the show…
When Graham Holt bought his 1976, 344cc Strada for £1850 some eight years ago it was in pretty good nick. But 'pretty good' wasn't good enough, so Graham set to work and transformed the Strada into a show-stopper. Last autumn it won its class at the Stinkwheel Classic Bike Show at Beaumanor Hall, and then topped the day by being rated Best in Show overall. And as you'll see from the other trophies on display, this isn't an isolated incident!



Morini first imported the Strada into the UK in 1974, alongside its Sport sibling. Both used the 72-degree V-twin engine with which we have become so familiar over the years, although the Strada was slightly softer tuned for a more relaxed ride. A lower compression ratio (10:1 instead of 11:1) resulted in an engine output of 35bhp at 8250rpm – four horses down on the Sport – and a realistic top speed of 95mph. The claimed maximum velocity for the Strada was a touch under 100mph but, even when new, that was hard to achieve. Mind you, if you weren't trying to extract every last ounce of oomph from it then the Strada would give good fuel economy (around 55mpg) for a high-revving lil' twin.

The Strada was slightly refined for 1975, so Graham's bike probably came with front mudguard stays and revised headlamp, tail-light, headlamp bracket and updated paintwork – although it now looks to be wearing the paint-scheme of the earlier version. Ice metallic blue was definitely a standard colour, however: not all Morini 350s are red, you know! While the Sport got a bigger brake, the Strada had to make do with the Grimeca 200mm single-sided 2ls drum at the front until disc braking arrived. The wire wheels of the early 350s didn't last for long, and by 1978 they had been replaced by 7-spoke cast alloy items.
When it was first introduced the Strada cost £699 to buy brand new in the UK, £100 less than the Sport. But Graham has spent rather more than that to bring his Strada up to show-winning spec. When it arrived, the tank and sidepanels had already been re-sprayed but 'the paintwork on the frame was average, and the silencers and pipes showed signs of wear and tear.' The wheels were OK and the rear tyre was new, but the front rubber was worn. Someone had obviously been taking care of the 350, but they hadn't bothered with a tip-to-toe overhaul. So Graham set to work…
'I fitted new piston rings, re-ground the valves, overhauled the clutch, replaced the clutch and ignition pick-up shaft oil seals, overhauled the oil pump, replaced the front and rear brake and clutch cables, and then reconditioned the carbs and fitted the correct jets.'
Moving onto the chassis: 'The frame has been repainted and every fastener has been replaced with polished stainless. The kickstart, brake and clutch lever brackets, carb clamps, rear suspension collets, front mudguard stays and petrol cap have all been re-chromed. I bought a secondhand Morini rack and had it re-chromed. A new Pirelli MT65 tyre was fitted to the front wheel, to match the rear, and stainless exhaust pipes and silencers were fitted, too.'
Wow. But hang on, doesn't all that chrome make the Strada just a little bit too shiny for its own good? The judges plainly don't think so, as Graham's Morini beat off stiff competition in its class at Stinkwheel in the shape of a very clean Beemer and a Triumph T160. And Italian motorcycle guru, Mick Walker, reports that both the Sport and the Strada had 'an abundance of

polished alloy of chrome plate' as standard. So there.
Graham Holt has covered over 5000 miles on the Strada, too, so it plainly isn't too posh to be ridden regularly. Good for him! We look forward to seeing it at other shows around the country.
People To Speak To

North Leciester Motorcycles, Morini specialist: www.motomorini.co.uk
Armour Motors, for exhaust pipes: 01202 519409
Nobel Depositers, Leciester, for chrome-plating
Show Off Your Bike
Fancy a chance of winning an award? If you enter your bike at one of the events which we support then you stand the added bonus of taking home a RealClassic trophy, too (or maybe even a subscription to the new mag. Or a mouse-mat. Who knows what we'll give out? B25SS, anyone?)
The Malvern RealClassic Bike Show
Sunday 21st March 2004, Three Counties Showground, Malvern, Worcs

Enter your bike in the concours for FREE

The South of England Classic Motorcycle Show
Sunday 18th April 2004, South of England Showground, Ardingly, W Sussex

Enter your bike in the concours for FREE

The Classic Bike Clubs Show
Sunday May 30th, Stanford Hall, Leics

To enter your bike in the concours email

[email protected]

The Sandon Hall Stinkwheel Show
Sunday July 18th, Sandon Hall near Stafford

To enter your bike in the concours email

[email protected]
Polishing: When to stop?
---
Advert

Enjoy more RealClassic reading in the monthly magazine. Click here to subscribe.
---