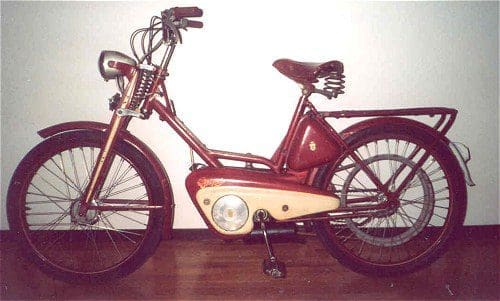 How many classic motorcycles can you partly dismantle and carry home on an aeroplane as excess baggage? Matt Little explains how to brighten up a winter's weekend in Sweden…
When looking around an antique dealer's barn on a cold, dark, weekend in Sweden, I noticed quite a few nicely mellowed, unrestored Swedish mopeds and motorcycles. My attentions were initially drawn to a 1930's Blitz 50cc, a 1940's Husqvarna 125cc and a 1950's Monark 175cc (the latter purely because of it's eligibility for the Moto Giro d'Italia).
Sadly Johan, the snus (a type of chewing tobacco that's illegal in the UK) intoxicated proprietor had already taken a deposit on the Blitz. I thought the latter two would be a bit heavy for me to take back to the UK on the plane. Yes, that's right — I would be flying home! I know it's not normal to take a motorcycle on an aeroplane but thankfully Ryanair staff aren't always the brightest sparks in the fire. Hence if you unbolt the engine to make it lighter they'll rub their hands with the thought of the £15 excess fee when you take a 'bicycle' on the plane with you.
Moped riding is a bit of a national pastime in Sweden as there is no need to licence, tax, MoT and insure them (how does the saying go? When in Rome…). The machine I decided on in the end was a 1954 Gripen 44cc. I could not resist the beautiful unmolested paintwork. Each wheel had no less than nine individually hand-painted lines of colour.
After a quick credit card swipe had been made the Gripen was easily loaded into my hire car. On return to my hotel apartment it was a bit of a struggle to get the bike up to the forth floor (there was no lift) but as the saying goes, where there's a will there's a way. I wonder what the cleaner thought of the dirty old bike in the Ikea style living room?
On arrival in the UK, loading the Gripen into the hire car was a trickiest part of the whole operation. It was not only difficult because the car was just a Fiesta but also because it was what they would call 'a spanker' up north; it had less than 10 miles on the clock. I knew that I would receive a massive bill if any damage were caused to the car so I was more careful than most 'drive it like you stole it' hire car drivers.
Once installed in my shed the machine was easily reassembled. The VMCC issued a dating letter. Johan told me that the bike should run but at the time of purchase there had been too much snow on the ground to even contemplate a test ride. The engine started almost immediately upon operation of the combined clutch and throttle twist grip and – hurrah — the Gripen was running for the first time on English soil.
The first test ride was no longer than a mile, which was just as well as a couple of minor parts, which I obviously forgot to tighten up properly, fell off. A new chain and tail light bulb were required to bring the machine up to a full roadworthy specification; both of these were purchased for a pittance from my local bicycle shop.
The MoT inspector claimed that the front brake was worse than useless but issued a pass certificate on the grounds that a) the engine power output was negligible, and b) the American style rear coaster brake was very effective. Incidentally the only non-Swedish component that I have been able to identify on the bike is the front hub, it was made by Sturmey-Artcher.
Almost immediately after I received the V5C from DVLA I decided to enter the bike in the VMCC Cyclemotor Section autumn ride at Icford, Buckinghamshire. Richard, a 6'2″ friend of mine borrowed his Father's Corgi for the ride. I can quite honestly say that of the 30 or so stinkwheels the Gripen was the joint duffest (there was also an ultra-slow Velo Solex on the run).
For a guy who normally likes to get quite a shifty-on with his 500cc Velocette, it was quite an experience to be only just able to catch up with a Cyclemaster when the owner was replacing his oiled up sparking plug. Obviously the Cyclemaster was able to storm past me in no time with the new sparking pug in place…
Out of a total of 18 miles I think I must have used LPA (light pedal assistance) for about 12 miles! Because of a combination of the not insignificant weight (30kg) and the bouncy girder forks, I honestly think I would have been able to complete the course on my normal, pedal-only bicycle in less time.
It was the first Cyclemotor run that I had attended but it certainly won't be the last. All the regulars there made us feel so welcome. There was a fantastic selection of machines in use ranging from a Model H Triumph to a 1970's Mobelette.
| | | |
| --- | --- | --- |
| | | Random Mobylette on eBay.co.uk |
Since the VMCC run, the Gripen has seen action on several occasions when friends have wanted to try the comical bike for size. Without exception, everybody who's tried the machine has been entranced by it's quaint charms.
Phill, a Kawasaki Z900-riding mate of mine had a close shave with the law on the Gripen. One dark night he took the bike for a test ride on the quiet country lane that I live on without a crash helmet on.
Unfortunately that night was the night when the local Bobbies decided to make their bi-annual drive-by appearance. When he saw the patrol car he quickly shut the engine off and peddled the bike up a dark driveway to wait for them to pass.
We can only think that the flickering dynamo lights made the coppers think it was a regular bicycle, as they didn't come looking for him…
The Gripen would obviously not have been a real road-burner when new but I think it should have a bit more power than it does now. When I find the time and inclination I'll check to ignition timing, crank seals and carburettor to see if any more performance can be found.
I think that it's a fairly safe bet that's mine is the only Gripen on the British roads. They were only manufactured from 1953 to 1954 so my guess is that they are fairly rare in their home country too. This does not necessarily make it desirable, let alone valuable (!) but it does add a certain charm to a devout Gripen enthusiast such as myself.
I have never seen another but I have seen a 40cc Novette, it is in the SAAB museum in Trollhättan. Both Gripens and Novettes were badge-engineered bikes that were made by Husqvarna, AMC-style, in both 40 and 44cc capacities. At a whopping 0.8bhp mine boasts a theoretical 0.1bhp advantage over its smaller sister. Mine also has the optional girder forks fitted; the standard forks were simply heavy-duty bicycle forks.
Anybody wishing to know more about Swedish mopeds (well you never know, I might not be the only one out there), should pick up a copy of Moped Boken by Lars Golbe, it's a gold mine of information that you never knew that you wanted to know. Golbe seems to be the Swedish equivalent of Roy Bacon, he's written most the books available on their own domestic machines.
---
Advert

Enjoy more RealClassic reading in the monthly magazine. Click here to subscribe.
---