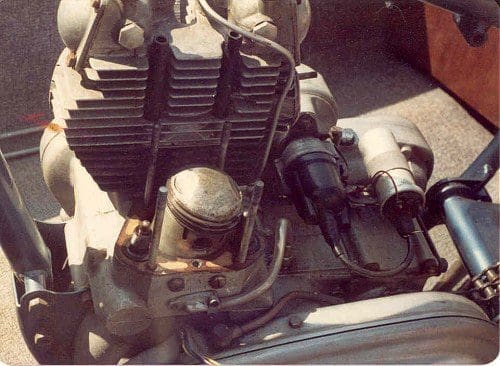 Gerry Atric's restoration of his 500cc twin continues, and we've discovered some other info about these bikes, too…
While all the previously described work was going on, I had been regularly visiting autojumbles in an effort to find the missing pieces of the jigsaw, which might one day make up a complete bike (one with a Meteor frame intended for a 700cc engine, and a 500cc Minor frame, and a pick 'n' mix selection of chassis parts). However, my efforts were not too successful. Had I been a Triumph or a Norton fan I could have rebuilt a dozen bikes, but in the early 1980s Enfield parts were thin on the ground.
Nevertheless, I did discover two important finds. A correct petrol tank (painted in grey Hammerite) and a brand new speedometer still in its original box, at £20 each. I knocked down the price of the tank from £25 but the guy selling the speedo wouldn't budge. Still, I was happy in view of the comparative rarity of the items. Autojumble trading did teach me that you have to shop around because even small items can vary enormously in price. Also, what the stallholder thinks is 'reasonable' you may think dear, and what you think is 'reasonable' your mates will tell you is expensive!
Another lesson I learned is that the guy who can get you that rare part cheaply never actually does. I wasted a lot of time waiting on false promises.
So it was time to tackle the Enfield specialists for the rest of the bike. Here I must pay tribute to Jack Gray of Gander & Gray and his storeman, Colin. What Jack didn't know about Enfields was not worth knowing and he was always prepared to help. The 350 Bullets were being built in India at the time and Jack imported a lot of parts that were common across the range. So I was able to get the brake pedal rod, centrestand, handlebar and levers, fork shrouds and many other small items over the counter. A fabricated, chromed pattern silencer from a specially commissioned batch of 100 cost me £13 plus VAT – compare that to what Nippon Motors wanted for a mass-produced silencer for a 250 at the time!
The most expensive thing I bought from Jack Grey was a dual seat at £22, and the only item I had to get elsewhere was the last known genuine front mudguard from L&D Motors of Bath. It cost just £13.80 including VAT and post and packing. At these prices how did the British bike die?
At long last, eight months after my initial trip to collect the bike, I had a virtually complete DIY motorcycle kit. It was time to get out the spanners are spray gun and give birth to a bike…



Meteor Minor Fact Pack

Available from 1958 to 1968
Engine Four-stroke air-cooled ohv parallel twin
Capacity 496cc
Bore / stroke 70mm x 64.5mm
Compression ratio 8:1
Max power 30bhp @ 6250rpm
Lubrication Dry sump, twin oil pumps
Ignition Battery / coil
Carburettor Amal 376 Monobloc
Primary drive Duplex chain
Gearbox Albion four-speed
Frame Steel tubular cradle
Front brake 6-inch drum
Rear brake 7-inch drum
Tyres Both 3.25 x 17
Front: RE tele forks, hydraulically damped
Rear: Swinging arm, Armstrong dampers
Wheelbase 53.5-inches / 1359mm
Seat height 29.5-inches / 749mm
Ground clearance 6-inches
Dry weight 370lb / 168kg
Fuel consumption 55mpg to 85mpg
Top speed 87mph

Praised For

Simple and reliable starting; pleasing lack of vibration; smooth acceleration; easy upward gear changes

Criticised For

Flat spot just off idle; oil blown from crankcase breather fouled footrests; clutch operation suffered when warm

Typical Prices Today (as seen in our Classifieds)

1960 model, restored in good condition, silver. T&T, original reg. £2750

Notable Because…

The Meteor Minor was the last 500cc capacity twin built by Royal Enfield

Club Contact






Meteor Stuff on eBay.co.uk
---
Advert

Enjoy more RealClassic reading in the monthly magazine. Click here to subscribe.
---