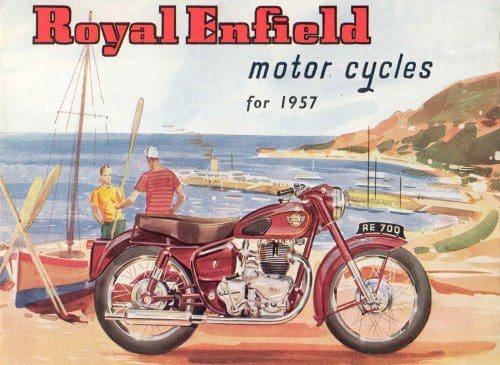 Nearly 25 years ago, Gerry Atric started a restoration project. Finished it yet, Gerry? Gerry? Hello….?…
Back in the early Sixties my pride and joy was a 1958 Royal Enfield Meteor Minor 500cc twin. Girls came second (mind you, only just!).
One icy January morning in 1962, just outside the Kraft factory in Waltham Cross, a Bedford CA van approached from the opposite direction. Suddenly it shot over to the kerb ahead of me, frightening a lamp post so much that it leaped onto the Enfield and – lo and behold – one written-off RE and one written-off left knee. The former was the more serious since the latter has enabled me to win the 'One Knobbly Knee' contest at Butlins each year.
Intermission
'Royal Enfield were the purveyors of a flawed but individualist and charismatic twin. This engine used two separate cylinder castings and two cylinder head castings, and followed the general RE principle of carrying its oil in a four-pint container cast integrally with the crankcases, with the result that the oil got very hot very quickly and had a pronounced tendency to leak from several of the joints. It used the same chassis and Albion gearbox as the 350 Bullet which at least helped to keep the weight down.
'For some reason the RE twins were never wildly successful, even though the capacity increased from 500 to 700cc for 1953, thus leapfrogging the BSAs and Triumphs of the world – except in sales. The RE twins are all handsome, in a beefy kind of way, sharing the majority of their cycle parts with the singles.'

Frank Westworth, The British Classic Bike Guide
On with the story…
The loss of the Enfield continued to irritate over the years (I still kick Bedford vans!) and when, in 1981, I saw an advert for the remains of a 'Royal Enfield Meteor' my first restoration project was conceived.
Hooking a trailer to my (t)rusty Princess, I rushed down to a classic bike dealership in Sussex. There I met the proprietor, one David Crouch; a typical motorcyclist with a mop of curly hair that required a safety helmet four sizes larger than normal, carefully manicured hands lovingly protected with a thick layer of black grease, and a pair of jeans that could stand up by themselves.
Dave's storage system was classically simple – everything camouflaged in thick dust then piled in a heap. After rummaging through the shop and several outbuildings I surveyed the pile of scrap metal we had accumulated.
An REOC booklet suggested we had a 700cc Meteor frame and a 500cc Meteor Minor engine. The hub and wheels were there, 19-inch, right for a 700, wrong for a 500. The cast aluminium headlamp housing, tastefully broken in three places, and the front forks, minus shrouds, looked right.
The toolbox and rear mudguard, whilst definitely Royal Enfield equally definitely belonged to a different model. However, the brand new siamese exhaust pipe was most definitely correct.
| | | |
| --- | --- | --- |
| | | Meteor Stuff on eBay.co.uk |
And that's all there was.
A petrol tank was promised when it could be found. As for the rest, I was on my own…
After coffee and a lot of haggling I was faced with a decision. Do I pay £190 for this heap of junk (it's 1981, remember), or do I pay the mortgage this month? I was brought up to value security, put a little aside for a rainy day, not to take chances but to make safe decisions.
So I bought the pile of junk.
When I got back home my wife took one look at the contents of the trailer and said – well, even Private Eye wouldn't print what she said. Fortunately I had to shoot off on night shift so a frosty evening was avoided.
But when I came back from work, well, then I'd actually have to take stock of what I'd just bought…
---
Advert

Enjoy more RealClassic reading in the monthly magazine. Click here to subscribe.
---