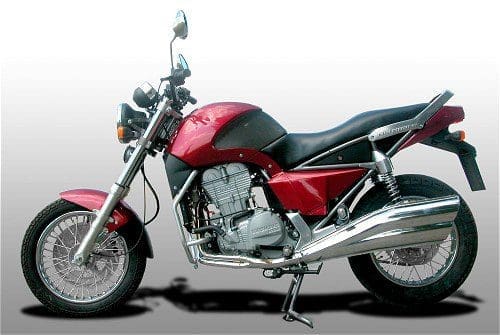 Another new-old bike hits the street, using a familiar Rotax engine in a classic-shaped chassis. Rowena Hoseason tells us all about it…
There is no doubt that there's a huge European market for a middleweight single-cylinder streetbike. That's the market which all but kept BMW afloat when their Boxers were out of fashion; BMW sold over 65,000 of the first generations F650s (never mind the CS and GS developments), and Aprilia didn't do too shabbily with the Pegaso, either. Similarly, Royal Enfield have built an entire brand around their 500cc single. So there would seem to be a waiting audience for the new Jawa 650 which is being imported by F2 Motorcycles in Banbury.
On the other hand… the success of the F650 tends to stick in the mind mainly because it is so unusual, not because mid-capacity sluggers are a automatic big hit. There have been a good dozen similar models brought to the marketplace and – while many of them have their dedicated followings – few have managed to make any impression in the mainstream. Earlier versions of Rotax's engine have been and gone wearing European and British badges (MZ's Saxon; the Harris Matchless), while the Japanese tried gamely to emulate the elusive mystique of the trad Brit single (SRX600 and GB500); various Euro-clones lit only insignificant fires (MuZ and Norton 652), and even a recent stab at the commuter/all-rounder market which BMW so successfully engaged fell pretty flat (SL650, Freewind et all). In fact, BMW are the only marque to have really succeeded in this niche. So perhaps the argument for another 650 single isn't quite so cut and dried as it first appears…
Best known for their two-strokes, the 'old' Jawa business (it probably should be JAWA but I can't face shouting at you all the time) churned out bread and butter bikes by the – well, not quite billion, but close. Over 75 years some 3.5 million Jawa bikes have been exported to more than 50 countries, and in 1997 Jawa Moto, based in the Czech Republic, picked up the rights to use the old trademark and produce motorcycles for a post-Cold War world. Alongside the bike business, Jawa also offer engineering and manufacturing services to help keep its staff busy. So if you have a need for sheet-pressing, plastic forming or pipe-forming then JawaMoto in the Czech Republic is the place to go!
Jawa now build a range of 50, 125, 350 and 650cc machines. The 650 was at prototype stage in 2003 and went on sale in Europe in 2004, and it's now been chosen by F2 to re-introduce the marque to the UK. Known for their expertise in 'alternative' motorcycles like the Ural and Enfield ranges, F2 reckon that 'the Jawa 650cc 4-stroke range offers a quality alternative to the mainstream bikes currently available.'
Both versions use the electric start, twin-spark, DOHC, 651cc Rotax watercooled engine. The Classic model offers clean lines and the option of a chrome tank, while the Style looks a lot more modern (and the shape of the petrol tank even has an echo of XBR about it!). Both versions offer the usual peppy 46bhp from this well-proven motor; the Classic has a much lower seat and a longer wheelbase, while the Style weighs some 22lb more than its counterpart. Despite its extra mass, the Style is 5mph faster than the Classic – 100mph instead of 95mph – probably because the Style is marginally sleeker and cuts through the air better. The Classic costs £4245 and the Style retails for £4495.
On paper then, the Classic is the one which is going to appeal to the average RealClassic rider. It's light (for a modern bike) at just 396lb. It has a low seat (for a modern bike) at just 29-inches. It's cheap (for a modern bike) at four grand (although £4245 will get you a heck of a classic). Not sure about how the marginally longer wheelbase will affect the steering of the Classic – that's one of the frustrating things about 'roadsters' – very often they end up being styled more like 'cruisers' and you sacrifice some steering swiftness for the sake of fashion… but then, the custom/cruiser market is another target at which this model must be aimed.
It may well be that the Jawa Classic answers a question which I get asked on a regular basis. That question is; 'I have an Enfield for solo and shorter rides, but what bike should I buy to go touring or two-up over longer distances?' Very often, the people asking this question also want electric start, decent brakes and a low, comfortable and manageable motorcycle which won't break the bank.
The short-list normally contains modern Bonnevilles (base price £5k but you'll find some discounted ones); Moto Guzzi 750s (again £5k price tag); and the bargain to end all bargains – Kawasaki's W650 (from £3700 new and incredibly affordable secondhand). Compared with those, the Jawa Classic is priced about right at £4245 – but remember that all the other options have two cylinders and more torque at lower revs. The 650 Rotax motor is a lively one which is well capable of munching miles and surprising the odd sportsbike, but you still have to rev it to 5000rpm to find its maximum torque of 42ft/lb. I know some Britbike riders who simply aren't comfortable at those kind of revs, who much prefer rolling on and off the throttle below three grand — and those people will form a very different impression of the Rotax motor's potential. Bear that in mind when you take a test ride – they tend to go quite a bit quicker if you twist the grip!
David at F2 tells us that interest in the Jawas is rising, and F2 Motorcycles Ltd are the official sole UK importer and dealer for these Jawa 650cc motorcycles and 4-stroke spares. The bikes are covered by a 12 month manufacturer's warranty, and all Jawa 650s meet EU regulations. F2 prep and test each bike in-house before presenting it to their customers to ensure that you 'receive the very best bikes and service in the country.' The prices quoted include all 'on the road' costs plus a full tank of fuel – you just need to sort out your own insurance. However, if you want the pretty chrome tank then you'll have to pay an extra £250. Fork gaiters cost £40; a handlebar screen is £75, and the full luggage set-up comes in at £300. F2 will also do their best to meet your specification if you'd like a Jawa fitted out slightly differently. The Jawa 650 Classic comes in black from stock, or red to order.
| | | |
| --- | --- | --- |
| Routine maintenance on this motor is pretty straightforward – and you don't have acres of bodywork to deal with to remove a spark plug! Customers would be welcome to return the bikes to F2 for servicing although David reckons most folk would be more than capable of managing the regular 3000km checks with a little guidance from him if required. So there's no need to spend £30/hour for an oil change at the big dealership… | | Random Rotax stuff on eBay.co.uk |
There's no denying that the Jawa 650 is an interesting concept at a solid price. I've owned and ridden many bikes that sing the same song as this one, including maybe half a dozen Rotax-engined roadsters of one flavour or another. Whether the Jawa can bridge the gap between old and new will very much depend upon whether traditional riders enjoy the characteristics of the engine. 15 years ago the Harris Matchless failed because the majority of classic riders couldn't get to grips with the feel of a modern single-cylinder motor.
However, times have moved on and BMW have made the Rotax-powered 650 single a familiar sight on our streets. Yet their 650 is now a teeter-totter enduro clone; hardly attractive to the classic rider. Many of the attributes which make the new Enfields popular are echoed in the Jawa 650 Classic; low seat height, electric start, good handling and traditional looks. The Enfield and Jawa share a price bracket, too – but, of course, the European-built Jawa has a 15bhp advantage over the Indian-built Enfield.
It'll be interesting to hear the first feedback from Jawa 650 owners. If you buy one, let us know what you think of it!
See www.jawamotorcycles.co.uk for more info
To book a test ride call 01295 712900 after 2 pm Tuesday to Saturday.
F2 Motorcycles Ltd are based at Unit 5, Burgess Farm, Middleton Cheney, Banbury, Oxfordshire OX17 2NE.
---
Advert

Enjoy more RealClassic reading in the monthly magazine. Click here to subscribe.
---