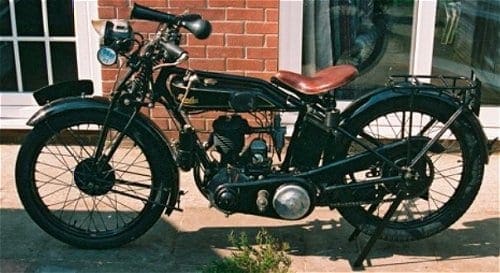 Looking for a bike which wouldn't lead him astray with humungous horsepower, Bob Rodgerson decided on a real vintage motorcycle. This is how he became a true Humbernut…
You may have noticed one or two comments from me on the RealClassic Message Board deriding the qualities of this well known former cycle, motorcycle and car manufacturer The Humber company was known for its high build quality, although its prices were probably too high to ensure volume sales and survival during the harsh economic climate of the late 1920s. Motorcycle production ended in 1930 and car production was continued after absorption by the Rootes group. The Humber name lived on into the sixties with such well known cars as the Snipe, Super Snipe and Hawk.
The company produced various models in the early Twenties including a water-cooled flat twin, an air-cooled flat twin and a 500 single. After success in various trials with a new light weight 350cc sidevalve single, Humber rationalised production to concentrate on this size of model . Various modifications were introduced throughout its life until production stopped in 1930.
My Bike
Up until 2001 I hadn't ridden a bike since about 1969 (the last one was a Rocket Gold Star). I had often thought that I would like to get back into bikes. What put me off was the fact that the power output of modern bikes is way above what I had in the Sixties and, being fond of high speeds in the car, I felt that I would be a danger to myself on a modern bike. However my son-in-law got me involved in a restoration project on an OHC Humber and I became hooked — with the result that I wanted to get back on two wheels of a more sedate nature.
The model I drive is a 1927 flat-tank model which I purchased from a trader at the Stafford Classic Bike Show in 2001. I know absolutely nothing of its history other than a photo of it taking part in the testers' run some years back — so if anyone out there used to own it then get in touch with me so that I can find out more about it.
As far as I can tell the bike has never been restored though I may be wrong. Why do I think this is the case? Well, take a look at the chain case and the aluminium cover fitted to it. This is a saucepan lid and I am sure any self-respecting preservationist would not spoil his work by fitting such a monstrosity.
Another pointer lies within the engine itself. The piston fitted is not of the type fitted to a sidevalve as it has a domed head and appears to be from a Humber OHV model. I think this may have been all that was available at one time to enable the bike to be kept running in the dim and distant past. Other things that make me feel the bike has never been restored include the bent handlebars and various bits of badly chipped paintwork throughout.
Contemporary test literature for the bike quotes a top speed of around 55mph. I have never been able to reach these speeds. One of the reasons for this is that incorrect piston. You see, the original would have been flat-topped and would, at top dead centre, have come almost level with the bottom of the combustion chamber – so giving a compression ratio of about 4.5 to 1. However the domed piston cannot come this close to the bottom of the combustion chamber without the piston crown coming into contact with the cylinder head. In order to get round this problem a previous owner has fitted a plate under the cylinder to give piston clearance, which has the effect of reducing compression ratio and performance.
Other reasons I have never been able to get anywhere near the quoted top speed is that vibration becomes excessive above 40mph. It's a bit like riding a two wheeled road drill… or a Harley. My great bulk doesn't help either, adding an additional 270-plus pounds to the weight of the bike, not including the 30lbs of 'get you home or just in case tool kit' I seem to carry around.
First Drive
After buying the bike and getting it home I gave it a check over and found all to be in reasonable order. The first thing to do was to arrange to get the bike MoT'd before putting it onto the road. A quick call to the local garage confirmed that there would be no problem to bringing the bike in straight away. Now, as previously mentioned, I hadn't ridden a motorcycle since the late Sixties — and I had never driven a bike with hand change and lever throttle.
My local garage is located off the busiest road in town so I was immediately nervous about driving a strange machine in busy traffic. After plucking up courage I set off. Gear changes were a nightmare, producing massive wobbles to the right each time. By the time I got to the test centre I was a nervous wreck. The bike passed its MoT without problems and I drove the bike home via the Post Office to pick up a tax disc, this time with a little more confidence.
Over the next few days or so I rode the bike on short routes close to home just to get used to driving it and to assess its reliability.
Further Afield
After getting used to driving the bike and to being in traffic I decided it was time to venture further afield . It was on one of my forays into the beautiful Northumberland countryside that I discovered the bike had a propensity towards seizing every now and again, particularly when confronted with some of the long, slow inclines that are fairly common on the quieter rural roads. The first time it happened I thought I had wrecked the bike! I recognised the signs and managed to pull in the clutch before any kind of lock up occurred. The engine was slightly hotter than normal so I let it cool down.
After five minutes I kicked the bike over and it started OK and I continued on my way with no change in performance.
After quite a few seizures and a steady drop in the bike's performance I decided I couldn't live with the poor running and determined to strip the whole bike down and carry out a full nut and bolt restoration.
Problem Solved
I thought I would remove the cylinder and head first before removing the engine from the frame to see what the bore was like. After a struggle I got the cylinder and head off. (These are cast in one and cannot be separated). What I found was a surprise. First of all I discovered the domed piston, and then I discovered such a build up of carbon was present on the piston crown that it was touching the cylinder head. No wonder the poor old dear was running a bit poorly!
A quick check also showed that the big end bearing was in good order but there was some play in the main bearings.
The engine was removed and the main journals were trued up using an external hone. I made new main bearings to suit the freshly trued main journals and fitted these. The piston and cylinder head were scraped clean and valves reground. I put the engine back together and fitted it back into the frame.
Transformation
With the engine overhauled and de-coked the difference was immediately apparent. The Humber was much better on hills than it had ever been and it had better acceleration (relative to its previous performance). The bike was given a few long runs to prove reliability before entering one or two local rallies.
So What's It Like To Ride?
To those that have never driven a really old bike, it is very strange, but something which endears itself to you the more you ride. If ever you get the opportunity to try one, then take it. The countryside passes by at a very slow pace and you do get time to take in the scenery.
The main criticism I hear levelled at vintage bikes is that they don't have decent brakes. Well those on the Humber are very good for the year. Fitted with 7-inch rear and 6-inch front brakes it is possible to lock the rear wheel easily in the wet, and I have found them more than adequate in town traffic — providing you don't get too close to the vehicle in front.
I think to ask about road-holding abilities with such an old machine is a bit much, but to be honest I think given its age it is very good. Providing there are no bumps on your cornering line it seems quite stable and can handle some pretty rough surfaces on the straight without problems.
The engine pulls quite well from very low revs and you can easily pull away in top (third) gear from about 10mph. When a hill is encountered a little retard of the ignition is required to keep the engine going, until you think it can't run any slower before dropping down into second. Very steep hills are no real problem to the bike, as it has so much pull in bottom gear you could probably drive up a telegraph pole.
Fuel consumption is between 50 and 60mpg. As the flat tank can only hold just over a gallon of fuel you must be careful to fill up before venturing too far. Similarly the total loss lubrication demands that the oil tank is topped up prior to each run out. I get approximately 200 miles to the oil tank (2½ pints). I am often amused by people telling me the bike has an oil leak, pointing out the oil drips from the chainguard. I have to tell them it's meant to do that and explain the lubrication system to them. Oil is fed to the engine by regulating the supply from the suction supply to the pump, so that there is a steady drip feed going into the engine. When a hill is approached I usually increase this to a steady stream until I crest the hill, then cut it back again.
The air and fuel levers also come into play, although I must admit that since fitting an Amal carb in place of the worn out B&B carb, the bike is not so dependent on these. Usually I just open the choke when the engine is warm and use the throttle as on a normal bike, albeit using a lever instead of a twistgrip.
Since getting the Humber I have covered several thousand miles with total reliability. I have taken part in a lot of local rallies as well as 2001 Banbury Run. I enjoy every minute of driving it and, indeed, I have since bought another Humber so that it doesn't get lonely in the shed.
But that's another story…
Anyone else used kitchen utensils to get back on the road?
---
Advert

Enjoy more RealClassic reading in the monthly magazine. Click here to subscribe.
---