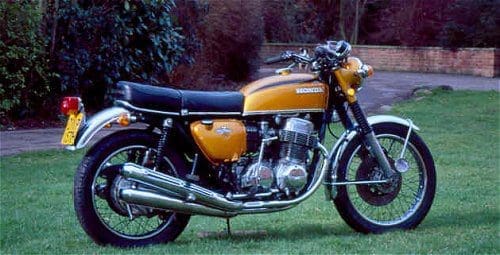 Fancy a true Japanese classic? Steve The Toast has owned and run most examples of the Bike Which Changed The World"¢ and offers sage advice for 21st century riders…
There was a time when the top dogs who barked the loudest in our town rode oily great British bikes, the likes of Commandos, A10s, Bonnevilles and — for the lucky few – Tridents. Or they rode Harleys, of course. These machines were the top echelon, most desirable musclebikes, the High Falootin' Hoochy Doochies – the envy of people who commute on tired Japanese hacks. Nothing could touch them; you either had one or were relegated to the ranks of flotsam and jetsam. Also-rans. I loved the Commando. I lusted after an A10. I would have climbed Everest for a Trident or a Harley – blindfolded, naked, gagged and manacled with a 200lb backpack. I was twelve years old.
I remember the first Honda CB750K0 that I saw. It was around the time that the immortal words 'That's one small step for man, one giant leap for mankind' were uttered. This was the future; I was seeing it first hand. If the phrase 'cutting edge technology' had been coined then we'd have attributed it to this bike. As I rushed home from school to catch the day's events on the moon, I was stopped dead in my tracks as I passed the motorcycle showroom window.
There it stood – the bike that was to finally seal the fate of the British bike industry. Its canted-forward cylinders promised speed, its disc brake hinted at rapid retardation, its up-swept four-into-four exhausts gleamed. Oh, sure, we'd had small capacity Jap bikes around – but nothing like this! It had four – yes – four cylinders. It had a car engine in it! It must weigh a bloody ton! It'll never go round corners with all that mass… I walked backwards from the shop – unable to take my eyes off the spectacle in the window.



This was a groundbreaking moment. It was over a month before I got to hear one running. It didn't roar. Or rumble. It rustled, like leaves in a fierce wind. Hardly a sound uttered from its pipes. There was no staccato roar or ear-splitting banshee wail, and I, young and impressionable as I was, suffered a broken heart.

It would be thirteen long years before I would get to swing a leg over a CB750 in anger. A tatty, ratty F1 of dubious care and uncertain mileage (but not under 40k anyway), came up for sale for £350 from a friend. It sounded OK, went well, and stopped in the fullness of time – what more could I want for that much money? Well, some life in the consumables would've been a start. It had a silencer that had a very large aperture, and very little besides. Dogs barked all over Swansea as I left for work (I lived in Dunstable, Bedfordshire).

As my previous bike was ridden away, I turned my tearless eyes to my pride and joy, which sat sporting the largest pair of my chain and padlock collection. The front brake hadn't worked in a while, the back one seized on when used. So a dodgy secondhand master cylinder was sourced, and the front stripped, cleaned and sorted. It still didn't work very well, and the 'they all do that, sir' from my local shop didn't inspire me to try again.






CB750 stuff on eBay.co.uk
But it flew – we did thousands of miles that year – with virtually no maintenance. Check the oil once a week, oil and adjust the chain and off we go. After six years of Brits, with oily leather panniers full of tools and spares, it was a breath of fresh air — and we actually got places, to boot!
A chopper with the same motor came up for sale at very little money and I bought it. It went like stink; the exhaust finished where the four became one, it was Smoothrite black and I loved it. With no silencer I had to put my foot over the end to create some back-pressure or it wouldn't start.
The standard frame was a basic double cradle, twin-shock affair with standard fare telescopic forks and the weediest single disc front brake known to man. A single piston caliper mounted on a swinging arm was intended to stop this 500lb-plus beast. It was the same brake that they fitted to the CB550, which only weighed 400lb. It's little surprise,

then, that it didn't earn Honda any plaudits for efficiency.
The motor was the star, though. The four cylinder, single overhead camshaft lump, fed by four carburettors, fired by a double points system with two coils and using a 'wasted spark' system, built itself a reputation for its speed and reliability. Here was a bike which you could cruise all day at the magic ton, and it ticked-over like a wristwatch when you'd finished. Thanks to its horizontally split engine cases, allied to fine machining tolerances, it didn't leak oil either. A revelation!
Honda did cut corners, but only where people couldn't see them. The crank journals were one case in point, as all the main and big-ends were ground to get a perfect finish, then measured up and had colour-coded shells inserted, leading to a different size on each journal. This caused problems when replacing them, as the colour has usually been corrupted to brown by the hot oil!
The FVQ shocks didn't take the weight too well, allowing a certain amount of wallowing on fast, bumpy corners, leading to the letters becoming an acronym for Fade Very Quickly. Best bet was to replace them with something like Girling gas shocks, or Alf Hagon's items. Don't waste money on fancy-looking alloy swinging arms, it won't make a jot of difference. If you want a sweet handler, go buy a modern Bandit or somesuch!
The single run camchain in between the middle cylinders was generally reliable, but the spring in the tensioner weakened after being repeatedly heated and cooled, not allowing it to tighten up the chain when its lock-bolt was released. There was, however, a very simple fix: remove the bottom of the air-box and, at tick-over, insert a small screwdriver into the rear of the housing, undo the lock bolt and push the adjusting rod in until the chatter stops. Nip up the lock bolt, and nut, replace the air-box and you're off to the pub. Don't over do it, though – it's not good to over-tighten it either!
For eight years I had the K-series bikes, in varying colour styles but overall little changed during the run. The last ones had my least favourite paint scheme, the black with pinstripe highlights.
However, during that model run, they gave us a different, 'sport' version in 1975 to rekindle interest. Enter the F1. There weren't many actual differences – flatter handlebars, the motor got tuned ever-so slightly, it was given a four-into-one exhaust to lift its power a little, a second disc was added to the back which, surprisingly, worked far better than the original front one! The general reliability was left alone, thank goodness. The top speed of this bike was 125mph, and I personally rode one nearly flat-out for 40 miles, at speeds in excess of the ton and up to an indicted 125mph for brief periods, just to see what would happen. You won't be surprised to hear that when I finally rode into the motorway service area and pulled up, the engine ticked over with a precision normally associated with Swiss watches. The harder I rode it, the smoother it became.
This model was later replaced by the F2, which had a few useful changes added, the best of which was a double disc front end. At last, a brake that was almost up to the performance of the bike. This bike also got its drive-chain hiked up from the pathetic 530 to a more reasonable 630. I must have ruined four chain and sprocket sets in eighteen months on my F1. This was one major bugbear of the F1 and K series. There were also a couple of styling changes too, most noticeably the black engine and Comstar wheels. This was the finest incarnation of the beast, the most capable bike. The K series, especially the K0, are the most sought after, but the F2 is better to ride. And stop on!
A very common modification is to fit a double disc set-up from something like the later CB750K (double-overhead cam) model. There were plenty of front ends around because the DOHC bike used to eat pistons and camchains. I had one with a Yoshi exhaust, and it would rev until my mechanical sympathy got the better of me. 13k wasn't unheard of! That bike had been rebuilt twice before I got my hands on it and the guy I later swapped it with then blew it up.
There were several different kits available to improve the looks of your 750 SOHC Honda. Seeley did a Phil Read replica kit, and many custom houses supplied 'chopper' frames that took the engine and running gear straight in.
The standard model's handling wasn't bad, considering that the bike weighed in at around 500lb and ran on tyre technology which had hardly moved on in 20 years! It was perfectly safe if used within its limits, which were more akin to a tourer than a sports bike. You could get both sides to ground during excited cornering, and in the dry it was relatively predictable. In the wet, however, it was far more of a tippy-toe style required around slippery roundabouts, or the front wheel would break away easily, especially if a man-hole cover or white line was crossed.
At the time, Pirelli Phantoms were considered the tyre of choice, with Avon Roadrunners a close second – now an easy option for the modern rider. I had a TT100 which refused to wear out, and was swapped from bike to bike over a long period of time. The tread blocks became more pronounced with age! Certainly wasn't any use in the wet – but it helped save my license for sure!
A well sorted F2 with larger chain and double disc was the best, and the engines could reliably run to 70,000 miles if the oil and filters were changed regularly, with no bother at all. I used to Slick-50 all mine once they reached 50k, and used Duckham's Hypergrade (as was) with a fresh oil filter every thousand miles. Overkill? No, it was a pathetically small amount of oil, got used in the gearbox too, and the bike runs very hot. I never had an engine let go, despite revving the nuts off them once warmed up.
The air-filter element lived in the lower half of the filter box, and getting to it was a bit of a nightmare. Setting the tappets through the eight inspection covers was also a bit of a nightmare with my stubby, fat little fingers. If I remember correctly they were 2 thou (inlet) and 3 thou (exhaust) but they only needed doing every ten thousand miles or so. To get the rocker cover off was an engine-out job, so I soon became proficient with doing them in-situ…
The ignition timing was a doddle: set the points gap the same on both sets, a spot of Tippex to highlight the lines, and use a strobe. It was easy as pie to get both sets firing at the same point. I always changed the silly Phillips headed screws for socket-head cap screws (or Allen bolts as some call them), sizes M4 and M5, but you do have to be careful not to over-tighten them or the threads in the back-plate can be easily stripped.
Apart from basic frame-bearing greasing, brake pad and battery level checks, there isn't a lot to go wrong with these bikes. The electrics were mostly idiot proof; the only weak link was the coils which could misfire in heavy rain, and that's easily fixed with silicone sealer and WD40. Do chuck away the metal covered suppressor sparkplug caps, if fitted. Replace them with the long-reach NGK caps, a much better item.
There are plenty of tatty-looking single-cam CBs around with loads of life left in them, as well as the over-priced concours ones – but watch out for oil-seals going off with age, as an engine strip to replace leaking ones is not funny! (It's more likely to occur on low-mileage 'show' bikes which sit in garages being polished and not ridden, too). A good road-test should sort that out for you. Buy a tatty one which rustles nicely and enjoy it. Just check that the oil is clean before handing over any wonga. It could be the perfect hack-bike, or a winter resto project for the sick of mind!
And I still have the chrome-backed poster which adorned my local showroom wall…
Childhood Inspiration?
---
Advert

Enjoy more RealClassic reading in the monthly magazine. Click here to subscribe.
---