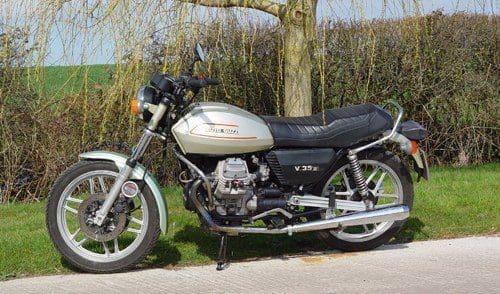 When we tested a 350 Guzzi against a 350 Triumph in the magazine, there wasn't quite space for all the photos and a bit of extra info. So this is what you were missing…
V35 Timeline
First launched 1977 with the V50
350cc suited Italy's new licensing and tax category
Unusually, not built at Mandello, but at Innocenti instead
Like the Morini engines, uses 'Heron' cylinder heads where combustion happens in a space in the top of the concave-crowned piston rather than in the head itself
Used a cast alloy swinging arm instead of the usual tubular steel
Triple disc brakes are linked so that using the foot brake brings one front disc into play as well as the rear brake
Mk2 in 1979 got lower compression ratio of 10.1 instead of 10.8 to 1, gearing adapted for faster acceleration, chunkier carbs, slightly higher power output and improved suspension
Mk2 also switched back to points from electronic ignition
Imola version was launched in 1979, with more sporty looks but little extra performance
V35 III arrived for 1986 and was a very different beast with radically revised looks and an engine based on that of the V75
Plenty of spin-off V35 models were also produced, including Custom, Florida, Nevada and trail variations
Notable Quotes
'The angular styling and engine finning would eventually influence the larger twins and the overall result was a remarkably light and compact motorcycle.' Ian Falloon
'The larger machines have been generally much better bikes than the smaller V35/50/65 series; the latter often let down by poor finish and less than reliable electrics.' Mick Walker
'A well balanced twin with shaft drive and disc brakes. The 350 class had been ignored by Italian motorcycle makers for too long, but the Guzzi V35 was to change that'. David Styles.




'The smallest Guzzi V-Twin had a clunk-free gearchange with which first gear could be engaged noiselessly every time – even from a cold start situation Such an easy, pleasant all-purpose bike. One of a dying breed' Mick Walker

Moto Guzzi V35 II Fact Pack

Engine: 90-degree V-twin
Bore / stroke: 66 x 50.6mm
Capacity: 346.2cc
Compression ratio: 10.8:1
Power: 35bhp @ 8100rpm
Carb: 26mm Dell'Orto VHB FD
Gearbox: 5-speed
Frame: Detachable tubular duplex cradle
Wheelbase: 1410mm
Fuel consumption: 65mpg
Tyres: 325 x 18 front, 350 x 18 rear
Weight: 340lb
Max speed: 92mph





V35 stuff on eBay.co.uk
Site-Seeing
North Leicester Motorcycles: Italian specialist with normally 30+ Guzzis for sale:
Motori di Marino: Guzzi servicing:
NBS: Guzzi spares, repairs and servicing:
Dell'Orto: carbs for Italians and others:
Moto Guzzi Club GB: www.motoguzziclub.co.uk
---
Advert

Enjoy more RealClassic reading in the monthly magazine. Click here to subscribe.
---