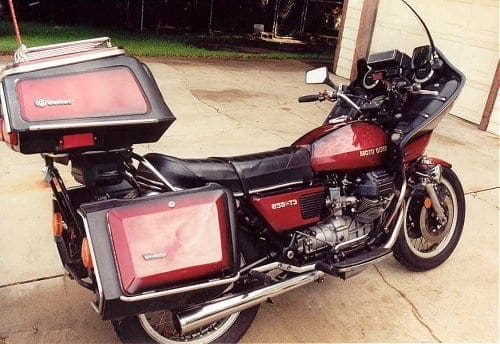 Warren L Mutz tried to buy a BMW but they wouldn't sell one to him, so he ended up with a Moto Guzzi T3. And a blister on his toe…
In 1979 I was determined to add a European touring bike, a brand new BMW, to my shed. I lived in New York then, about 35 miles north of New York City. I rode my Harley to the local BMW dealer; I had a good job, money in the bank and a cash deposit in my pocket. After wandering around the showroom for about 45 minutes with no one inside except the sales staff and me, it became obvious that none of the sales staff were willing to wait on someone like me.
So in frustration I got back on my Harley and rode south to the local Moto Guzzi dealer, E/T Cycle Centre at Croton-on-Hudson. At that time I figured a Guzzi was the next best thing to a BMW and I sure was never going to consider purchasing a BMW ever again.
The Moto Guzzi / Ducati dealership was very friendly and quite willing to sell me any motorcycle I wanted. As I didn't know an awful lot about Moto Guzzis at that time I elected to buy a new model left over from the previous year, a 1978 T3. I loved the bike, it was really comfortable, with good acceleration, cornering performance and fantastic braking ability. I really wanted the bike for long distance, two-up touring, beyond the comfort of my Harley, so I opted for the full luggage complement. I ended up getting the Vetter fairing and saddlebags designed specifically for Moto Guzzi and, as Vetter didn't make a tail-trunk mount, I bought a Gold Wing mount and modified it to fit the Vetter tail-trunk.
The correct Moto Guzzi paint to match the Vetter pieces to the T3 was not readily available, so I painted the entire ensemble with a mild custom colour scheme. That same 1979 paint is still doing fine.
The Moto Guzzi rubber pieces, such as the drive shaft boot and battery strap proved to be incapable of lasting more than a year without splitting, so after several annual changes these were replaced with BMW rubber pieces. That was sometime around 1981, and there have been no problems since. During this period I also added on-board adjustable air shocks, to facilitate touring on different types of roads.
The longest trip that I made with a passenger on this T3 was from New York, west through Colorado, then down south to the southern states, back east to Tennessee and then north to New York up the Blue Ridge Parkway with many side trips along the way. From long straight roads to winding mountain passes the bike was fast and nimble. All in all it was over 3000 miles, with no mechanical problems, and the only physical problem was a blister on the toe is used for up-shifting! To solve that the mechanism was swapped to a heel-and-toe shifter with Police-style footboards. This change also provided the benefit of a robust sidestand that was actually reliable.
Through the years there have been other changes, like the addition of some gauges — the stock idiot lights are unnoticeable during the day; the replacement of the stock electrical switches with aftermarket components as they failed; an electronic ignition conversion; intake and exhaust modifications; lightening the flywheel. I also replaced the stock oil sump with a Bub sump. The Bub unit gives an extra quart capacity and moves the cartridge filter from INSIDE the sump to a more convenient location, external to and at the rear of the sump. The only mechanical problem, in over 20 years, was a noisy clutch throwout bearing which necessitated engine removal to replace.
Overall, the T3 has been a very user-friendly, reliable, and surprisingly fast motorcycle.
Guzzi and BMW: Comparable?
As a bizarre footnote, Real Mart once set off to buy a Moto Guzzi but crashed his Yamaha before he got to the Guzzi shop and so ended up buying a BMW…
---
Advert

Enjoy more RealClassic reading in the monthly magazine. Click here to subscribe.
---