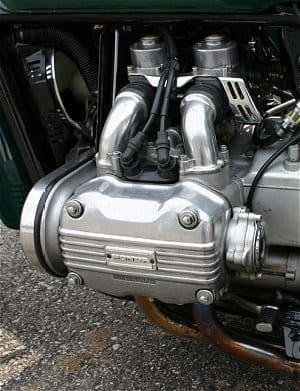 Sidecars are… different. But fun. Real Fun. Anarchy takes a walk around a German Gold Wing Classic Combo…
Motorcycles with sidecars are scarce these days in the UK but in Germany they are relatively thriving. Germany even has its own motorcycle sidecar magazine that features the latest state of the art combinations and developments.
My Austrian friend Thomas Rinner, who I had been riding along with in Russia, recently told me about the classic Honda combination that he has built. I went along to his hometown to take a good look and snapped some pictures of this European styled special.
When the Honda Gold wing was released in 1975 it was simply the biggest most complex motorcycle ever produced in Japan. The 1000cc engine had four cylinders and a dummy petrol tank. If you asked motorcyclists their opinion of the Gold wing the response was always divided. It was either loved or loathed. I have to admit to falling into the later camp in my youth as motorcycles to me had to be slim racers rather than substantial tourers.
In the 1980's Gold wing production was moved from Japan to Ohio as the biggest market for the Gold wing was in the good old US of A, I wonder why 😉 but they were still exported all over the world, including back to Japan.
Years pass and I've found myself looking wistfully at very early Gold wings for sale for not too much money. It seems you can get a lot of motorcycle with the legendary Honda reliability at an attractive price. One thing that has kept me from wing ownership is the bulky size and weight of the bike so it seemed that a sidecar attachment would make some good sense. The high-torque motor would have few problems pulling the weight of a sidecar compared to the many British bikes often lumbered with a chair in a marriage of convenience rather than desire.
Thomas has owned his Gold Wing for 26 years, buying it from his father-in-law. When children came along in the family he added the sidecar. Recently he rebuilt the outfit for better performance and ability.
If you fit a sidecar to a motorcycle you really need to reduce it's gearing to cope better with the extra load. Thomas's solution was to fit smaller wheels which also lowered the motorcycle for a much lower centre of gravity to the outfit. I think the low rider look of the Gold Wing works extremely well, flattering the styling.
The wheels were handmade using Mercedes Smart car rims mated to bespoke hubs. This gives the added advantage of being able to use affordable tyres and do away with pesky tubes too. Leading link front suspension was added to give correct geometry for a sidecar equipped bike and they are much stronger for dealing with the extra stress that is applied to the front end. The leading link separates the suspension and damping from the pivot action, unlike a conventional telescopic fork that has friction that can increase under load even with fancy Teflon bushes.
| | | |
| --- | --- | --- |
| | | Sidecar stuff on eBay.co.uk |
The rear of the Gold Wing was cut back and a new rear fender fabricated to give it a low, squat and purposeful look. The sidecar was remodelled from a standard unit and the unique front scoop added to give it some classic charm. Thomas used the bonnet of an Austin Healy to fabricate the scoop. Finished in British racing green it looks a little like a lotus seven running alongside the bike.
A lot of work has gone into the combination with laser cut special metalwork items that give the project a professional finish. The Gold Wing has been 100% reliable and has never required major service work; it is completely unstressed in this configuration and is a regular sidecar rally participant.
Thomas is flying over from Austria especially to visit the Real Classic rally at the Stinkwheel show on September 18th. If you seem him at the campsite be sure to say hello and welcome!
---
Advert

Enjoy more RealClassic reading in the monthly magazine. Click here to subscribe.
---