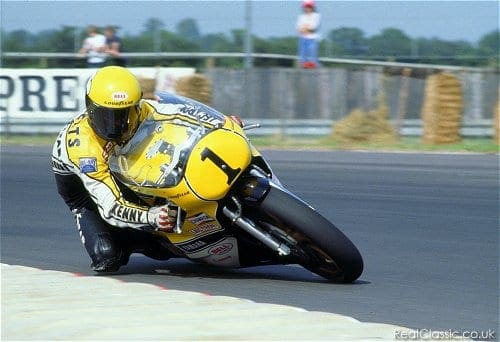 Free! Festival tickets worth up to £36! For RC magazine subscribers! Easy to enter! Very exciting! Follow! This! Link! To! Enter! The! Competition!…
Were you thinking of going to Mallory Park over the weekend of July 9th and 10th by any chance? Yes? Great. We're delighted to offer you the chance to enjoy the VMCC's Festival of 1000 Bikes for FREE. We have ten pairs of spectator tickets for this year's Festival to give away to lucky RC magazine subscribers. So instead of paying £15 or £18 per person on the gate, you and a chum can breeze in for free and see the greatest line-up of racing 'Past Masters' ever assembled on a UK race track.
The 2011 Festival has multiple themes running in parallel, so it will celebrate the old Transatlantic Challenge, the 40th anniversary of Race of the Year where Cooper and Agostini so memorably clashed, plus 50 Years of Yamahas racing in Europe. The grid is absolutely jammed solid with famous faces, headed up by triple 500cc GP World Champion Kenny Roberts who will be riding a works Yamaha OW60. Alongside King Kenny you'll find Giacomo Agostini and John 'Mooneyes' Cooper, Freddie Spencer, Jim Redman, Kork Ballington, Alan Carter, Ron Chandler, Paul and Scott Smart, Mick Grant, Niall Mackenzie, Dave Croxford and host of other top class riders, plus the Yamaha Classic Racing Team and a grid of genuine Brooklands' Museum machines.
Track session have completely sold out, so you can expect to see well over the thousand bikes – more like 1200 road and race machines in fact – in action at Mallory. Or if you want to get closer to the motorcycles then head for the Avenue of Clubs, where 50-plus organisations will show off their members' machines in static displays, from iconic classics to workaday old bikes. Off-road enthusiasts can admire the antics of the pre-65 trial and grass track competition, while the lunchtime sprint demo and early morning stunt shows always attracts a big crowd. Look out for the fireworks display, too.
Since the VMCC recreated this much-loved event they've added more attractions and entertainment to make sure everyone enjoys themselves. So the entertainment marquee includes a real ale bar, plenty of live music, and the 'Stars on Stage' interviews which take place on the Saturday evening and allow our racing heroes to tell a few tall tales…



Article continues below...

---

---






RD Yamahas on Now…
So – how can you win a pair of free tickets and enjoy all this excitement? Simple. Choose the correct answer from the incredibly difficult question which took us hours and days and weeks to formulate, and email that answer to us at rchq (at) realclassic.net
You need to also tell us your RC Club number (it's on your little blue membership card, or on the front of the magazine address label), and your name and the address where tickets should be sent.
The Question: The 2011 Festival of 1000 Bikes takes place at:
A: Mansfield Park
B: Mallory Park
C: South Park

Closing date for entries is noon on July 1st 2011. Tickets will be sent on July 4th so should reach you by the weekend. The ten winners will be selected from all the correct entries and will be informed by email (see further down if further terms and conditions float your boat).
Of course, there is a chance that you won't be lucky this time. If you don't win a pair of tickets you can still save money by booking them in advance, at the discounted prices of £13 for Saturday 9th and £15 for Sunday 10th. Call 01455 8425931 or see www.mallorypark.co.uk
For full event information see the dedicated event website: www.vmcc.net/1000bikes
—————–
Small Print
This competition is for ten pairs of tickets to the 2011 Festival of 1000 Bikes, organised by the Vintage Motor Cycle Club. No alternative prizes are offered. Employees of the VMCC, Cosmic Bike Company and MMG Ltd are excluded from entry. You must be a current subscriber to RealClassic magazine to enter the competition, and only one entry per person will be accepted. The VMCC will send your pair of tickets by first class post: if the Royal Mail don't deliver them in time then we can offer nothing apart from commiserations.
—————–
PS. Sorry about getting so! excited! at the start. Have drunk a lot of full-on coffee today
—————

Enjoy more RealClassic reading in the monthly magazine.
Click here
to subscribe.