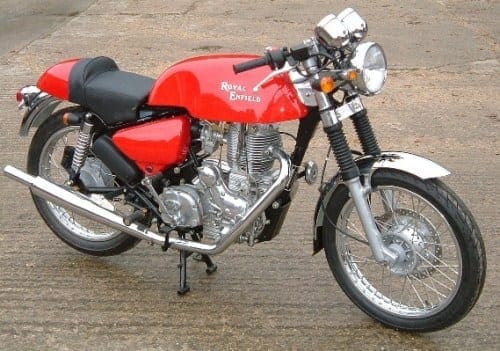 Alan Cole bought a limited-edition café racer, and he's now spent two months getting to know this very practical modern classic bike…
Day One
After my test ride on a pre-production Bullet XR and placing my order with Richardson's of Ripley, the bike (MCN number 06 but with no MCN stickers, just as I'd requested), was ready for collection on the first of April. A lot of my friends thought this was an appropriate registration date for an Indian Enfield but I was certain they were uninformed philistines and two months after delivery they are now looking at the XR with a totally different view!
Simon at Richardson's gave me a very comprehensive overview of the bike. I think he was a bit envious really as he'd just rode it to the local filling station to fill the tank up and remarked on how comfortable it was and how nice it sounded and handled. 'Full tank of fuel' I thought – that's different from the usual treatment. Leaving Ripley in the pouring rain I still went the long way round to get home thinking that, despite the hosepipe ban, I'd rather ride it in the rain than not see what it was like.
Stopping a Newlands Corner for a coffee quickly drew a bit of a crowd and one chap complimented me on the superb rebuild I had done. I did have it registered with a non-age related plate but I had to admit that it was only first registered that day. Many others voiced the opinion that Watsonian Squire had done a superb job in the specification of this limited edition Bullet, as it really looked the part of a 1960's café racer. Someone noticed the subtle 'MCN 06' plate on the fork legs so I had to explain in detail what it was all about.
After leaving Newlands and just before reaching home I found on changing gear that the left footrest had disappeared! What had happened was that it had worked loose and folded down. Oh well that's what I had wanted – a bike that had to be fiddled with. On reaching home I sorted this out and checked for other things that may be loose, finding a few others like the gear lever adjustment lock nut and the headlamp alignment bolts!
The gearbox was one concern I had, with selection being quite ponderous compared to the R1200GS and needing a positive change. Neutral was almost impossible to find with a foot but 200kms later this had begun to ease up and I had got used to a more delicate, slow selection process. After the first service when the gearbox and chain case oils are changed, I am certain it'll be fine. This bike does need careful running in I think. The handbook recommends a maximum speed of 40mph but I have just been careful not to labour the engine and restrict the maximum rpm to around 3500. In fifth gear this is good for 60mph, which for the sort of riding I have been doing is fine for national speed limit A-roads and dual carriageways.
Two Weeks Later
By mid April I had learned to live with the bike. It's comfortable, light, steers well, looks good and sounds wonderful. I keep forgetting to turn the lights on, the throttle cable has stretched beyond the possible adjustment, which will be sorted out at the first service and the idling rpm has increased, which means it's bedding in nicely. The fuel gauge is inaccurate and the reserve tap is required too early but this can easily be sorted by cutting down the standard Bullet fuel tap intake pipe. Oh well that's what I had wanted – a bike that had to be fiddled with. Although the speedo is calibrated in mph the odometer is in kph, which I only realised after my first trip to work although it is clearly marked in kph on the instrument.
I bought some Hitchcock's short stem oval mirrors, which were useless because all I could see was my arms and these have been replaced with Motrax mini bar end mirrors, which not only suit the bike style better but also give a superb view. I've also fitted a Motrax clock that is unusually retro-looking and provides a bit of practicality.
Prospective owners might like to know that Watsonian provide the original Mikuni carb, a pair of standard Bullet mirrors (which are so unsuitable Richardson's didn't even bother to fit them), a spare throttle cable, clutch cable and inner tube! How's that for service? The carb and both sets of mirrors have now been sold on eBay so I'm feeling very pleased indeed with my new bike!
48 Hours Later
Another lesson learned. On the way to the dentist this morning I brimmed the tank for the first time. I had to leave the bike on the side stand and came out to find a puddle of petrol surrounding the bike in the car park. Very full is OK on the centre stand but on the side stand it dribbles out of the filler cap, so I won't do that again!



Three Weeks of Ownership

The first service (500km) was booked for the third week of my ownership and I'm looking forward to testing the performance more fully with new oils all round and the engine more or less fully run-in.

I collected the bike from Richardson's after its first service. Total cost for oils, filters etc was just £19! The gear change linkage had been assembled incorrectly and neutral is now much easier to find now that has been corrected. A replacement throttle cable had arrived but was still too long so Simon at Richardson's shortened the inner to the correct length under warranty. Love this little bike to bits and can now up the maximum revs a bit to, say 4000. I intend to continue the running in process for another 500kms before exploring its full potential!

A Month Old

Now the bike is run-in and I'm able to give it a bit more 'welly' I've found that its cornering ability is a bit limited by the centre stand, especially on roundabouts! Therefore, it has now been removed. An easy job, except for removing the springs. For routine maintenance it will be easy to, temporarily replace the stand on its shaft as it's only located with split pins at either end.






Random Enfield Stuff on eBay.co.uk
Six Weeks of Ownership
Now up to 850kms and the weather is good. Still avoiding main roads and sticking to the lanes where the Enfield is in its element. Noticed a peculiar noise from inside the petrol tank to find, when I filled up with petrol, that the fuel gauge sender float was swimming around all on its own – no longer attached to the sender arm! I hadn't actually realised that the gauge was not working as, with a reserve tap, it's not that crucial.
Back to Richardson's for the second warranty repair and they are also going to reduce the (Electra standard tank) tank output pipe by about 50% so that the reserve is a reserve and is not half a tank full. This is, apparently a problem with all Bullet tanks that are smaller than standard because they all use the same size outlet pipe.
In addition, noticed exhaust soot building up around the manifold flange. I checked the tightness of the stud's nuts, which appeared to be OK but Simon is going to use some sealant to sort that out.
No doubt, that the Bullet is a bike that needs to be looked after and fiddled with – but that's what I wanted… isn't it?
Two Months Old
After one thousand one hundred and fifty kilometers, or 715 miles, I've been able to explore the Bullet's potential more fully. Maximum revs is a bit limited by how much vibration you can stand but up to 5000 is bearable. This gives about 85mph, where it's allowed, so I reckon 95+ will be possible at 6500rpm. The sound is tremendous and I've developed a bad habit of looking for tunnels or narrow streets with tall walls either side. The sound is great when you ride through and just as good when you do it again, in the other direction!
I displayed the XR on the IAM stand at the recent Surrey County Show and it was a real crowd-puller, many people thinking it was a 60's machine. The only person who recognised it for exactly what it is was a BSA Gold SR500 owner. These BSA Regal Yamaha engined bikes were designed by John McLaren and were not really supposed to be a Gold Star replica – their blurb says – although it obviously is just that. The cost, however, was around £6500 when they were available compared to the XR's £4699!
I love the bike and it's just what I wanted, 1960's styling but with greater reliability. It is more demanding to look after than a modern machine – but that's what I wanted. Isn't it!
————-
Your Turn!
If you'd like to bag a Bullet for a blast then come along to the Royal Enfield Open Weekend on July 22nd and 23rd 2006. You'll be able to see and ride the range of Royal Enfields – from the bargain basement 350 Classic to the top-notch café racer. Just bring both parts of your driving licence with you, and allow a whole day to enjoy all the activities and entertainment which Royal Enfield will be laying on.
WHEN: Saturday and Sunday, July 22nd and 23rd 2006
WHERE: The Watsonian Squire factory at the Northwick Business Centre, Blockley near to the Cotswold market town of Moreton-in-Marsh, GL56 9RF
OPEN: 10am to 6pm both days
ADMISSION: Completely free!
MORE INFO: 01386 700907 or www.royal-enfield.com
---
Advert

Enjoy more RealClassic reading in the monthly magazine. Click here to subscribe.
---