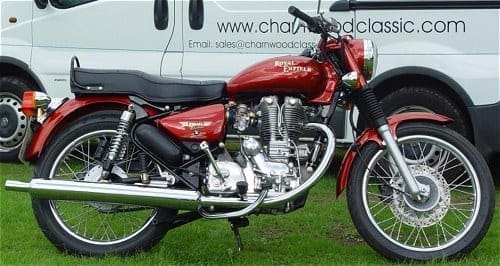 A giant leap for mankind? Or just another new Bullet? Rowena Hoseason takes a quick spin on the latest Royal Enfield to go on sale in the UK…
Royal Enfield have been talking about their lean-burn engine since the late 1990s. It's been on the drawing board for a while, the 350cc version has been in production since 1999 and the development 500cc machines have been riding around the UK for two years or more. Now the lean-burn bikes – given the name Electra X — are officially on sale in the UK for £3495.
You might wonder why all the fuss. And why the need for a new model at all? After all, the Bullet has been in production (first in Redditch and then in India) since 1949, and roughly 25,000 roll off the production line each year. If it's been fine for 55 years, why change it now?
There are two major pressures driving the development. The first is international noise and emission legislation, which is particularly strict in the EU and USA. These are the regulations which forced the major Japanese manufacturers to trim away large segments of their model ranges last year because the bikes weren't clean enough. The old Bullet engine simply couldn't meet the incoming standards, as Peter Fletcher of UK importer Watsonian Squire explains.
'The future of the original 500 and 350 engines will be restricted after the 2006 introduction of new noise and emission regulations. Effectively we cannot sell bikes with the old engine after June 2007. Even current bikes use a catalytic converter in the exhaust pipe to meet existing regulations – but most people don't notice this.'
The other motivation for development is customer expectation. The Bullet is an unusual motorcycle in today's market. It sells to a broader span of customer than any other single model (correct me if I'm wrong here!). In its home market (and many export markets, too) it has to fulfil the role of slick city commuter and simple village transport. It needs to be a working motorcycle which can be fixed at the roadside by a man with a spanner and not much mechanical knowledge. Think of how motorcycles were used in 1950's Britain and you'll have a good idea of how the Bullet is used in many of its markets in the developing world.
Then there's the UK market, where the Bullet is sold against a range of highly developed leisure goods, and where it is frequently compared to modern designs of a similar price. There is plainly a market in the UK for 'traditional' motorcycles – as demonstrated by the fact that you're reading this… – and ones which demand a higher level of owner input than the white goods norm. Yet even with a sympathetic audience prepared to cut the Bullet some slack, the Indian bikes were widely criticised for poor finish and patchy durability for many years. You're only as good as the last bike you sold, and customers won't return to a brand if they get more aggravation than enjoyment from their previous purchase.



That's why Watsonian Squire embarked upon a campaign to clean up the Bullet's act, and it's been an ongoing process since they took up the importer's reins. From all reports the process is still very much 'ongoing' but they've achieved much in a short space of time.

How much? Well, back in 1996 RealClassic's editor, Frank Westworth, wrote some distinctly disparaging remarks about the Indian-built Bullets of the time.

'The best advise I can offer is that if you wish to own an Enfield, make it a real (British built) Royal Enfield. Although the modern Bullet offers much in the way of period charm, all too often my mail has contained sad letters from disillusioned Bullet owners. If you must buy one, buy it cheap.'

Eight years later, things have definitely changed as Frank explains;






Bullet stuff on eBay.co.uk
'That was true when I wrote it. What's interesting is that people still approach me to talk about those comments as if time hasn't moved on, whereas in fact Royal Enfield have changed their bikes remarkably since I wrote it (however, I stand by my comments for bikes pre '96!). Enfield's steady development of their machine and in particular the electric start, greatly improved gearbox and general quality improvement makes the machine much more attractive.

'After a short ride on the new Electra with its relatively sophisticated engine, easy riding and modern ergonomics, allied to the disc brake which the bikes should have used for the last decade, I would – finally – consider buying one for myself.'
The 499cc OHV lean-burn engine is, like the 5-speed gearbox before it, a collaborative effort. While the transmission was developed in the UK, the new top end was designed in conjunction with the Austrian powertrain systems company AVL. Unlike most current engines, which are liquid-cooled, the Bullet keeps its 'classic' air-cooled appearance. This was an important part of the brief; 'It had to retain the traditional appearance, simplicity and sound of the British single but with greater inherent reliability and performance, coupled with better fuel consumption and the ability to meet anticipated requirements for noise and emissions in both Europe and the USA.'
The new engine develops a couple more horses than the old one (output is now 25bhp at 5500rpm instead of the previous 22bhp), has higher gearing to give it longer legs, and promises improved fuel consumption of 80mpg or so. Given the price of petrol, that's suddenly a selling point. Peter Fletcher sounds to be fairly well pleased with the Electra X in standard form;
'We have been using the new engine in various guises for nearly two years on an everyday basis, plus trying various tuning options. The engine was designed to cope with 44bhp output and has inherent reserves of strength and hence potential reliability. This has been borne out by our experience — it has been given loads of stick and just does not require the level of attention the old engine has always needed.'
Watsonian expect that the Electra X will appeal to a broader range of riders than the earlier Bullets did, and so are prepared to deal with requests for more performance;
'Tuning is always a difficult subject. We're developing a series of tuning kits which will be factory approved and therefore won't affect the warranty.
All RE engines are restricted in performance by the mods required to pass Type Approval regulations – mainly noise and emissions. So it's always been relatively easy to get more performance quite simply and it's the customer who makes this choice.
With the Electra it's no different, but because it will have a wider potential use, with riders used to more performance, we believe that the call for extra performance will be larger than usual.'
So what else is new about the Electra? As FW pointed out, it comes with a 280mm disc brake to complement the traditional 6-inch drum at the back – this really is an essential addition if the Bullet is to appeal to modern bike riders.
It keeps its kickstart as well as coming equipped with an electric foot – although the lazy option should work just fine coupled with the new electronic ignition, which has been programmed to provide a longer spark for easy starting and to improve battery charging. The cosmetics have been refreshed (white dials: very pretty) and the old frame has been adapted to suit the new forks and mudguard and gas-filled rear shocks.
The bike we rode was a fresh-from-the-crate example which Charnwood Classics (01530 832634) had just unpacked and will be running as a demonstrator. They'd be delighted to loan it to you if you fancy trying it for yourself – they're based in Leicestershire, an easy ride from anywhere in the

Midlands.
As usual with Bullets, I was amazed by how little the Electra X is and how easy it is to fling about. Its 350lb dry weight is well balanced and the 30-inch seat height gives it an 'accessible for all' air of equal opportunity.
I tend to prefer the styling of the special edition Bullets – so I'd wait for a trials special or a military trim machine – but there's no denying that the Electra looks pleasingly classic. It's a neatly presented motorcycle with a light step, and it's one which attracts all the right sort of attention.
Interestingly, it was the front disc brake which raised eyebrows rather than the trick top end. Onlookers didn't pay much attention to the re-worked engine but they noticed that the brake had changed. Perhaps that says something about our age… when we're more worried about stopping than going!
Yet while the Electra X looks traditional in most of the right places, it certainly doesn't sound traditional. (Well, it can't; that's the whole purpose of the exercise). Using the lazy button half a dozen times in as many minutes brought about the whizzing and chattering noises which I've come to associate with the single cylinder Rotax engines. If you want the boom and vroom of an old Brit single then you'll need to dispense with the Electra's standard exhaust system, I suspect. On the other hand, you might not want to wake up the neighbourhood and the engine soon settled down to a pleasant purr.
This Electra was a brand new bike, so I can't give you a proper road-test here. The gearchange was stiff and although first engaged cleanly and quietly I snarled up the change into second a couple of times. I've used the 5-speed box before and had no such problems, so expect the gearshift to improve with use. The disc brake is a definite plus, even if the effect is entirely psychological. If I think I can stop faster then I'm happier to ride faster – so a better brake is worth as much as 5bhp in some circumstances! But like everything on the Bullet, the brake isn't a teeth-snapping, eyeball-busting exemplar of cutting edge performance, so it shouldn't result in low speed spills on greasy roads. You'd have to be trying some to nip up the front wheel; even those riders who have never used a modern disc should be comforted by it, not challenged.
Other impressions? You need to lift the revs a touch to pull away cleanly. The Electra is very happy to rev, even when not run in, and it needed a bit of stimulation to trot along crisply. If you rely on low rev torque and the thump-thump-thump of an old fashioned single engine for your thrills then you'd best look elsewhere. The Super Venom tyres are a spot of overkill, methinks, although I've no doubts that with a higher level exhaust you could be fairly heroic through the bends.
The Electra is supposed to be serviced every 6000km – that's over 3500 miles between services. I'd simply love to believe that it'll go that far without needing to see a spanner, but the pragmatist in me would still expect to spend an hour a week, tightening and tweaking.
The final word (for now) goes to Peter Fletcher of Watsonian. We'll have more to say on the Electra when we've clocked up some serious miles on one, but in the meanwhile you should probably take note of the key phrase in this statement which is 'the easiest Bullet to own'. If nothing else, that's what RE have tried to achieve… 'Improved performance, handling, ride comfort and reliability makes this the easiest Bullet to own and signals another large step forward for Royal Enfield.'
The final word?
---
Advert

Enjoy more RealClassic reading in the monthly magazine. Click here to subscribe.
---