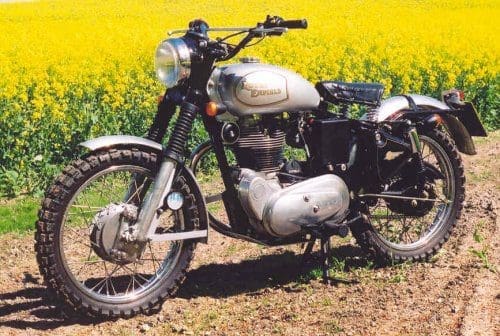 Steve Wilson didn't really need to ride another Enfield straight away, but we wanted to do the 'out standing in his field' joke. So he just had to go a-trialling-oh…
If you want to go trail riding in proper classic style, then you need to get something relatively reliable, affordable and fuss-free, and do it now, before we're all legislated into suburban holding pens. And if you don't have the confidence to start out with a genuine pre-65 bike, then consider this 'modern' alternative.
Indian-built Royal Enfield Bullets have been in production for nearly half a century now. A mile on Indian roads is reckoned to be the equivalent in wear and tear to three miles on European ones, and that's a fairly convincing argument for them possessing the very-tough-as-old-boots character needed for off-road endeavour. Bullet build quality has steadily improved in the past few years following a change in company ownership, and a recent welcome addition is a Japanese Denso-designed electric start facility, a boon on the trail. Though 500 Bullets with their mild 6.5:1 compression have never been too difficult to kickstart, after time spent struggling in ruts, rocks and mud, the last thing you need is a leg-wrestle.
Watsonian-Squire, the sole UK distributors of Bullets for the past five years, have put considerable thought into their off-road-oriented models, the 350T and 500T, so that on-road capability has been retained, while appearance and dirt performance echo a major slice of the marque's history, when the Bullet was a highly successful trials iron in the Fifties.



The models' most obvious distinguishing features are the sprung single saddle in place of a dualseat, and the exhaust system with its silencer rakishly upswept, to help avoid deep ruts and rocks. The combination of these two fittings have made pillion footrests superfluous – this is a one-person machine. There's also a bash plate under the sump, braced trials-type handlebars, and smaller, black, flexibly-mounted indicators, in case of a tumble.

A new rear sub-frame houses a repositioned battery and electrical components, while the road bike's convoluted, emissions-oriented air filtration has been replaced by a simple pancake sports air filter. Alloy, rather than painted steel mudguards, help keep the weight down, as do rubber fork gaiters, rather than the roadsters' steel shrouds. The mudguards' pale metal colour picks up the silver-painted three gallon petrol tank, which contributes to the bike's light appearance. Tyres on the 19-inch wheels are town-and-country knobblies from Continental.






Bullet stuff on eBay.co.uk
It's an impressive package, for which, at £3295, you're paying around £500 more than for a standard black 500 Classic roadster – both reasonable value for a brand new 500cc motorcycle. The electric start, with its larger battery and high output alternator, adds another £250. We were relieved to find that Andy Williams at Swindon Classic Bikes (01793 829560) had come up with an electric start 500T for us to play with.
A further advantage of using successful Royal Enfield dealer Andy, as well as his down-to-earth, positive and helpful approach, was that his workshop on the western outskirts of Swindon was just a few miles from the Ridgeway trail where it negotiates the M4. And the weather had been nice and warm and sunny for weeks, meaning a dry and dusty 'Rudge', as the trail used to be known locally. Call me a Southern wuzz, but that's the way I like it.
The 500T Bullet has looks which used to be described as 'cobby', its short (54-inch) wheelbase emphasized both by the trail model's high-mounted rear light and number plate, and at the front by the Enfield trademark stubby 'casquette' headlamp enclosure, which contains the switches, speedo and ammeter. The revised air filtration and single saddle all serve to isolate and emphasize the imposing tall single cylinder engine, with its long 90mm stroke. The only odd note visually on the test bike came from the saddle, which sloped down at the back.
Trouble was – while I and photographer Nick Ward were still outside Andy's admiring the 500T – the first drops of rain fell. Luckily, to look the part, I had brought along my Belstaff jacket and overtrousers, in handsome black waxed cotton. These traditionally made garments, originating from the same era as the Bullet itself, are still highly practical wear for road and trail, fielding mud and keeping out the worst of the wet, while not sweating up too badly inside. And the jacket's four big bellows pockets can hold a fair sized tool kit, as well as a year's supply of Kendal Mint Cake. (NB: no waterproofs or mint cake knowingly undersold. TP).
So hauling on and buckling up the overtrousers, I pulled in the clutch and started the Bullet on the button, and off we went into the summer shower, which turned into a heavy one. Reliable lights from the 12-volt alternator electrics were a boon which you don't always find with genuine 30 and 40 year old classics. And no worries – I had wondered how the knobbly tyres would hack it on tarmac in the wet, especially as Andy Williams had said he'd scared himself with them on a previous rainy day. But on a route that included roundabouts, factory slip roads, dual carriageway and country lanes, I didn't experience any grief from the Continental rubber. (For an extra £90, incidentally, you can have the standard front wheel replaced with a pukka vintage trials 21-inch item, also Continental shod.)
Everything else about the bike was reassuring, too – the saddle and braced bars together gave a comfortable riding position, the clutch was smooth (though the change from the nearly new, traditional right-shift, 4-speed gearbox was stiff and notchy), and the drum brakes, particularly the 7-inch twin leading-shoe stopper at the front, were progressive and effective. The soft power from 22bhp engine was eminently controllable in traffic, and on the dual carriageway, opened out well to an indicated 60mph on the inner ring of the combined kph/mph speedo, although Nick in the car behind would later confirm that this was a tad optimistic. Anyway, this was a newish engine, and as part of the Bullet's olde worlde charm, you do have to run them in. So no speed trials today – standard 500 Enfields normally top out at around 75mph. A final big bonus was the nice deep and rorty exhaust note – I doubted if that uptilted silencer was encumbered by many baffles!
If there was a small reservation, it was that the Enfield felt a little undergeared for the road. I wondered if the 500T was fitted with gearing suitably lowered for off-road work, but in fact Andy would confirm that the model has standard gearing. Most of the Bullets I've ridden have in fact had their gearing raised with an 18 tooth as opposed to the standard 17 tooth engine sprocket, for an easier life on today's roads. But the standard ratios seemed a good compromise between on- and off-road, though gearbox sprockets with anything between 13 and 22 teeth are available from Royal Enfield specialists Hitchcock Motors (01564-783192), as well as a trials gear ratio set for around £85.
On The Rough
By the time we'd reached the dirt parking area at the base of the hill where the Ridgeway falls away from the Lambourn Downs, I'd determined that the 500T was a really pleasant road bike. And the rain had stopped – it had never even reached that spot, so the fields and trail were as dry and dusty as you could wish. Then five minutes play on the trail, and the fields of oilseed rape beside it, convinced me that this was one of the nicest and most undemanding classic off-road four-strokes I'd ever thrown a leg over.
At those first gear speeds, there was a really satisfying blurred THUMP from the exhaust – 'thumper' was an entirely appropriate name for this big single-pot iron. Yet the noise was evidently non-intrusive; later a guy parked his van there to eat his sandwich lunch, and paid us no heed. The slow, steady thump was an indicator of something you absolutely need on the dirt, an utterly reliable tickover so that an engine will tonk along with the throttle closed while you pick a tricky line or negotiate hazards, without stalling.
In extremes, usually downhill, you can use the decompressor to slow and soften things down even more. I was bemoaning the apparent absence of a decompressor, which Enfield used to fit as a little lever under the left-side handlebar grip – until I realized that on the more modern Japanese-derived switchgear used with the electric start versions, the decompressor was now a slide control on the bars beside the left grip. Ooops.
But with or without it, the Bullet proved so controllable on the dry dirt. The suspension seemed just so, comfortable and compliant, but firm enough for accuracy. The competition-bred frame, well-balanced and nice, still delivered the goods after all those years, whether you were standing on the well-placed pegs, or blasting on the flat with your seat glued to the saddle. With good grip from the tyres and good balance, plus the engine's non-threatening, well-spaced concussions, you could put the plot confidently up, over and even crossways on deep dirt ruts and grass ridges. First gear was indeed not trials-low, but low enough for the trail, and together with the absence of drama, there was also enough poke in second to hang on and roar unhesitatingly up the steep bumpy hill. At the top, the Bullet's tight turning circle was a boon as you trickled round and put your weight at the back end for the downhill run. Believe me, this was a lot of fun.
Among the rider-friendly touches were the improved, all-metal petrol taps which could be turned on with a gloved hand. The centre stand was easy to operate, but it flapped about, clanging, as the bike bumped over the rough; Andy's advice would be to junk it and fit the £29 optional extra chromed sidestand, if much time was to be spent off-road. While mentioning downsides, there was a very slight front end wobble at the lowest speeds, but it was entirely non-menacing.
More basic was the old-fashioned 4-speed Albion-designed gearbox, which even allowing for this one being new and stiff, did feel ponderous, and resolutely refused to find neutral, even with the help of an extra little lever on its side, the Enfield patented Neutral Finder. Andy did get this to work, with a blipped throttle and a strong boot-heel, but my thoughts were straying towards the more refined 5-speed, left-shift box we'd tried recently. And yes, Watsonian will build you a 5-speed 500T – but that brings the price up to £3895…
Conclusion
Both Nick Ward and I were impressed with this package, and really liked it. Sure, a serious modern trail bike would have half the engine capacity and around half the weight of the 500T. But it would utterly lack the Enfield's classic overtones and old-fashioned thump – and on or off tarmac, this Bullet, catalogued at 370lb / 168kg dry, and with its alloy guards, etc, actually probably a bit less, never felt like a heavy machine.
This bike looked and sounded good, it was self-possessed on tarmac, and off it, proved a load of solid, undemanding fun to play with.
---
Advert

Enjoy more RealClassic reading in the monthly magazine. Click here to subscribe.
---