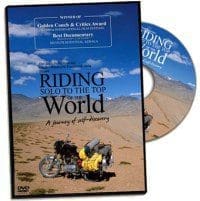 Never mind going from Land's End to John O'Groats, here's a great documentary about a man who takes his travelling seriously. Would you ride a 350 Bullet to Tibet?
I've probably mentioned before that reviewing bike videos is probably one of my least favourite tasks (and I'm the person who empties the cat litter tray in this house, so that gives you a clue about how poorly bike vids tend to rate with me).
I've seen too many badly researched, badly shot, wobbly, out of focus films which mainly feature a great long string of bikes rounding one corner – here's an old bike, look! And another! And another! And another three dozen of the things! And now they've all stopped for tea! Gee. That's exciting.
The alternative is professionally shot films after which the professionals should have been shot, because they've plonked a posh bike on a plinth and scripted a wildly inaccurate voice-over which provokes a chorus of 'no it's not!' and 'no they didn't!' and 'I'm not sure this film is doing your blood pressure any good, dear.'
Hurrah, then, for Riding Solo To The Top Of The World. Loved it. An hour and a half of enjoyment. I will 'fess up straight away and explain that while the classic motorcycling is an integral part of the film, it isn't what the film is about (and maybe that helped). The film is about a solo trip on a 350 Enfield, laden with 220lb of luggage, from Mumbai to one of the most remote places on the planet, a frozen plateau on the border of India with Tibet.
It's a better film than most 'we saw the world' documentaries because it was produced by a professional film-maker in his spare time. That man is Guarav Jani and he's also the chap who rode the motorcycle. Oh, and he's also the sound-man, camera-man, director, stunt-man and provided his own back-up. In other words, this is a REAL solo trip, undertaken by one bloke with a mountain of equipment and a ferocious dedication to his art.



When you see some of the shots which show Guarav riding in glorious isolated splendour through a snow-scattered mountain pass you'll gawp – and then you gawp again when you realise he had to set up the shot, leave the camera running, ride for the camera, and go back and fetch his equipment… EVERY time!

The soul of this film isn't in its technical achievements, however. It's in the spiritual journey which accompanies Guarav's meandering progress while he travels with nomads at 15,000 feet (enduring altitude sickness) across 20,000 square miles of wilderness.

There are no roads and there are no maps, and most of the settlements move around, so Guarav follows the word of mouth trail to find a festival which happens only once in 12 years – then he moves on to a monastery where a weekend's prayer marks (or provokes…) the start of the rainy season.

The temperature drops to 40 below freezing; Guarav has no easy way of charging his camera batteries, and he has what looks to be a scant supply of petrol strapped to the Bullet's jerry-built luggage rack. At one time the oxygen was so thin that the engine wouldn't run properly (or, eventually, at all!).

This is a very far cry from a long ride in Britain, with petrol and mechanics in every town, a mobile phone always at the ready, and a comfy bed in a purple people-sleeper at the end of every day's journey…

In the end, to reach the most remote location, Guarav cannot ride his Enfield. The terrain is too tough for the laden machine. So he pushes it, like you do, and becomes the first person to film at the Chemur monastery.

Then he turns around and heads back to his modern life in the film industry in Mumbai.






Enfields on :
This is an award-winning film, and I'm delighted that it's been so well received in the mainstream. It is a little light on motorcycle content – probably because it was aimed at Joe Average and at not us – so I'd encourage Guarav to do a director's cut version, one which tells us more about how the bike performed and how he prepares it for the trip, and what maintenance it needed along the way.
We caught up with Guarav at New Year; he was on a ride in the Himalayas along with 30-plus other riders to catch the first snowfall and celebrate his bike club's fifth anniversary. He wasn't sure how well his film would go down in other countries, where modern riders are used to have 100bhp on tap plus three support trucks and an entire film crew. 'It's great for me to know that people around the world are relating to the experience — riding minus a powerful bike and equipment. We thought it might not go down well outside India.'
Stop worrying, Guarav. You've ridden to the top of the world – and your film does that ride credit.
Reviewed by Rowena Hoseason
**********
The Riding Solo To The Top of The World DVD runs for 94 minutes, has English commentary, and is available from Red Lizard Classic Motorcycles for £15.99 plus delivery. Ordering via this link helps support RealClassic.co.uk!
You can find out more and see a trailer for the film at dirttrackproductions.com
Search for books and magazines on
Ebay.co.uk
Search for similar DVDs on Amazon:
---
Advert

Enjoy more RealClassic reading in the monthly magazine. Click here to subscribe.
---