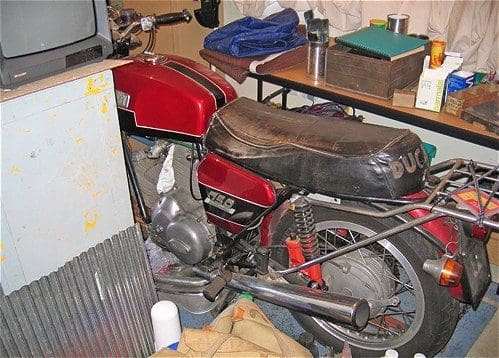 Trevor (Ozboy) Brooks finds an unusual Shed Surprise, and discovers a mid-Seventies Ducati twin, complete with an unusual optional extra…
Poking your nose inside another bloke's shed can bring the occasional surprise (oops, sorry vicar). You know how it is, you drop round to talk about some wobbly wheezer and peeking out from a dark corner is a milestone 1970's icon.
I'd popped round to chat with Jordan Princic about his Panthers, but that's another story entirely, coming to an RC location near you in the not too distant future (RC24, if all goes to plan…).
Jordan is a most interesting chap indeed. He has a mind of clinical precision for engineering details yet waxes lyrical without once sounding like an anorak. He has an easy going, humorous and pragmatic approach to running REAL classic bikes. His knowledge, understanding and sheer enthusiasm leave me breathless. And despite the inevitable shortcomings of his bikes, he loves them fondly just the same. All in all, a thoroughly good type.
Toward the end of a terrifically enjoyable day, we were putting the Panthers to bed when I spotted an entirely different shape peering out through the shed's partly open doorway. 'What's that in the shed, Jordan?' I say.
'Oh that' says he, 'that's my Ducati.'
Jordan pushes open the shed door to reveal one of my, and Fabio Taglioni's by all accounts, most favourite ever machines, an original launch year 1974 Ducati 750 GT.
What a gorgeous thing it is, single overhead cam V-twin, shaft drive bevel gears, forged rods in caged needle rollers, 150-watt alternator… eh? Pardon?! Ah yes, we'll come back to that in a moment or two.
'I bought it in 1994' says Jordan, 'it was considered a fairly ordinary machine at the time I acquired it, but to me the GT is the best expression of a motorcycle of its vintage that I've ever seen. And here's something I bet you've never seen…' he says, walking over to the steel cabinet and pulling out a large box of various spare parts.
'When the GT was introduced in '74 the bike cost one thousand pounds, and this…' he says, revealing the contents of the box with a magician-like flourish, 'this, the optional electric start, was another £50 on top. Trouble is it only worked with a healthy and fully charged battery.'
And that, dear reader, begins to steer us back to the 150-watt alternator.
'You don't see many of these electric starts around these days, the round case models generally didn't have them fitted. I believe the electric start models may have been designated GTE originally.'
All manner of bits and pieces are emerging from the magical box as Jordan continues. 'To fit the unit requires a different outer casing and all sorts of other dedicated pieces. I've been slowly acquiring the parts. I found this genuine new factory starter unit in Spain via the internet, and ran wanted ads in various publications to see what I could turn up.
'It's funny you know' he smiles, 'when I started looking for this stuff people would tell me it was ugly, useless, worthless rubbish only fit for throwing away. Then when I started finding the parts everyone was saying "oh no, this is collectible, sought after, rare and valuable", you've got to laugh.'
As we're talking Jordan is pulling out all these rare parts, the starter, the cases, and so on and I'm snapping away with the camera. 'If I find this lot on eBay next week Trevor, I'll know who to come looking for…' Now there's a source of income I hadn't considered, blimey a bloke needs to be careful in these virtual times!
'The ugly solenoid unit sits on top of the cases like this,' Jordan is juggling various components to illustrate the point, 'and engages in a car-type manner with a solenoid operated gear on a spindle, not a brilliant application in this case. In a car it would sit outside the engine, in the GT the location means it runs in the engine oil and some seizures have been attributed to this set up.'
| | | |
| --- | --- | --- |
| | | Random Ducati GT stuff on eBay.co.uk |
The correct spindle is a hard to find part apparently. Jordan is holding up a spindle from a square case 860. It's a little too long and he is undecided whether to modify it by heating and squeezing or cutting and shutting. I suspect neither option is the acceptable engineering solution he's looking for.
'The points always go out on these engines' Jordan says, 'so I've put electronic ignition on. But the REAL problem with these bikes was always the alternator. Firstly it's simply just not gutsy enough for the job, and on top of that it loses its magnetism very quickly. One fix is this replacement from a Ducati ST2 with rare earth type magnets.'
He passes the unit across to me and indeed the grip of these magnets is fearsomely strong. 'You just need to replace the rotor, it's dimensionally very similar. Then put on some nice fat cables and it will just punch out the current.'
Jordan's partner Carol is also taken with the Ducati and she's looking forward to the bike taking them far and wide. As a proper Grand Tourer the bike has a comfy seat for two and a good riding position. These bikes have the long wheelbase and stable chassis that is just what you need for longer jaunts, and that smooth, torquey engine is reliable enough to take you there and get you back to the accompaniment of a gorgeous mellow exhaust note.
The bits and pieces start going back into the box but Jordan has one last piece of magic to share. 'Before I put the electronic ignition on I needed to knock up a timing disc and here it is' he says, spinning an LP between his fingers. The record has all the necessary marks across the grooved surface.
And which record did he deem fit for this precision operation? The original soundtrack to 'You Can't Stop the Music'.
Seems reasonably appropriate somehow.
---
Advert

Enjoy more RealClassic reading in the monthly magazine. Click here to subscribe.
---