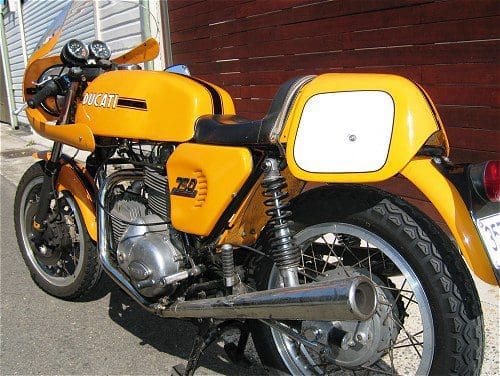 If you're a Ducati fan then we have something of a Sport fest lined up for you. And it starts here, when Ozboy encounters a true Ducati 'passionisti'…
Did you buy a bike or embrace a lifestyle? What drew you, maybe still draws you, to a particular bike or way of riding? Maybe it was to impress the girls (or boys), or to fit into the local scene. Maybe it was a book or a film, or a café. Was it love at first sight, or an evolving appreciation?
Dieter Steinbush mentions many of these influences on his choice of bike, plus one other: passion. Dieter is passionate about design, architecture, cafes, bikes generally and Ducati in particular.
His first bike was the ubiquitous CB250. 'A great bike to learn on, don't knock the CB, it taught me a lot.' Then came a 650 Trophy. 'The full-on café racer, red frame, Marzocchis, suede seat, huge alloy tank, a real statement.' He's still got the Trophy and we might get a closer look another time.
Being a boatbuilder in Australia must be many a bloke's idea of a dream life, but Dieter made the leap from boatbuilder to barrista and café owner because he loved the hospitality community and the lifestyle that came with it. A stint in Terence Conran's London restaurants and visits to the Ace Café started to influence Dieter's thinking on how he wanted to live and work.
'I had a lot of ideas floating around in my head. I'd hung out at the Ace, seen Easy Rider and loved the "freedom of the road" thing. I'd read Zen and the Art of Motorcycle Maintenance and the idea of a journey of discovery was a powerful image for me. I just had to have a piece of the lifestyle.'
| | | |
| --- | --- | --- |
| | | Random Ducatis on eBay.co.uk |
In 1990 Dieter flew to Boston, bought a Harley and headed south. 'From there I rode right across the USA, taking it all in, new experiences, expanding horizons, it was a fantastic time to be on the road and I wanted it to never end.'
But eventually a boy must find his way home again and Dieter brought the Harley with him back to Sydney. And then…
'I was commuting every day across town to Eca Bar, my café in Darlinghurst, shaving down my journey time at every opportunity. Riding in such a different way to the American trip I was experiencing limitations on ground clearance, corners and brakes.'
Especially brakes?
'OK, I was travelling at a "good" speed over the Harbour Bridge one morning and the car ahead braked sharply. I was staring at the fast approaching back of the car, the Armco and the slim gap between the two. The brakes didn't seem to be making much of a contribution to my well-being and I went for the gap.'
Dieter was lucky, one footpeg gouged the Armco while the rear brake lever sliced a long gash through the length of the car door. The Harley wasn't too bad and Dieter walked away from the scene, but with strong new thoughts about brakes and control. His cafe was becoming highly popular, the cool place to be amongst the locals around Darlinghurst, Surrey Hills and surrounds, centres of creativity with plenty of local Italian influence.
'We had a lot of good riders coming in on great bikes and all relating to the café scene I was thinking back to the Ace and the bikes I'd seen there. The Italian café racer style became a clearer vision of what I wanted in a bike. So, it had to be an Italian café racer, it had to be a Ducati and it had to be a 750 Sport.'
The passion bit hard. This was the start of a long-term love affair with Ducati. We're in the garage gazing at the bike, exploring its details. 'I found this late '75 Sport with the essential half fairing, pure sex on wheels. Just look at it and slowly take it in, the sculptured curves and proportions. It was designed and built by real people who were passionate about their craft, not by computers.'
He's right of course, the Sport is a gorgeously eye-catching machine with huge 'wow' factor, yet the closer you get the more you appreciate the fine details of the design. Now don't get the idea the bike is an ornament or fashion accessory. Dieter's riding mates say he's tough to stay with on the road and have tales of the Sport being ridden long and hard. 'It was quite a bit of trouble at first, lots of niggly little, and not so little, problems. The sorts of things that give you heartache and really test your resolve. There was quite a bit of hair-tearing and cursing at times, not to mention digging deep into the wallet. You just had to love it through those times and the payback has been huge, it's just a joy to ride.'
There's another Ducati in the shed, a 748, but after more than ten years together the fallibilities and foibles of the past are part of the memories that bind man and his machine. The bike is part of the family, a forever relationship. Just recently Dieter parked the Sport outside his new café 'Oven' on Sydney's northside. A little later he spotted a parking inspector starting to write out a ticket.
'I shot out of the café and started pointing out the aesthetic qualities of the bike and how it actually enhanced the streetscape. I suggested he should be selling tickets for people to look at the bike not giving one to me for parking it. He wasn't convinced.'
But I am. What about you?
*********
READ MORE free online bike stories and roadtests here…
GRAB A HOLD OF RealClassic magazine, issue 20, for a full road test and model history on a similar, 1973 Ducati 750 Sport, ridden in the UK
THEN LOOK OUT for Ozboy's follow-up report on the bike you see here in a forthcoming issue of the mag, including his riding impressions and plenty of very yellow yummy pictures…
---
Advert

Enjoy more RealClassic reading in the monthly magazine. Click here to subscribe.
---