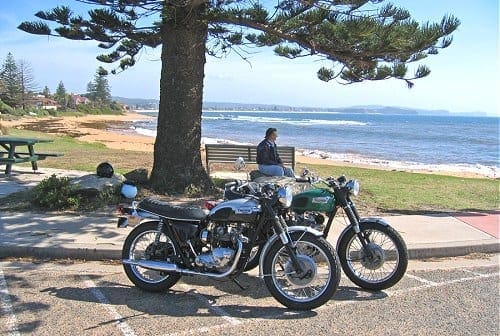 Trevor (Ozboy) Brooks swapped a 1970 Triumph 500 for a 1969 Triumph 500. Out on the road together, the pair turned out to be non-identical twins…
When I sold my T100R Daytona a number of people were aghast. I then acquired a T100C, to many eyes as akin to the Daytona as two peas in a pod. Just whip off one of the carbs and the rev counter, then stick the pipes together up one side of the bike, and once again Bob is unquestionably your uncle. Right? OK, there's an extra inch on the Daytona front brake while the 'C' has folding footrests, a steering damper and stainless guards. That's about it. And yet…
Despite the fact that I sold him the Daytona, my regular riding companion Lindsay still talks to me, and rides with me. So one morning we met at my tree-house on Sydney's northern peninsular, separated from CBD madness by a broad sweep of harbour. We chose a route of 45 miles or so circling clockwise through Ku-ring-gai National Park to the ocean. Then a run back down the coast with a stop for coffee along the way.
The twin carb Daytona is a 1970 model, just before indicators and switchgear changes came in. The bike was semi-restored several years ago for use by a film company and was finished in the black and silver style of late 50s and early 60s Triumphs. To my eyes it's a cracker. It has a slightly dodgy pattern rear guard but is otherwise pretty original. Its an import from the USA and carries western bars.
The single carb, high-piped T100C is also a Stateside import, a '69 model wearing a '67 grey-top seat. Other than that plus slightly lower bars and a pair of leather panniers, it was a completely original bike when I acquired it. Since then I've ditched the zener and rectifier and wired in a modern box from the lads at Sparx. I've also fitted indicators in temporary positions till I work out other changes I may make.
Both bikes are physically small and very manageable. They hold the road well, the suspension firmly in control of their weight of around 350lbs. Both have the shuttle valve damped forks, stronger located swing arm and other improvements of the final 500cc models. The harder you work these chassis' the better they respond. The Daytona has a 19-inch TT100 on the front and an 18-inch Continental at the rear. I'm running a pair of Pirellis on the 'C'.
Lindsay is an archetypical laconic Aussie, his dry humour tinged with witty cynicism. He's also a darned fast rider. We stayed fairly close together for the first few km of gently curving road which took us deeper into the bush, but as we hit the twistier stuff Lindsay pulled ahead. He's ridden across Australia and the USA and owned Goldies, Bonnies and other classics. He misses his Triton but now has a Yamaha TRX850 for when he's in a hurry. He positions the bike on the road better than me, finds the right line sooner, and holds it. He is much smoother through the bends no matter which bike he's on.
Narrow roads carve through sandstone outcrops and dense bushland on the run across the National Park, rising along rocky ridges and falling away close to creek lines as they search for the ocean. Multiple series' of bends swing one way then the other in quick succession. These bikes are made for this sort of going, lively and responsive running at 55-60mph, about 4500 to 5000rpm. Both come on the cam in this part of the rev range, the Daytona with a more urgent rush of power. Turning over at this rate there is plenty more go available at your right hand. The Daytona finds an extra couple of hundred revs at the top end and makes 41bhp, about 3 bhp more than the T100C. Lindsay thought maybe the 'C' had a bit more torque but I reminded him I've geared it up by one tooth at the gearbox which may have given him that impression.
I can understand the 'Baby Bonnie' tag often given to the Daytona, but reckon it's a bit off target. Anyone coming to these bikes from a bigger Triumph twin will need a shift in thinking. At first it's easy to back off the revs for fear of terminal over-exertion, but the opposite is called for. The late model 500s are reassuringly strong beneath the clatter. Both run a one-piece forged ball and roller crank. The Daytona uses E3134 race profile cams for both inlet and exhaust with beefed up followers, while the 'C' uses an E3325 sport profile exhaust cam. The Daytona has more exotic valve guides, and racier rods too. An extra level of performance is waiting for you to embrace the busy-ness of the oversquare motor. They don't so much vibrate as buzz more strongly the harder they work. Once on cam the bikes smooth out again till much further up the rev range, but they are not mile-munching cruisers. On a longer straight I invariably look for a fifth cog, even on the slightly geared-up 'C'.
| | | |
| --- | --- | --- |
| Both bikes have good brakes, an 8-inch tls on the Daytona and a 7-inch version on the 'C'. They give plenty of feel and feedback so its easy to feather off a little speed for the bends, and both pull up really well when you need to. Is the extra inch better? It's a close call but, particularly in harder use, there's a definite edge to the Daytona. | | 500 Triumph stuff on eBay.co.uk |
After our coffee stop both are ready starters and reliable idlers (the bikes). No twin carb Mr Grumpy here, no belts or Boyers either, and just a slight weep from the base of the rear pushrod tube on both bikes. The Daytona has the later upper primary breather, improved over the timed breather on the T100C. Eagle-eyed observers may spot the change of handlebars on the 'C'. I was keen to try a slightly more forward set so we did the run again after I'd switched bars.
I've thrashed the 'C' around on tarmac and dirt for the last eighteen months. It feels looser than the Daytona which has led a less demanding life, and is in finer fettle anyway from its earlier refurbishment. But condition plays only a small part in their differences. Naturally, the two bikes have very similar performance and handling capabilities, but it ain't what you do it's the way that you do it. Riding the bikes back to back, two distinct characters emerge. Just tootling along there's little between them. In traffic (traffic?) both are light and flickable, but give it some throttle and the Daytona's sweet motor has a sharper edge. At higher revs and for roll-on acceleration it has a smooth surge of power that the 'C' can't quite match, though gearing may play a small part in that.
Both bikes offer performance with style. Both make great sounds. The Daytona shades the T100C in most performance areas, especially when pressing on, but not when the going gets rough, that's a different story. The Daytona is smooth, frisky, eager, always pushing to be let loose, always letting you know its purpose in life is to go fast, then faster still. With its twin carbs, twin clocks and big brake it should wear clip-ons and rear sets, not high western bars. The T100C has an equally willing engine with good acceleration and a fine turn of speed. It feels strong and ready for anything whenever you ask, and more accommodating of the whims and moods of its rider.
So, not quite Mr Smooth versus Action Man, but you get the picture. Anyway, classic motorcycling is as much in your head as in the metal. So, while one of these two is deservedly the cult bike, the other is the one I happen to prefer.
---
Advert

Enjoy more RealClassic reading in the monthly magazine. Click here to subscribe.
---