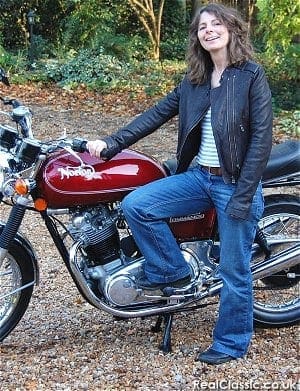 The news doesn't stop rolling in just because it's winter. From Peru to the Purple Helmets, via Ogri and Anglesey with TR3OC…
Clubs Announce Winners
Two very happy chaps have just received rather splendid Christmas presents in the shapes of a Norton Commando and a Matchless G11. The Norton Owners' Club gave away the superbly-restored Mk2A Commando 750 as part of their 50th anniversary celebrations, and it went to Cathy Whelan from Yorkshire.
The AJS and Matchless Owners' Club winner was Ivan Brown of West Sussex and he's now the proud owner of a 600cc twin. You can find out more about each club at www.jampot.com and www.nortonownersclub.co.uk
AdMan Spotted Aboard!
We've mentioned before that we keep sending our Advertising Manager, Mike Powell, as far away as possible, but that he keeps coming back. Here's further proof of his elastic nature; video of Mike and the rest of the tour group in action in the Peruvian Andes last year (Mike's the man with not a lot of height and nearly as much hair).
---
Advert

Enjoy more RealClassic reading in the monthly magazine. Click here to subscribe.
---