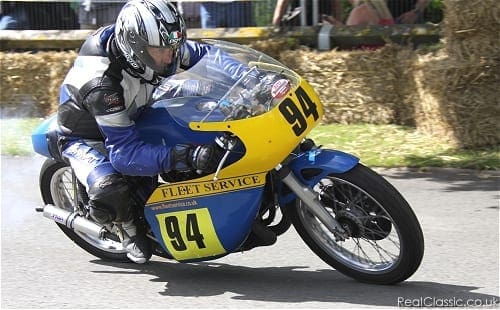 Classic Trackday Update
The first of the season's classic track events gets under way this month, with the Thundersprint on April 21st. Plus a superstar signs up for the Festival of 1000 Bikes, and there's a four-cylinder theme for Beezumph 22…
After enjoying great success for many years in Northwich Town Centre, the Thundersprint relocates to a new venue at Anglesey Circuit this month on Sunday 21st April 2013. The event encompasses an array of motorcycling activities both on and off the track with the timed sprint itself, parades and cavalcade, Masterclass star riders, hundreds of classics on display and a busy schedule of entertainment for the whole family.
Among the superstar riders is sporting legend, Sammy Miller. 'I really like the Thundersprint' says Sammy. 'It's a fantastic mix of a relaxed informality and complete professionalism – just like the best ever 1960s Grands Prix.' Miller will bring a couple of extremely interesting machines with him to keep the crowds entertained. The unique supercharged 1938 AJS V4 which was the first bike to win a GP at over 100mph will venture out from Miller's Museum and be displayed at Thundersprint. And Miller will also bring his 'Mike Hailwood' RC181 Honda replica. 'I have never ridden at the Anglesey circuit but it does look fantastic and I am really looking forward to letting the Honda stretch its legs on a true international quality track.'
Jim Redman, six times TT winner and a regular at previous Thundersprints, will be joining Miller on the Anglesey track. 'I look forward to every single Thundersprint,' says Redman, 'because it is the only event in the year where I actually race – if only against the clock.' The new venue is just one of the attractions for this world-class rider, who's keen to exploit the possibilities of a full-size circuit. 'The Anglesey circuit looks to be absolutely fantastic – a real world class track. I have never been there before but it looks to be spectacular and it will be very relaxing to have a 2.1 mile circuit to play on. I am bringing my whole team with me in the form of Clive Brooker and his lovely CR750 Honda. Clive's bike is beautifully prepared and I ride it so often that it feels very much my bike.'
Thundersprint fans will be able to spend all day chatting to either rider when they're not actually on the track, because there are no restricted areas in the open-access competitors' paddock. As well as the timed sprint itself, Thundersprint also offers evening entertainment, a funfair, camping and more to make a full weekend of it. The circuit at Anglesey is accessible via the fast A55 route along the top of Wales (just over an hour from Chester), or you can take the opportunity to ride up through the stunning scenery of the Snowdonia National Park. Two spectator tickets cost £10 which includes free parking, with accompanied children free. See
Superstar Racers Sign on for Festival
The majority of track sessions for the VMCC's 2013 Festival of 1000 Bikes have been nabbed already, but there are a very few slots left available for veteran and very small capacity motorcycles to ride around Mallory Park circuit. Hop over to www.festivalof1000bikes.co.uk/takepart.aspx to check entry details.
If you're not planning to ride over the weekend of 13th and 14th July 2013, the Festival still promises to provide a monster weekend of motorcycle entertainment, headlined by World Champ Wayne Gardner. He'll be riding an ex-works Honda 500 in the Past Masters track parade on the Sunday, and sounds keen to fire it up.
'It's been a long time since I was on a motorcycle at Mallory Park and I'm sure it's going to be a nostalgic weekend for me. I've heard a lot of great things about the event over the years from other riders, and it'll be fun to catch up with some of my old comrades, as well as get back in touch with the British fans. I'll be riding a Honda RS500, which is the same bike I used to race in the early 80s in the British Championship, and I can't wait to get back into the seat.'
Gardner will be joined by other iconic racers with a Honda connection, including Phil Read, Mick Grant, Jim Redman, John McGuinness and Michael Rutter. If you prefer your racebikes to be British-built, look out for Steve Spray, Trevor Nation and Terry Rymer on Norton rotaries. Oh, and there's dozens of other riders of whom you may have heard… including some chap called Carl Fogarty…
Day and weekend spectator tickets are available now; cheaper if you book in advance. See







Tridetns Old and New on ..

See below for Tiger Cubs on sale…

Four Cylinder Feature at Beezumph22
Tickets are also selling fast for the TR3OC's Beezumph track day at Cadwell Park on 27th July 2013. There are just 10 places left in the Fast Classics class, but more room is available in the Classics (pre-1985), Open and Race categories. Track tickets cost £110 for TR3OC members and £130 for non-members, and there's an entry-level track-taster session for just £30 in case you've not tried your hand on a race circuit before, or are feeling a wee bit rusty.
In between track sessions, you'll be able to admire an awesome array of original BSA and Triumph triples – plus this year's special feature bikes, which are the Quadrant and Rocket 4 prototypes and custom-built specials. Of course, you don't have to take a bike to Cadwell to enjoy all that Beezumph has to offer; Rally Tickets include a rally badge, food on Saturday evening and camping are £15 each. See
—————
---
Advert

Enjoy more RealClassic reading in the monthly magazine. Click here to subscribe.
---