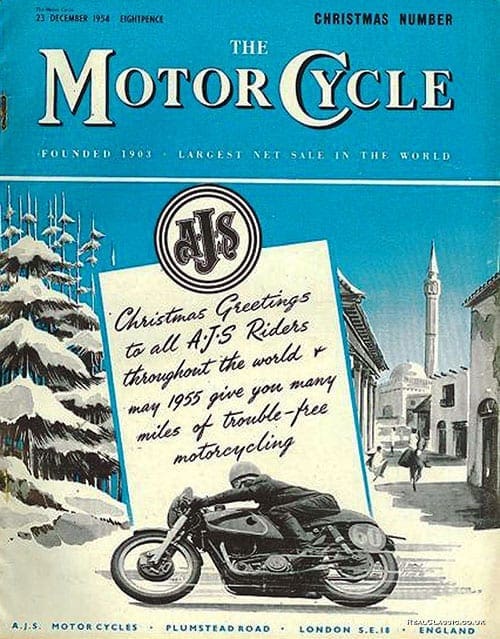 Crimbo Quiz
Are you a whiz at quizzes? Do you have an extensive understanding of classic motorcycles and old bikes? Have you got nothing better to do for the next ten minutes?…
Welcome to the Christmas RealClassic bike quiz, which includes TT trivia, biking basics, silly questions about motorcycling personalities, a big chunk on British bikes and some easy-peasy true-or-false questions to finish with. It's just for fun so there's no prizes if you get all the answer correct but your aura of smugness should keep you cosy for the entire festive season.
This quiz was compiled for us by RC regular Henry Gregson, so if you disagree with any of the answers, take it up with him, not us!
1/ The first motorcycle TT in the IOM was held in 1907 on the St Johns course. It later transferred to the Mountain Course. In what year did this happen?
2/ Which rider completed the first 100mph lap in 1957?
3/ Joey Dunlop almost didn't make it to the 1985 TT. Why?
4/ What is the name of the mountain on the highest part of the course?
5/ How long is the modern TT course? (Imperial)
6/ What is the name of the particularly famous jump over a small bridge in a village?
7/ What obstacle in the road do the riders face at the Bungalow?
8/ Which Japanese manufacturer formed their race team specifically to win at the TT?
9/ The 2001 event was cancelled. Why?
10/ With which team did Tarquinio Provini achieve most of his TT wins: Benelli, Honda, Gilera or MV Agusta?
11/ In which year did Joey Dunlop not score a hat-trick of TT wins: 1985, 2000, 1983, or 1988?
12/ For how many years did Carl Fogarty's TT lap record stand: 4, 7, 5 or 8?
13/ What make of engine was used by Terry Vinnecombe to win the 1968 750cc Sidecar TT ?
14/ Ray Amm won three TT races on which make of bike: MV Agusta, Velocette, Norton or Honda?
15 Ten times TT winner Stanley Woods would bring the boy scouts a treat at the TT. What was the treat: chocolate, sherbet, toffee or cookies?
16/ Ian Hutchinson won five TT races in the 2010 TT. Apart from the sidecar TT there was one class he didn't compete in, which was it?
17/ John Surtees was the first person to win a world championship on 2 & 4 wheels. How many TT races did he win: 2, 6, 9 or 4?
18/ Dave Molyneux has won 14 sidecar TT races. When did he achieve his first one?
1985, 1989, 1987 or 1988
19/ A third TT course made its debut in 1954 and held its last TT race in 1959, what was the name of this course?
20/ / Which rider stopped at Creg Ny Baa in the 1968 TT to ask who was winning?
****************************
CLASSIC BIKE TRIVIA
21/ The first motorcycle was created by who?
(A) Gottlieb Daimler in 1885, (B) Thomas Edison in 1881, (C) Michel Eugene Werner in 1897 or (D) Leonardo Da Vinci in 1503
22/ What kind of motorcycle did Arnold Schwarzenegger ride in the movie Terminator 2?
(A) Kawasaki Ninja, (B) Honda Valkyrie, (C) Harley-Davidson Fat Boy or (D) Ducati Monster?
23/ Honda's first true motorcycle was built in 1950. What was it called?
(A) Helix, (B) Elsinore, (C) Monkey or (D) Dream?
24/ What is the name of the motorcycle gang in the 1953 film the Wild One starring Marlon Brando?
(A) The Black Rebels Motorcycle Club, (B) The Polecats, (C) The Sage Valley Motorcycle Racers, or (D) The Rottwheelers ?
25/ Who makes the Royal Star Venture?
(A) Yamaha, (B) Aprilia, (C) Suzuki or (D) BSA?
26/ Which of these is not a type of motorcycle?
(A) Bobber, (B) Chopper, (C) Dipper or (D) Springer?
27/ When AMC were designing the OHC P10 engine a reed valve was proposed as a crankcase breather. Why was this idea rejected?
(A) too expensive to modify the crankcases, (B) Yamaha had the design rights to reed valve technology, (C) Oil leaked past filling the primary chain case, or (D) It made a noise like a fart?
28/ In the 1969 film Easy Rider, what is the character played by Peter Fonda called?
(A) Bucky, (B) Captain America, (C) Ghost Rider or (D) Billy?
29/ The famous TE Lawrence was killed in 1935 whilst riding what make of motorcycle?
(A) BSA, (B) Brough Superior, (C) Norton or (D) The Famous James?
30/ Which singer had a hit record in the 1964 with a motorcycle based song called Terry?
31/ Jawa motorcycles are made in which country?
(A) Czechoslovakia, (B) France, (C) Spain or (D) Switzerland?
32/ In 2003 what did Harley-Davidson celebrate?
(A) launch of a new logo, (B) Willie G Davidson's 65th birthday, (C) 100th anniversary of the company or (D) the first Dyna Glide?
33/ What band released the biker anthem Born to be Wild?
(A) Cream, (B) Credence Clearwater Revival, (C) Steppenwolf or (D) The Who?
34/ What is the name of London's famous classic biker hangout?
(A) The Ace Café, (B) The Kick Stand, (C) The Iron Horse Saloon or (D) The Holiday House?
35/ What is the name of the trophy Mike Hailwood was awarded that has also been held by Richard Branson, Amy Johnson and Donald Campbell?
(A) The Americas Cup, (B) Claret Jug, (C) Eglinton Trophy or (D) The Segrave Trophy?
36/ What make of machine did John Cooper ride when he famously beat Giacomo Agostini twice in 1971?
(A) Triumph Trident, (B) Seeley Matchless, (C) Yamaha TZ 350 or (D) BSA Rocket 3 ?
****************************
BRITISH BIKE BONANZA
37/ Who manufactured bikes at Selly Oak?
38/ Who manufactured bikes at Small Heath?
39/ Who manufactured bikes at Monarch Works Tyseley Birmingham ?
40/ Who manufactured bikes at Lower Ford Street Coventry?
41/ Who manufactured bikes at Greet, Birmingham?
42/ Who was the original manufacturer of bikes at Plumstead ?
43/ Who manufactured bikes at Bracebridge Street ?
44/ Who manufactured bikes at Heaton Street, Cleckheaton ?
45/ Who manufactured bikes at Redditch ?
46/ Who manufactured bikes at Grosvener Street, Bradford ?
47/ Who manufactured bikes at Meriden ?
48/ Who manufactured bikes at Hall Green ?
49/ Who was asked to resign from the Norton Company in 1948 after designing the Norton Dominator engine?
50/ The BSA Fury & the Triumph Bandit ( surely they got the names the wrong way round), were 350cc OHC twins which were to be the saviour of the BSA group. Who was the designer of the engine?
51/ Which motorcycle manufacturer turned down the opportunity to buy the formulae to make custard powder?
52/ Who was the designer of Triumphs first 650cc vertical twin engine in 1933?
53/ Who designed BSA's A10 Golden Flash in 1949?
54/ Who was the designer who left Velocette to take up the position of Chief Engineer at AMC?
****************************
TRUE OR FALSE
55/ AMC designer Bill Cakebread joined the Institute of Patentees and Inventors, but after doing so refused to add the initials to his name.
56/ Suzuki have never won a moto GP race.
57/ Ducati were the first to employ desmodromic valves in a race engine.
58/ The Honda Fireblade is the most stolen bike in the UK
59/ Emst Degner stole Suzuki's engineering secrets to give to the communists to enable MZ to build competitive bikes in the 1960s
60/ Canadian children's author Michelle Duff is also a grand prix championship runner-up
****************************
---
Advert

Enjoy more RealClassic reading in the monthly magazine. Click here to subscribe.
---