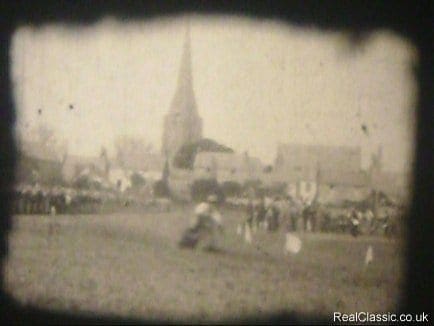 Film fan Paul Linton has unearthed some interesting footage of motorcycle sport from 80-odd years ago. Do you recognise any of the places or people?…
'The footage was in a collection of old films which I purchased a while ago' explained Paul Linton when he contacted us to share these 'home movies' from the 1920s and 30s. 'The rest were all travel or holiday films. I don't know if I am remembering correctly, but I think the chap was from the Isle of Man…' That fact suggested to Paul that these shots might be from an early TT meeting but, after we've looked through them we're not so sure.
See what you think: here's a segment of some of the footage:
The stills show different scenes but may be tricky to see clearly (sorry; it's the best resolution we could manage).
The earlier part of the film looks to be 1920's grasstrack action, involving flat-tank bikes equipped with acetylene lights, running around a circuit which bears a striking resemble to a village green. Does anyone recognise the church in the background? And isn't that a fore-and-aft Douglas in action?
The second segment of a long distance trial seems to be from a few years later – is that Marjorie Cottle in the cloche hat? If so, she rode in trials all through the 1920s and 30s, including the ISDT and Scott Trials. Marjorie also took part in a marathon ride to promote Raleigh motorcycles by covering some 3000 miles around the UK coastline on a 2.75hp machine, before she married the editor of The Motor Cycle and went to work for BSA after the Second World War.
The hills seen on the later trials sections could so easily still be part of today's classic events like the Beamish or Land's End trials. But when these competitors were filmed there were no A-road sections and you definitely wore a tie and starched collar, even when fording mighty rivers!
The final shot from the stills is quite intriguing, too. It's very tempting to call every bit of banking 'Brooklands' because that's the famous circuit of the era, but we have a suspicion that many local race circuits featured similarly sloped corner sections.
So. Does the footage ring any bells with you? Can you place any of the people or machines? If so, drop a line to rchq at realclassic.net. We'll pass the info onto Paul and will run an update if there's more to be revealed…
| | | |
| --- | --- | --- |
| | | They call these 'Vintage' on …. |
---
Advert

Enjoy more RealClassic reading in the monthly magazine. Click here to subscribe.
---