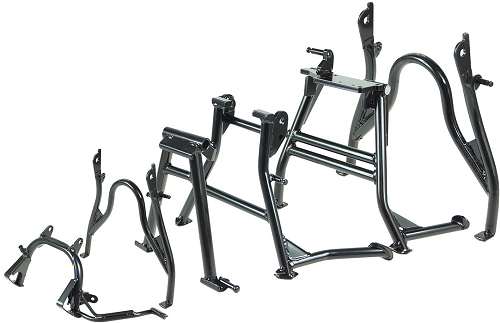 Classic Bike News
Our inbox is bursting with interesting announcements including two separate shows in Scotland; two charity rides; a stack of centrestands; a call for Comerfords' Cubs, and a new home for BMS books. Oh, and Beezumph is back!
Those fine upstanding folk at Wemoto now have the technology to keep your motorcycle upright also, in the form of an extensive range of standard replacement centrestands. They also stock centrestands for custom, retro and adventure bikes which weren't blessed with a main-stand from new. Wemoto's centrestands are all fabricated and finished to a high standard and while some are sold as stand-alone stands (yes, that does make sense…), Wemoto also list centrestand kits which come with individual fitting kits including all the springs and fastenings required for a quick and easy installation.
To give you an idea on pricing, an entire centrestand kit for a Japanese 650 single runs to around £150, but if you just want a stand for a little lightweight like an FS1E then you're looking at £28 plus delivery (shipping is free on orders over £175). 01273 597072
Bill's Big Barn Jumble
In 2014 Bill Little celebrates 35 years of trading, mainly in British classic bikes. 'Not only do we sell motorcycles,' says Bill, 'we ride them on VMCC runs and holidays in the UK and abroad. I still enjoy what I do and have no intention of packing it all in, however I really need to clear some shed space.'
So Bill is hosting a barn jumble on Saturday 12th April from 10am to 3pm at Oak Farm, Braydon near Swindon, SN5 0AG. Light refreshments will be available. 01666 860577 or
Beezumph Is Back!
The TR3OC's track day returns to Cadwell Park on July 11th and 12th 2014, with a variety of circuit sessions for riders and plenty to do and see alongside the track. The Friday will feature rally activities; ride-out, autojumble, technical workshop and evening BBQ, with track sessions on the Saturday. Classes range from entry level (two 15 min sessions, cost £30) to fast classic, expert classic, etc. Classic classes are for bikes built before 1986; there's an open class for other motorcycles.
Standard track tickets £130, discount for TR3OC members. Rally ticket (non-riding) £18 includes circuit entry, badge and Saturday meal. Day tickets £10 each include entry and camping. If riding you'll need both parts of your driving licence (or an ACU race licence) and proper leathers (not fabric riding suits). Saturday evening features prize-giving, hog roast, live music and party. Entries fill up fast: forms from
Article continues below...
---
---
| | | |
| --- | --- | --- |
| | | Random Tridents on Now… |
Pioneer Book Back in Print
The story of the Pioneer Run first appeared in print last year and that initial edition sold out in six months. A second edition has been produced for 2014 to satisfy those people who missed out first time around, and also because the 2013 event had to be cancelled. This means the 2014 event will be the 75th Pioneer Run, and the new book has been updated to reflect this. The second edition also incorporates more information from readers and other sources which came to light in the last year, providing further detail and an entire extra chapter.
The second edition is again a limited print run, A4 in size, with over 250 pages and 200 photographs, old and new and in sepia as well as colour. It costs £25 plus £8 delivered to the UK; contact jennybaz.staple at gmail.com to order.
Calling Comerfords Cubs!
The Tiger Cub Club stand at the April Stafford Show will feature Comerfords trials specials, and more T20 machines from the Thames Ditton firm are welcome to join the display. If you have a trials Cub which you'd be happy to display at the show please contact 01743 891889 / mike at tigercubs.plus.com
Scottish Show On Saturday
The 25th Classic Motorcycle Show at Ayr takes place on Saturday (not Sunday as in previous years) 7th June 2014 at Ayr Racecourse. The new arrangement gives the event more room to expand with a stunt show, parade of classic racers and outdoor stalls alongside the indoor displays, trade stands and so on.
This is one of our favourite annual events which we drag ourselves to if we get half a chance: it's located in fabulous classic bike country amid some wonderfully tangled B-roads and is not so far north that it's hard to reach (an easy two day ride from Cornwall, see). The Show itself features many very high quality classic motorcycles which span over a century, carefully prepared and regularly ridden, and the whole thing is organised by the volunteers of the Ayr Classic Club. See
Lampy Goes To Lerwick
Graham Lampkin's plans to ride to the Shetland Show this summer on a classic motorcycle, off the beaten track if at all possible, are taking shape. He's plotted a provisional route, booked ferry and accommodation, gained approval from BSA works rider Arthur Lampkin and is fettling his 1959 Royal Enfield for the journey. All this is to raise funds for Cancer Research UK: see
BMS Books Have A New Home
The Bruce Main-Smith archive has been bought by the National Motorcycle Museum in Birmingham. So the workshop manuals, parts and instruction books and sales catalogues which BMS have supplied for many years are now available direct from the NMM via 01675 444123 or
Great Scottish Bike Show Moves To Edinburgh
The Carole Nash Great Scottish Bike Show is expanding and making a move to the Royal Highland Centre near Edinburgh for the weekend of 9th and 10th August 2014. The event features display bikes from clubs and private entries, manufacturers, trade stands, autojumbles and star guests covering both modern and classic machines and eras. Advance day tickets cost £6 from 01507 529430.
Going Slowly
Another charity rides sets off on the longest day, travelling from Lowestoft in the east to St David's in the west, on small-capacity, low-powered motorcycles, using only minor roads. This quirky challenge is in aid of the Driveway Safety Campaign. See

Enjoy more RealClassic reading in the monthly magazine.
Click here
to subscribe.