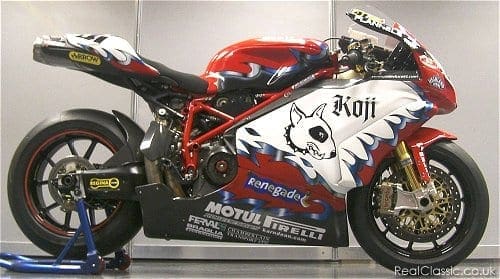 The Stafford Show over Easter weekend steals the limelight somewhat this month, but we've also info about classics in Kent and Cornwall, super shocks for Kawasaki retros, ethanol resistant fuel taps, and more…
Superbikes At Stafford
The Classic Motorcycle Show at Stafford over Easter weekend features one of the best-ever selections of motorcycles for auction in the Bonhams sale, including a raft of real WSB racing machines. The Ducati 999 F03 raced by Reuben Xaus for the factory team in the World Superbike Championship in 2003, and by Noriyuki Haga for Renegade Racing, is just one of the fabulous Ducati motorcycles on offer. Two other Ducatis previously owned by Carl Fogarty are expected to generate equal interest, while a third machine raced by Carl Fogarty is the ex-Honda Britain, Senior TT-winning 1989 Honda 750cc RC30. All are expected to fetch big money: don't bid unless you have £50k burning a hole in your wallet!
At the other end of the scale, author and historian Jeff Clew's collection of books, guides and gazettes is being sold as 30-plus small lots which are expected to sell for between £50 and £500 apiece. The Stanley Woods Collection includes photographs, helmets and other items previously owned by the ten-time Isle of Man TT winner. So even if you can't afford one of the high-class motorcycles, it's always worth lurking in the sale room at the start of the auction when the spares, memorabilia and literature goes under the hammer. You might even bag a bargain magneto or monobloc carb…
The auction starts at 10am on April 24th, with the bidding on motorcycles expected to commence at around midday. See www.bonhams.com/motorcycles for the full catalogue and for details of how to bid. If coming to Stafford for the auction it's worth buying your ticket to the Show itself in advance (to save time at the gate as well as money) from 01507 529430.
56,000 To Won
The happy chap on the left, below, is Paul Maullin, the lucky winner of the special edition 'Hobgoblin Bullet' which was commissioned from Royal Enfield by the Wychwood Brewery for a prize draw that attracted more than 56,000 entries. So Paul's not quite a man in a million – but he was still delighted to collect the prize bike from Chris Keating of Wychwood.
| | | |
| --- | --- | --- |
| | | Non-Beery Enfields on Now… |
Based on the 500cc Royal Enfield Classic, the petrol tank, mudguards, tool boxes and forks were painted the same blue that is found on the labels of bottles of Hobgoblin ale and a large Hobgoblin graphic is lacquered onto the tank too. The standard seat is replaced by a limited edition two-tone saddle. There isn't another Bullet anywhere in the world quite like this one, but you'll find the full range of current models at www.royal-enfield.com
Steady! Price Reduction
You'll find the Norvil Motorcycle stand in its usual place in the main hall at the Stafford Show on April 23rd and 24th, and with a welcome price reduction on one of the Norton specialist's most popular items. The Commando isolastic head steady was one of the first aftermarket products Norvil had manufactured, right back in the 1980s when they were still called Fair Spares. Thousands of heady steady units have since been produced and sold worldwide and they're still one of the most popular most popular and well-proven product lines in Norvil's extensive catalogue.
The Norvil heady steady comes as a complete assembly which fits under all Norton Commando petrol tanks without requiring any modification and remain fully adjustable to give you the best performance. The standard head steady is part number 061484 and now costs £88 (plus VAT and delivery), while the stainless version is part number 061484SS and costs £108.
You can order any items from the Norvil catalogue and collect them in person at Stafford, saving on postage costs. See www.norvilmotorcycle.co.uk to browse the full range of spares for Commandos plus other Norton twins and singles.
Two Freddies at FOTB
The VMCC have just announced that the Festival of 1000 Bikes at Mallory Park on July 9th and 10th 2011 will feature an extra Freddie; Freddie Sheene, son of Barry Sheene, who will be riding one of his dad's genuine factory Suzuki XR27 GP bikes. So that's two Freddies – because Freddie Spencer will be out on track as well over the weekend, alongside just about every other famous racing name you've ever admired including Kenny Roberts, Giacomo Agostini and John Cooper.
The Festival features much more than track action, too, with a full programme of entertainment from Friday night plus a pre-65 trial, grasstrack competition, straight-line sprints, club displays, autojumble and trade stands, live music in the evenings and the 'Stars on Stage' interviews featuring interviews with top riders. There will even be a firework display on the Saturday night courtesy of Norton Motorcycles (insert your own joke about engines going 'bang!' here). See www.vmcc.net/1000bikes for more details of the weekend's activities.
Spectators tickets start from £13 per day with camping from £15. Prices are discounted for advance booking so it's worth buying your tickets in advance from 01455 842931 or www.vmcc.net/1000bikes.
Fuel Tap Troubles?
The additional of ethanol to petrol has caused all manner of problems to classic bike owners, not least in gumming up petrol taps. Paul Goff has sourced a new version of the traditional fuel tap for popular British bikes which he'll have in stock at his stand at the Stafford Show over Easter weekend.
Paul says: 'The chrome plated lever taps as fitted to Triumph, BSA and Nortons of the late 1960s and 70s have been available as pattern part replacements for some time, but the last version has been shown to be unsuitable for use with our ethanol-enriched modern petrol. The rubber seal inside swells and then slightly rotates when you turn the lever. Eventually the path for the petrol is blocked and the bike stops. The first symptom of failure is a stiff lever and you can feel the rubber coiling up. The original types with brass or plastic internals and O-ring seals are less troublesome but eventually the seals will fail and they will leak.
'New versions are now available with a new type of rubber seal and are guaranteed for long term use with modern fuels. £9.95 each + £1.95 for one, £19.90 + £2.50 for two. They are available in main & reserve types.' See www.norbsa02.freeuk.com or call 01494 868218
Kernow Classics
The Cornwall Classic Motorcycle Club's annual Festival of Motorcycles took place at a new, bigger venue this Spring at Higher Keason Farm, St Ive Keason, Cornwall. More than 1000 visitors enjoyed the glorious sunshine over the weekend at CCMC's Classic Vehicle Rally. Over 100 classic motorcycles were on display, both British and foreign, ranging from the 1920s to the 1990s, accompanied by 50 classic cars and other vehicles. Various stallholders were also in attendance, both motorcycle related and general. The Club prides itself on the fact that their rally is family-friendly and slightly different to other rallies, with traders ranging from autojumble to garage door repairs and other attractions ranging from a bouncy castle to a psychic medium.
CCMC meet on the third Wednesday of every month at the Royal British Legion in Tideford, and membership is open to anyone with an interest in classic motorcycles of any kind. The Club attend rallies throughout the region, and organise their own events throughout the year. See www.cornwallclassicmotorcycleclub.com
Empty the Shed over Easter
We can't quite help you to turn base metals into gold, but we do know a way to transform old iron into beer tokens. The Ashford Classic Motorcycle Show on Easter Monday incorporates a bike-only autojumble alongside the concours and club displays and trade stands, with jumble stalls tucked away under cover and on hard-standing areas. Garage clearance stalls are available for any private individual who'd like to de-clutter the shed and turn old relics from old wrecks into a little extra cash. These stalls are available for £10 pre-booked — which includes admission for two people, so effectively you're just paying the standard entry fee and getting a stall thrown in for free! You must pre-book, however, so call 01797 344277 or see www.elk-promotions.co.uk to arrange a shed clearance stand.
The Ashford Classic Motorcycle Show opens 10am on Easter Monday 25th April 2011 at Ashford Livestock Market, Orbital Park, Ashford KENT, TN24 0HB. Normal admission prices are £5 adults, £4 OAP, children under 16 free.
Retro Shockers
Australian suspension specialists Ikon have developed a suspension upgrade for Kawasaki's retro-styled W800. Many retro models tend to skimp on the suspension specification, assuming that all riders enjoy a softly-sprung ride at slower speeds which means life can get a little lary when you use the throttle for its intended purpose. Ikon's progressive rate fork springs cope better with a variety of loads and road surfaces than the relatively soft, linear rate original items. The Ikons have differing distances between the individual coil windings, operating in the wide coiled section under light loads but moving into its more tightly wound stiffer area to when coping with a high load capacity.
For the rear, Ikon's 7610 series shock absorber is similar in appearance to the Kawasaki item, but delivers significantly different performance. Not only is the spring itself more progressive than the original, but it also has four positions for rebound damping, which is adjustable without the need for tools and the Ikons also have the facility to be rebuilt. All Ikon shocks are individually dyno tested and checked before leaving the factory in Australia, and they're available in the UK from 01926 832345.
Make a date for the October Show…
If you can't make it to the Stafford Show over Easter then scribble these dates in your diary: Saturday and Sunday 15th and 16th October 2011. The autumn Classic Mechanics Show will be your only chance to see three-times world champion racer Wayne Rainey in the UK during Yamaha's 50th anniversary year. In his 500cc Grand Prix career, Rainey claimed 24 wins and took the title for Yamaha in 1990, 91 and 92. Rainey was battling for the title with arch rival Kevin Schwantz until an accident ended his racing career in September 1993.
Following his riding retirement, Rainey took on the role of team manager. After a lifetime of globe-trotting he seldom leaves his native California these days, so his appearance at the October Stafford Show will mark a rare opportunity to see one of motorsport's superstars in the flesh. For real racing enthusiasts there will be an exclusive evening with Wayne Rainey on Friday 14 October 2011. There are just 30 tickets available for this exclusive evening; contact Charlotte ([email protected]) to reserve one of them.
To book discounted show tickets (and avoid some of the queues on the day) call 01507 529529 or visit www.classicbikeshows.com
—————
---
Advert

Enjoy more RealClassic reading in the monthly magazine. Click here to subscribe.
---