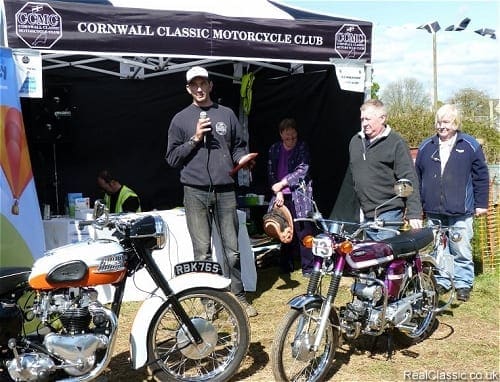 Classic clubland is awash with activity, from racing MZs to vintage Sunbeams, Cornish classic bikes to a revitalised MV Agusta meeting…
Classics in Cornwall
The Cornwall Classic Motorcycle Club's annual Festival Of Motorcycles and Classic Vehicle Rally took place at St Ive Keason in April. Although the weather was inclement on the Saturday, around 500 visitors enjoyed the glorious sunshine on the Sunday. More than 100 classic motorcycles were on display, both British-built and from overseas, ranging from the 1920s to the 1990s alongside a wide variety of other exhibits which included a 1916 Model T Ford and a selection of classic cars, military vehicles, stationary engines and tractors. There were also many more interesting vehicles in the car park, as visitors gave their P&Js an early season outing.
This was the Club's second rally at its current venue. Since the event started seven years ago it has grown each year, and moved in 2011 to a new, larger location. Various stallholders were also in attendance at the 2012 event, both motorcycle related and general. The Cornwall Club presented a cheque for £500 to a local charity that supports bereaved children. Dr Sheila Cassidy, founder and president of the charity, accepted the cheque before being taken for a tour of the site on a 1960 Lambretta combination.
CCMC meet at 7.30pm on the third Wednesday of every month at the Royal British Legion in Tideford, and at 10am on the second Sunday of the month at Louis Caf̩, Kit Hill. Membership is open to anyone with an interest in classic motorcycles of any kind. The Club attend rallies throughout the region, and organise their own events throughout the year Рculminating in this annual festival.
See www.cornwallclassicmcc.co.uk
Girder Get-Together
The Girder Fork and Classic Motor Cycle Club host their annual Big Bike Night on Wednesday 6th June 2012. This is open to all bikes, ancient or modern and all proceeds go to the Yorkshire Air Ambulance and Manorlands Hospice. There are concours prizes for just about every class of bike and a tempting range of food and drink, at Steeton Hall Hotel, Steeton, which is between Keighley and Skipton, West Yorkshire. Admission costs just £3, which includes a raffle ticket, and proceedings start at around 7pm. As this is the Jubilee year any Jubilee Bonnevilles will be extra welcome! Search for "The Girder Fork and Classic Motor Cycle Club" on Facebook.
Sunbeam Centenary
The Marston Sunbeam Club is celebrating the centenary of their marque and the Sunbeam motorcycle in 2012. 100 years ago Marston's chief designer John Greenwood campaigned the company's first motorcycle, a 2¾hp (349cc) two-speed machine, at the ACU's Autumn Reliability Trial of 1912 – with great success! He was awarded a gold medal and with the confidence this achievement inspired, John Marston Ltd launched the Sunbeam motorcycle to the public at that year's Olympia Motor Cycle Show in November. It was well received for its quality and power, and the company went on to produce the 'Gentleman's Motorcycle' until 1937, its legacy taken up briefly by AMC until 1940. (This Club doesn't cater for the later, BSA-built Sunbeam S7 and S8 models. They have an organisation all of their own…).
| | | |
| --- | --- | --- |
| | | (The Wrong) Sunbeam Stuff on |
The Sunbeam Centenary Celebrations will take place over the weekend of August 10th, 11th and 12th, 2012. The event is open to all owners of pre-WW2 Sunbeam motorcycles – you don't have to belong to the Sunbeam Club in order to attend. It takes place at the Rugby Club in the marque's home town of Wolverhampton, WV3 8NA. There's a full weekend of entertainment including camping facilities, a social evening on Friday, rides out, concours competition, technical forum, heritage displays, AGM, centenary dinner, visit to Sunbeamland factory, tester's route ride, etc. More info from 07808 131216 or www.marston-sunbeam.org or [email protected]
MV Revived
The MV Agusta Owners' Club has appointed a new committee, keen ensure that the club continues to grow and meet the needs of its members. New Chair, Kaye Elderton said on her appointment; 'Like many other motorcycle clubs over recent years we have struggled to fill important positions which has meant the running of the club has fallen to an overworked few. Now that we have a full committee with many new faces we are determined to make the club great again and have as much fun as possible along the way.'
The club was initially formed in 1979 to ensure that owners' bikes could be kept on the road when the original MV Agusta factory closed. Since then the club has built up a significant stock of spares for the now classic machines ranging from the small capacity machines like the 125 or 175s to the largest 750 Sport and America models. Help and technical support is also available to its members throughout the world.
More recently, the group was delighted when production of the F4 started and has been happy to welcome many new members – membership is open to anyone interested in MV Agusta, and not just owners. As well as support to the classic machines, the club produces a quarterly magazine, organises events and dinners and attends many shows throughout Europe. A network of regional representatives is being recruited to help organise local events and plans are in the early stages for a club track event.
Membership costs £25 per annum in the UK, £35 worldwide.
See www.mvownersclub.co.uk
MZ Racing
The British MZ Racing Club celebrates 25 years of racing this year and invites all motorcycle enthusiasts to help them mark the occasion. As well as giving themselves a pat on the back, the Racing Club also wants to draw attention to how well engineered and robust the humble MZ is.
The focus of the Silver Jubilee celebrations will be at Cadwell Park, Lincolnshire on the weekend of 22nd to 24th June 2012. The Club hopes to gather together as many former MZ racers and fans of MZ racing as possible. The MZ Riders Club have been invited, as have overseas MZ organisations and the factory itself. Spectator admission at Cadwell is £10 for adults per day, or really keen riders with appropriate motorcycles and an ACU licence can join the action on track and compete in championship rounds or two special Silver Jubilee races (£130 for the latter, or all six races for £260). The current MZ Racing Club's technical regs apply.
See www.bmzrc.org.uk or contact [email protected]
—————
---
Advert

Enjoy more RealClassic reading in the monthly magazine. Click here to subscribe.
---